Jellyflop is physics based puzzle game for Android devices. This game is developed for Android users by Concrete Software Inc. It is a cool game with lots of puzzles to solve around a cute Jelly. Graphics of this game are in cartoon style with cool sound effects. JellyFlop is based on a funny story line in which an ocean jelly wants to fly like birds. So it came up with an idea about collecting feathers of birds and fly using them. So your goal in this game will be helping this cute Jelly collect all the feathers it needs to fly.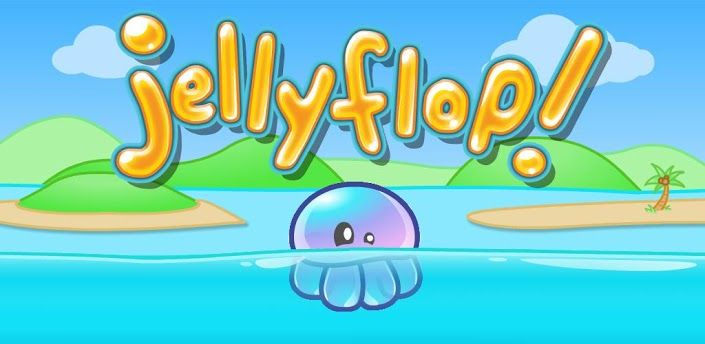 Controlling is really easy with tap and drag based controls. In each level Jelly is located above the ground and three water drops with one feather are distributed around the screen. You need to draw lines with a pink bouncy material to let your Jelly Jump around. Give it suitable direction while collecting all the water drops and feathers. Your main task is about collecting a feather on each level, so don't worry if you lose the water drops, but to score higher you will need them too. It is an addictive game with lots of levels to play around.
Features of Jellyflop free puzzle game for Android –
Graphics of this game are really good with a cute Jelly fish on the screen.
There are 5 zones with 20 levels in each. So overall 100 levels of puzzle game adventure is there for you to enjoy.
Try to get all the water drops to get free unlock-able hats for the jelly fish.
Sounds used in the background are good.
Controlling of the game is totally easy.
Having addictive puzzle game play absolutely free to download.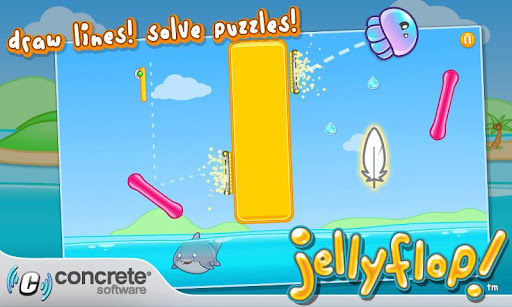 Conclusion
– JellyFlop is a cool game for the fans of puzzle games. It is an addictive game with lots of levels to play around. It is totally free for Android users so you should totally get it on your device.
Our Ratings – 4.5/5
Download Link