Feed Your Dino is a puzzle game on Google Play store. The developer of this game is Boxitsoft gaming firm. We are really disappointed with this game because its just the copy of famous game Cut the Rope. In this game your role will be of feeding of a hungry Dino using your skills to cut the food hanging from some sort of rope. This is just a simple casual game where you will also get to earn stars on every level to score better on the score boards. The food in this game is hanged by some ropes over a Dinosaur and then you will have to cut the ropes feed your little dinosaur. All the stages of this game are not really impressive because we found them really easy. Lets check out its features and we will let you decide you should download this free game on your device or not.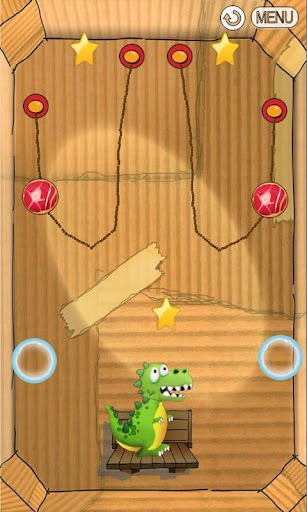 Features of Feed Your Dino-
– The graphics of Feed your Dino are really simple with static image back ground.
-On the screen you will find food hanging with some ropes and you will have to cut them to feed your Dinosaur.
– This game is offering 3 different worlds to explore with 25 levels in first world and 20-20 in other two worlds. Yes it's a big game but don't really have that much difficulty to clear the levels.
– There is simple sound used in the background and no special sounds are added for special moves.
– Well controls are good with simple swipe motion.
Conclusion
– Well this game is free for Android Devices and that's the only factor we found to say that you can download and try it. Otherwise this game is just a copy of Cut the Rope, if you have played this game then you should not go for Feed Your Dino.
Our Ratings- 3/5
Download Link- Feed Your Dino.