DreamCat is a new game for iOS devices in the endless runner category. This game for iOS devices is launched by Vellum Interactive and it features a fatty cat who always dreams about cheeseburgers. This game is kind of similar to Burger Cat but its endless running feature is pretty cool. There are many endless runner games are out there on iTunes Store to pass your free time but this game is really funnier than other ones. The main character of the game is a funny fatty cat looking for some cheeseburgers to eat. This game is offering one single game mode which is endless runner and we think that's enough to enjoy for a game like this. You can tap on the left button to jump and right button is to ram into things, so the controls of this game are really easy. DreamCat is having colourful graphics and they look great on retina display devices. Background visuals of this game look good when the cat is running around for burgers. Your speed will increase in the game as you go further and more. To get better scores you will need to catch the burgers on your way.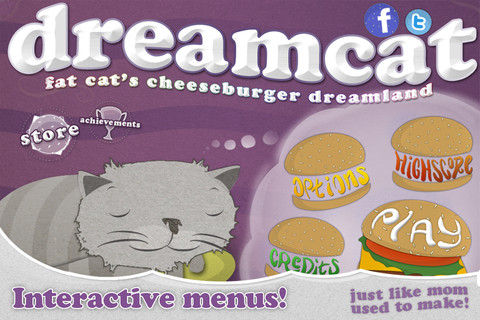 Features of DreamCat Endless Runner Game for iOS devices –
– Graphics of Dreamcat game are one of the best things about it.
– There is one single mode in the game which is endless runner.
– Run as long as you can and collect burgers in order to score points.
– Controlling of the game is easy with two on screen buttons.
– Game center support to check who is on the top of the score board.
– In built store for wall papers and new cats.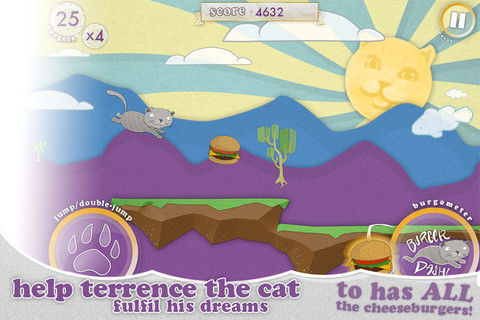 Conclusion
– if you love endless runner games then DreamCat is surely the game for you. You will really like the fatty cat of this game with funny adventurous game play.
Our Ratings – 4/5
Download Link