Sega has launched another game on iTunes store for iOS devices. Crazy Taxi is the latest game by Sega for iOS users. Basically this game is the iOS port of the successful old classic Crazy Taxi video game. Graphics of this game are really good with lots of environmental and character details. Your role in this game will be of a Taxi Driver and you will need to drop customers to their destination without running out of time.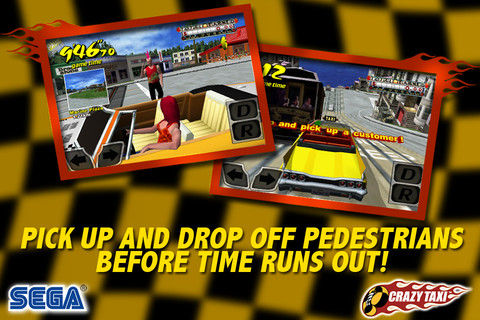 If you successfully complete a quest then you will be rewarded with the fare. You will need to make sure you drive perfectly to reach the destinations on time otherwise you will lose the fare by your customer. Players who had enjoyed this game in the 2000 will surely like it because of its game play. If you are a new player then you are in for a real treat by Sega. Controlling of the taxi is really good with on screen controls. Direction buttons are on the left side of the screen and drive related buttons are on the right side. There are three different modes of gaming to enjoy in this game.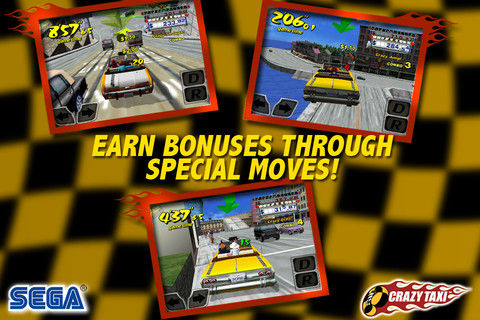 Features of Crazy Taxi by Sega for iOS Devices –
Graphics of this game are really good and you will like them.
Tilt and touch based controlling is there.
You can also listen music from your own playlist while playing the game.
Three modes of gaming to enjoy including Arcade, Original and Crazy Box.
16 other mini games to enhance the experience.
Four different characters to choose from.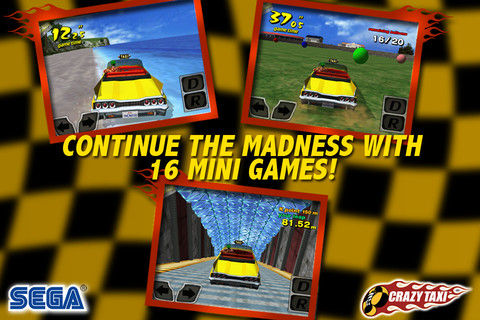 Conclusion – Crazy Taxi will surely remind you of the old dream cast classic game. It is having a cool gameplay with choice to listen your own music while playing the game. Price is little higher but you should totally get it. Our Ratings – 4.5/5 Download Link