Captain Antarctica is a new game for iOS devices. This game is developed by FDG entertainment. This is a type of vertical swimmer game in which you will need to control a penguin. So its basically an endless runner game with lots of action and fun. This game is a little similar to the Chasing Yello game which is also another vertical swimmer game. The storyline of Captain Antarctica is pretty good with a penguin whose wife and kids are kidnapped. Then this penguin meets a crazy inventor and changes into Captain Antarctica to get his Wife and Kids back. The penguin or we say captain Antarctica will continuously swim in the forward direction vertically and you will need to control him during his journey. You will find different enemies on his way and you will need to dodge them using your device's tilt motion controlling. To fuel the Scuba suit of the penguin, collect fishes. So its surely one of the best endless runner games on iTunes Store.
Features of Captain Antarctica for iOS devices –
– Graphics of this game supports the retina display of iOS devices and look amazing for sure.
– There are six different levels in the game.
– All of the levels have something special to explore with mega boss enemies to kill.
– You can control the game either by Tilt Motion or by touch controls.
– Compare scores with others using the leader boards.
– Different types of upgrades are also available like health and all.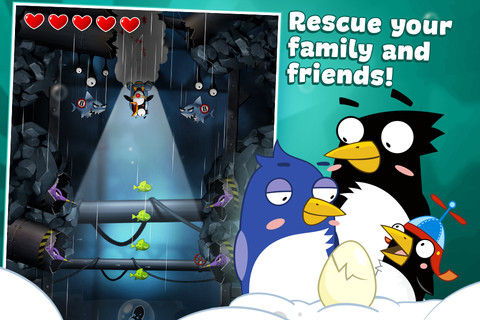 Conclusion
– Captain Antarctica is a cool endless runner game for iOS devices and if you love these titles then you should totally get it on your device. You will surely like it because of its graphics and features.
Our Ratings – 4/5
Download Link – Captain Antarctica