This game called Bankers Vs Humans is a stress relieving game because of its game play and all. There are so many features in this game because of its different characters. You can actually play 4 different types of characters in this game so it's a quite unique game with these things for gamers. You can be a slick banker and a Fat trader and on the other hand you can also be a hippie or a intellectual person. So this game surely features so many things to do while playing the game and you are surely going to love it. There are two different storylines are also there for you to follow.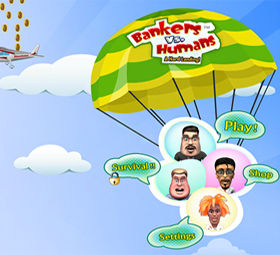 Features of Bankers Vs Humans iPhone Game –
– On the graphics hand this game doesn't offer so much. Its graphics are simple and just enjoyable.
– You have four different types of game characters to follow.
– There are two different storylines to enjoy the game. You can either be a hippie or an intellectual.
– You will be flying around the sky and destroying share and bank files. You will be also earning money too.
– You will have different types of gadgets to explore the game and you can also make strategies to get most out of the game.
– Story line is quite cool after you complete the first mission of the game.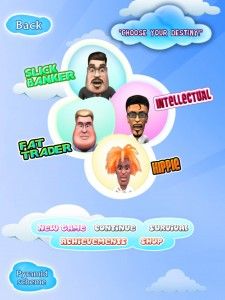 Conclusion
– This game offers a quite cool game play for iOS Devices. You will love the story line of this game as not many games are there with a cool story to play with. The graphics end is not quite good but you can still enjoy the story.
Our Ratings – 3/5
Download Link – Bankers Vs Human iTunes Store.