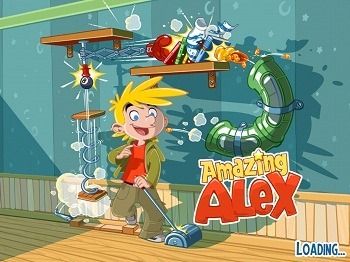 Rating: 3.5 / 5

Pros:
Bright images
Fairly simple once you get the idea
You can create your own challenges
Tutorials before every new level

Cons:
Not the same thrill as angry birds
Amazing Alex Review:
Yet another mind game by Rovio, the makers of the highly addictive Angry Birds. A physics based game like Angry Birds, but here instead of shooting birds to get other birds out of the cage, you will find yourself scavenging in a boy's messy room to drop a ball in the basket and host of other things. This game is a modified version of an earlier game Snappy Touch's Casey's Contraptions that Rovio reshaped and launched as Amazing Alex.
The game is about a boy named Alex who has a very messy room but an inventive mind which he uses to create puzzles from the mess piled in his room. Designed in levels lie the one you found in Angry Birds, all you have to do is place objects in the correct angle to get the balls bouncing and books crashing so you can earn stars. The game is fairly simple once you get a hang of the dynamics. However, it gets challenging with every leap you take.
Time or number of attempts to solve a puzzle is not important, just keep trying till you win all the stars. Getting a three star at the end of the game is the best, but for the less ambitious players, one star is also enough to move on to the next level. There are 35 objects to be navigated around all through the game.
Amazing Alex is nice, but sliding balloons and balls is not as exciting as shooting gawky birds.
An interesting feature of the game is that players are allowed to design their own challenges and share them with friends. Also, if your level is good enough, there is a chance it might get added officially by Rovio. This does spice things up a little. Also, Rovio has promised to release a new level every week. A good news for those who are truly hooked.
This is however, a game that can be enjoyed on tablets. It can be a bit challenging to navigate the objects around on a small screen or even rotate them.
Amazing Alex Screenshots: