Fujitsu Corporation, at CEATEC Japan 2010, has revealed a Symbian based large dual-touchscreen mobile phone. The device is just a prototype, with two 960 x 480 capacitive touchscreens both mounted on a swivel base.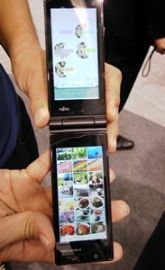 "This new mobile phone has two big touchscreens in a clamshell form, and improves on the traditional keypad and display interface configuration through a brand new design," according to Symbian blog. For instance, it is possible to devote the top screen to the "social" realm and bottom one to your private "personal" realm. You can display your contact list on the top and your photo gallery on the other, and then drag the photo you want to share to the list.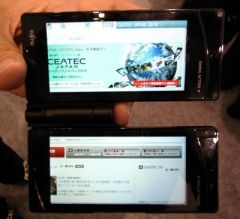 Another feature is that both screens are able to rotate, allowing you to check websites in full-screen mode, and you can pinch in and out with your two fingers to zoom. However, it is only a prototype and Fujitsu do not have plans to commercialize at the moment.