Fujitsu is a well known manufacturer among the tech experts and claims its identity as a Japanese ICT Company that offers a wide range of technology devices, solutions and services. Now, at the ongoing MWC 2013, the tech company has unveiled a high-spec smartphone which has got its name dubbed as Arrows X F-02E.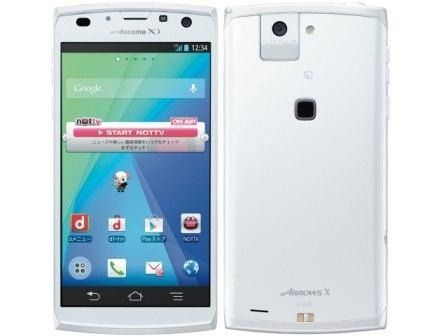 Fujitsu Arrows X F-02E boasts a 5.0-inch Full HD display exhibiting a pixel density of 443 ppi and gets powered with a 1.7GHz NVIDIA Tegra 3, quad-core processor coupled with a 12-core GPU. It flaunts a high-resolution 16.3MP camera and gets fueled with a 2420 mAh battery. This new smart device has also been complemented with Fujitsu's proprietary Smart Fingerprint Sensor, Human Centric Engine and various other technologies that provide an ultimate convenience level. The other technical specifications of the device includes an Android 4.1 (Jelly bean) operating system, IPX5/8 water resistance, IP5X dust resistance, infrared communication, NFC, Bluetooth, television broadcast reception and Wi-Fi.
In today's time what buyers look for is a device not just exhibiting plenty of features but also possessing a high-level hardware performance. And, this is exactly what Fujitsu has kept in mind while designing the Arrows X F-02E smartphone.
Fujitsu has introduced the Arrows X F-02E as its flagship smartphone equipped with high specifications especially for those who desire to flaunt a technologically advanced device with convenience of usage in their hands. It has got the high-performance ATOK Japanese language input capability and has been designed especially for the Japanese market. It will hit the Japanese store shelves by March 22 this year.