Fujitsu has launched yet another japan only device in the country, the Fujitsu Arrows Tab Wifi AR70B. Popularly dubbed as the adulterer's handset for its enhanced privacy features, the device runs on the Android 4.0 Ice Cream Sandwich operating system.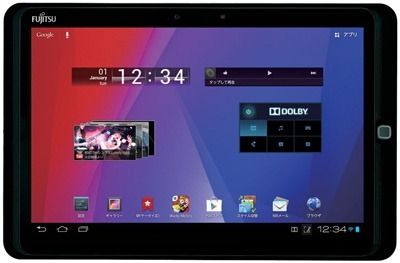 The AR70B is a 10.1 inch WUXGA screen tablet with 1920 x 1200 pixels full HD touchscreen. The Tablet has a 1.7GHz quad-core processor with 2GB of RAM. The device comes with an internal memory of 32GB with memory expandable via microSD/microSDHC, microSDHC UHS-I/microSDXC, microSDXC UHS-I.
For connectivity, the Arrows Tab AR70B has options such as Wi-Fi, Bluetooth, NFC and micro USB.The phone has a phenomenal 10,080mAh Lithium polymer battery which offers 14 hours video reply time, 75 hours music reply time and 2100 hours standby time.
The 10,080mAh high-capacity battery is definitely something else altogether, and I believe you might be tempted to try to make your battery run out to boot.
There is the "Style Switch (Sutairu Kirikae)" function that paves the way for little ones and the elderly to use the tablet in a jiffy, as it offers display options for the home screen.
With dimensions of 259×169×9.9mm, the Arrows Tab AR70B is a very slim tablet. ANother very interesting feature of this device is that it is dustproof and waterproof and also comes with a Smart Fingertip Sensor to lock the device, offering enhanced security.
The hi tech device also has a "Style Switch (Sutairu Kirikae)" function that allows children and elderly people to to use the tablet with easy to use display functions.
The tablet will be available in the Japanese markets from 12th February onwards.