Fujifilm has announced the the rugged looking looking XP200 digital camera at an event where it unveiled the FinePix S8400W.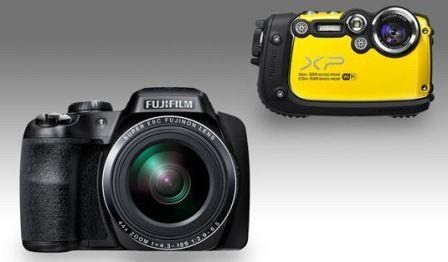 The XP200 has some significant updates such as an improved 16 MP CMOS sensor, redesigned battery door, Wi-Fi and a reinforced 5x optical zoom lens. the device is waterproof (up to 50 feet), freeze proof(up to -10 degree Celsius), shockproof (up to 6.6 feet) and dustproof.
The XP200 has a 10 frames per second (fps) at full resolution and up to 60fps at small size continuous shooting modes. The device also features a dedicated Burst Mode button on top of the camera.
The other key features of this device are Full HD video capture at 1080p images/ 60fps, a 3-inch LCD display that can be viewed under sunlight, panorama and 3D shooting effects.
The camera's CMOS sensor uses shift image stabilization and the lens has Fujifilm's Intelligent Digital Zoom technology that the company claims will double the zoom range to 10x while offering optimum image quality. User's can utilize the Wi-Fi feature to transfer photos and movies from the camera to their iOS or Android devices using the Fujifilm Camera application. The device can also be connected to desktops or laptops to do the same.
The FinePix S8400W has 44x zoom optics with 24mm to 1056 mm zoom range offering a versatile focal range covering a variety of shooting scenarios. The BSI-CMOS sensor is capable of ISO levels up to 12800. It also has a 3-inch electronic viewfinder. Apart from the manual control, it also records, 1080p full HD movies with stereo audio.
The FinePix S8400W will be available from April and the XP200 from May this year onwards.