"The Freedom 251 is enjoying a lot of attention due to its pricing, but scratching the surface reveals why it may never be launched" According to Wikipedia, 'vapourware' is either a software or hardware product that's announced to the public, but never launched or officially cancelled. The Freedom 251, a smartphone that was unveiled at an event yesterday seems well on its way to becoming vapourware.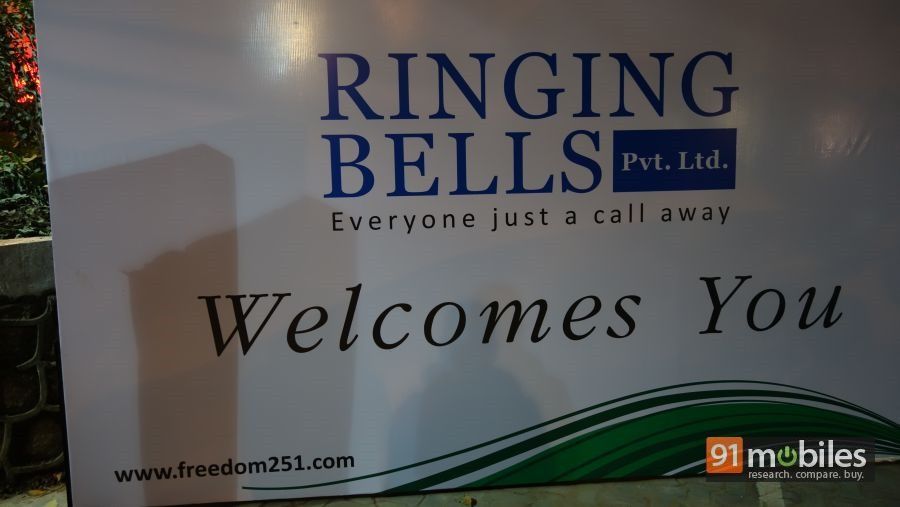 The Freedom 251 has received a lot of press coverage thanks to its jaw-dropping price of Rs 251, making it the world's most affordable smartphone. While it's too early to predict its success or failure, there are quite a few things that raise doubts about the phone ever becoming a reality. Don't get us wrong, the Freedom 251 – as we highlighted in our first impressions as well – seems to be a loaded offering. However, it also seems to be a sham, as its price point of Rs 251 is downright unrealistic, specifically for the kind of hardware it packs in.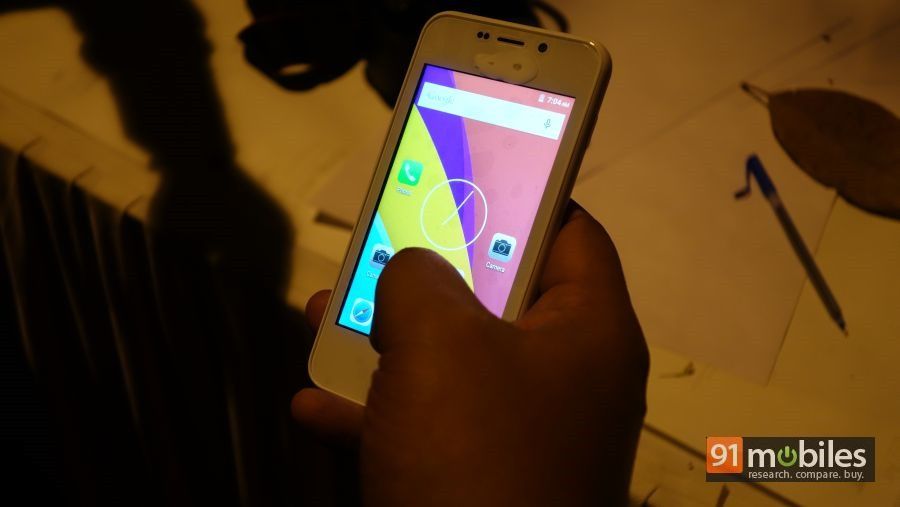 Add to it the fact that the smartphone isn't subsidised by the Indian government at all. This means that Ringing Bells, the company behind Freedom 251, either has some innovative technology with which it can sell the phone with specs like a quad-core processor at Rs 251, or it's selling it at huge losses. When this question was asked to Ringing Bells' president Mr Ashok Chadha at the launch event, he had an interesting answer for us. He says that the actual cost of the phone is around Rs 2,500, however thanks to the company's unique business model, they're able to sell it at a low price. The company is getting benefits from the Make in India program, since manufacturing the phone in India will help them save import duties of 13.8 percent, which is around Rs 400. Furthermore, the brand is cutting down on middlemen, as they're directly selling the Freedom 251 through their website, which helps them save another Rs 500 to 600. Apart from that, they'll be utilising economies of scale by manufacturing lakhs of units a month.

Adding it all up, Mr Chadha stated that Ringing Bells is able to save around Rs 1,500. Out of the remaining Rs 1,000, he mentioned that he plans to give his platform and its reach to other brands who want to use it. This might include partnerships with app developers to preload their apps on the smartphones, sell other company's products on its website, etc.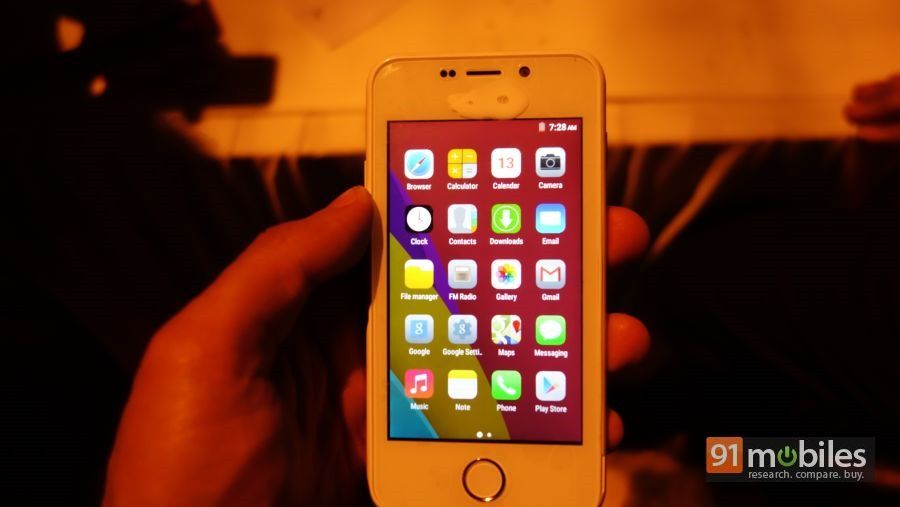 However, the model seems impractical. Over the past two years, many companies, specifically those of Chinese origin, have started selling smartphones online, so Ringing Bells isn't doing anything new. Additionally, unlike other brands that have partnered with ecommerce websites like Amazon and Flipkart, the Freedom 251 is being sold through its own website, which means that Ringing Bells will also need to handle shipping and logistics as well. Similarly, economies of scale can bring the cost of a device down, but it can't reach below the actual cost of components itself.

The demo unit which we tried at the event is a pilot device, and not a retail edition. And interestingly enough, it seems to be an assembled unit since the actual manufacturer of the phone is Adcom, and Ringing Bells has tried to hide that fact by bizarrely applying white paint on the logo. The phone seems to be largely similar to the Adcom Ikon 4, which is priced around Rs 3,600, both in terms of the design language as well as hardware specs. The icons on the phone replicate iOS' icons and what's even more bewildering is that the company claims that's alright, since according to them, Apple doesn't have a copyright on their icon design. It's one thing to be inspired by Apple's flat design ethos, and the other to copy it blatantly. Several functions on the phone don't seem to work too – the promised government apps like Swacch Bharat, Himmat, etc. aren't preinstalled and a button alongside the volume rocker doesn't initiate any action.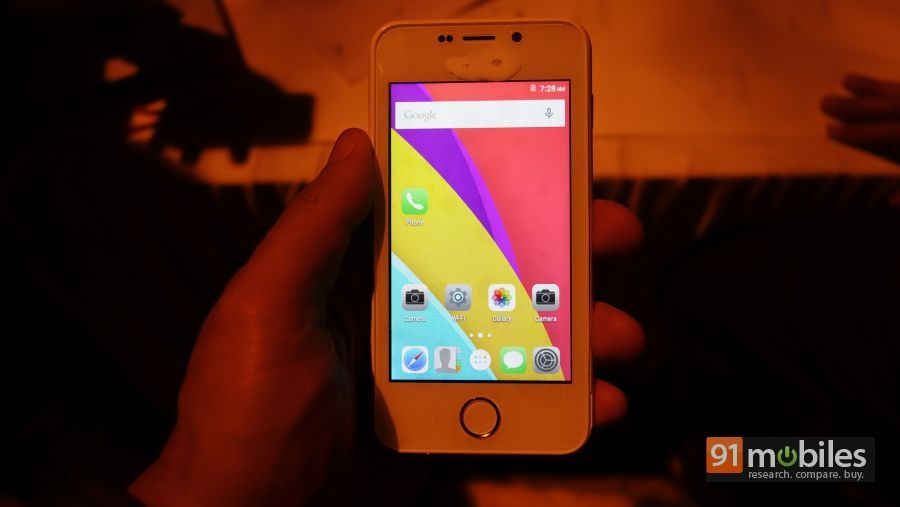 While the specs on the phone are quite loaded, they aren't finalised, since Ringing Bells hasn't decided on the chipset it'll be using. The company doesn't even have a manufacturing plant yet. As per Mr Chadha, they're looking to set up two plants which can produce 5 lakh units per month. This is why the company has started taking pre-orders, but will be delivering the phones only by June 30th. But without the plant in place and the complete components yet to be decided, it doesn't seem likely that the phones can be produced in the next three to four months. While the plant isn't set up yet, the company claims that they'll have a market share of as much as 40 percent within next year.

Then there are doubts about the company itself. Ringing Bells was formed just a year back, and it's being funded by a UP–based family that's been in the agri-commodities business for the last 36 years. This means that the company doesn't even have any previous experience in the electronics business.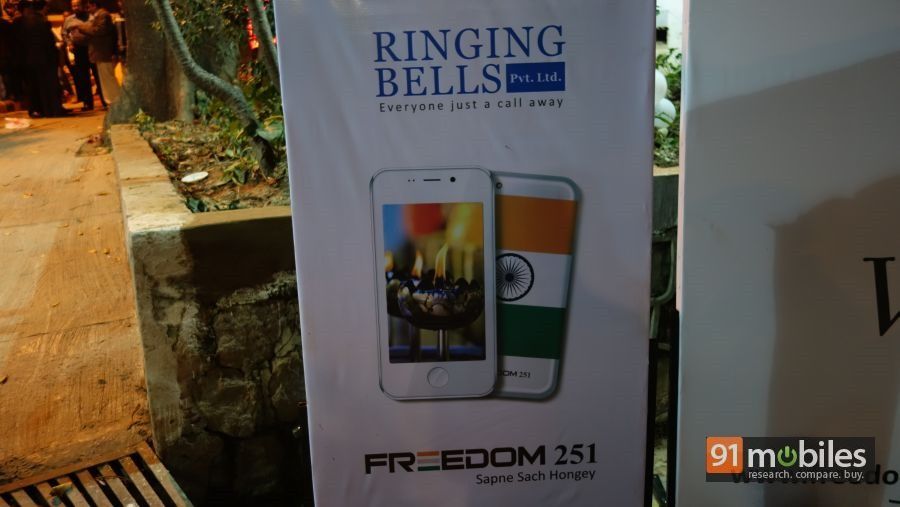 And that's not all, even government officials have raised questions around the Freedom 251. The Indian Cellular Association's President Mr Pankaj Mahindroo has sent a letter with several concerns to the Communication and IT minister, Mr Ravishankar Prasad. The Freedom 251 doesn't even have BIS certification, which is necessary for selling a mobile phone in India.

All in all, the Freedom 251 might be enjoying a lot of attention thanks to its price tag, but ultimately, will probably end up being just vapourware.