If you are not yet bored with multitude of operating systems for smartphones from Customizable Android to Smooth iOS to Tiled Windows Phone to Gesture-rich BB OS10, then gear up for another OS. Developers of one of world's most popular internet browser Firefox- Mozilla are developing a mobile Operating System, to be called as Firefox OS (also called Boot to Gecko or B2G). It's a Linux-based open source OS for smartphones and tablets which natively allows HTML5 applications to communicate directly with the device's hardware.
While there are so many options for mobile OS, apart from Android and iOS (together they've captured more than 90% market share), none of the other OS have been able to make a cut. Firefox OS sees the opportunity in developing countries like Brazil, Venezuela, Mexico, etc. where smartphone penetration is still very low. Also, devices with other mobile OS costs usually 200$ or more, whereas Firefox OS will be available at low-range with optimum specifications of hardware. Firefox ensures that reduction in price will not translate to reduction in performance and development versions has been tested for video playback and 3D graphics.
Firefox OS offers a minimalistic interface at the home screen working with gestures to see menu of applications, searching the web, etc. The main focus of Firefox OS is to enable web developers to run their apps as is it is and not spend time in developing dedicated apps for various mobile OS. In short, a developer has to spend so much time in building apps for each platform like Android, iOS, etc will have the option to run the service directly through HTML5 in Firefox OS. For users, it would mean that they will have a seamless experience across Firefox OS devices and computer for using that particular service. It will also be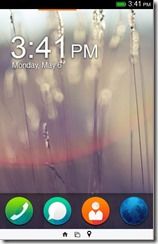 According to Mozilla, Firefox OS will be available in the market by the mid of this year. They have partnered with more than 22 hardware manufacturers like LG, ZTE, Qualcomm, Alcatel, Telefonica, etc. for developing mobiles bundled with Firefox OS.
Mozilla have also started selling developer versions of Firefox OS devices- Keon and Peak via GeeksPhone. The devices were sold out within 2 days, it certainly suggests that there is a market for another OS.
Keon is an entry-level phone with following hardware: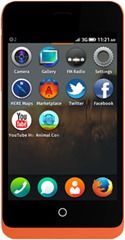 CPU Qualcomm Snapdragon S1 7225AB 1Ghz
UMTS 2100/1900/900 (3G HSPA)
GSM 850/900/1800/1900 (2G EDGE)
Screen 3.5″ HVGA Multitouch
Camera 3 MP
4 GB (ROM) and 512 MB (RAM)
MicroSD, Wifi N, Bluetooth 2.1 EDR, Radio FM, Light & Proximity Sensor, G-Sensor, GPS, MicroUSB
Battery 1580 mAh
While, Peak is an upmarket phone with following hardware: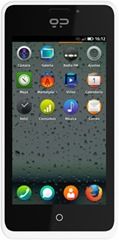 CPU Qualcomm Snapdragon S4 8225 1.2Ghz x2.
UMTS 2100/1900/900 (3G HSPA).
GSM 850/900/1800/1900 (2G EDGE).
Screen 4.3″ qHD IPS Multitouch.
Camera 8 MP (back) with Flash+ 2 MP (front).
4 GB (ROM) and 512 MB (RAM).
MicroSD, Wifi N, Bluetooth 2.1 EDR, Radio FM, Light & Proximity Sensor, G-Sensor, GPS, MicroUSB
Battery 1800 mAh
Retail devices with the Firefox OS from ZTE and Alcatel will hit the shelves by June 2013. ZTE Open and Alcatel One Touch Ultra Fire will be having similar specs to Keon smartphone.
Mozilla also released an add-on for Firefox browser which acts as a simulator for Firefox 3.0 OS. We took it for a spin and here it's main features:
1) Main Home screen features standard set of options for contacts, messages, address-book and browser.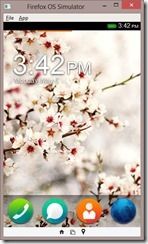 2) Swiping right to the home screen brings up menu for various apps.
3) Swiping left from home screen brings up the search page, and this is where the fun part is. It shows various categories of apps like Social, Music, Weather, Shopping, etc. which further enlists apps of the respective category.
Firefox have taken an intuitive look towards search, which dynamically changes background and apps that relates with that search. As seen in the following screenshots, searching for Firefox OS brings up various apps where Firefox OS might be present or discussed about. Similarly, searching for musician A R Rahman showed various results corresponding to the apps where his songs could be played.
4) Other apps like messaging and browser works as expected.
5) Similar to the app stores in other mobile OS, Firefox have a curated list of apps supported by Firefox OS called Marketplace.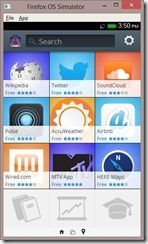 Firefox have certainly taken a bold step for striving to provide smartphones to everyone at as low cost as possible and giving freedom to developers for running web service instead of apps. But, the problem with HTML5 is that it's still not fully developed and doesn't works very well across many devices. Facebook also started developing HTML5 apps first to avoid spending time in developing native apps for every mobile platform, but due to sub par experience, it had to start making apps. Though HTML 5 apps can run offline, but for their better working they would be relying on internet connection quite often, which means a user will have to be connected to internet more often than not.
Would you love your favorite browser as an OS? What features you want it to have? Share with us your views.