"Cash-strapped? These apps and services will find the nearest ATM with cash for you"
The Indian government's recent decision to withdraw Rs 500 and Rs 1,000 banknotes has left citizens scrambling to reach banks, ATMs and even post offices to withdraw currency. While the move should be able to erase the trails of black money plaguing the country, it has since formed long queues of inconvenience that one must surpass to attain cash. However, there are many who despite standing in these queues for hours, have not been able to withdraw cash. One reason for this is finding a nearby ATM that has enough cash has become a struggle in itself.

Thankfully, some interesting crowd-sourced applications and websites have popped up during this short timespan to help fellow citizens find the nearest ATMs with cash. Let's have a look at some of the most popular ones.
Walnut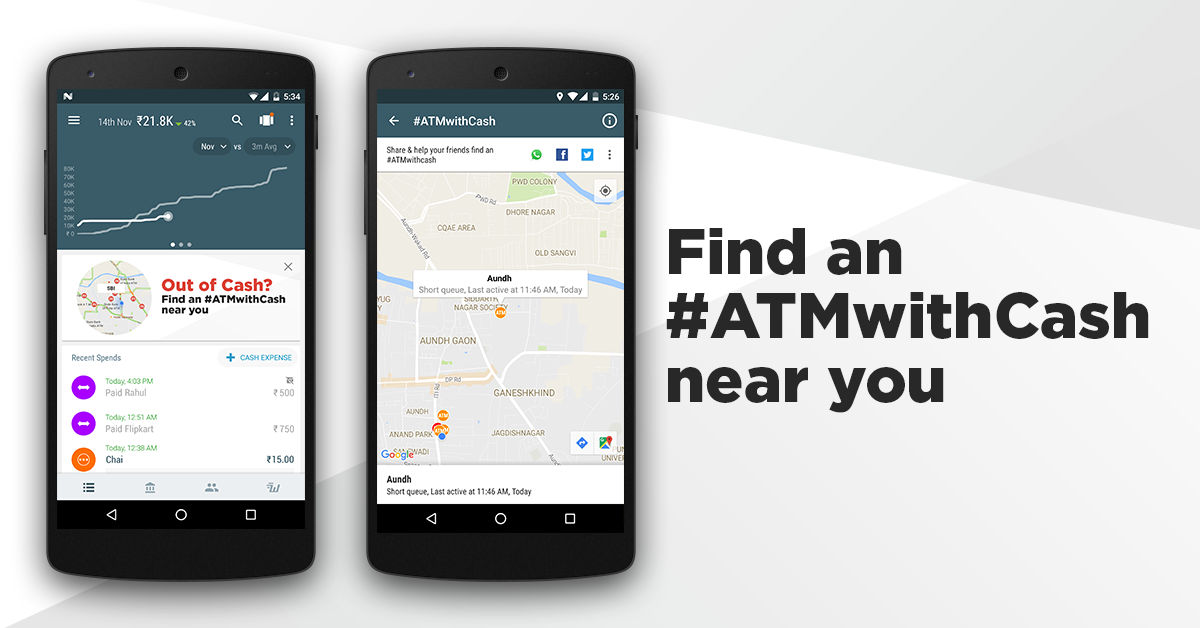 Walnut, a highly popular expense manager application, lets users share information regarding ATMs that they have visited. Based on the ATM usage of their 1.8 mn+ Indian users, the application helps users find a functional ATM with cash near their region. It also tries to provide information on the length of the queues at the ATM and the time it was last active. The ATMs are marked with colour-coded pins on a map which translate to the following:
Green Pin: ATMs currently active
Orange Pin: ATMs that were recently active
Grey Pin: ATMs active in the last few days

Find #ATMwithCash near you anywhere in #India in real-time /w queue information! Please RT ????

Walnut https://t.co/Wt9J4B1gXb @getwalnutapp pic.twitter.com/SpEWTnwd12

— Amit Bhor (@daamitt) 15 November 2016
Users can also help others by sharing the location and queue status of a functional ATM. Every time a user visits an ATM and successfully withdraws cash, a push notification is sent to tell Walnut the queue status at the ATM and share the information on social channels as well. Since app works on crowd-sourced data, the accuracy improves when the number of users increases.
Download: Google Play Store, Apple App Store

CashNoCash
CashNoCash is a crowd-sourced website that went live on November 14th, and the traction it gained has led to several crashes and sky rocketing API calls. The service however isn't limited to ATMs or any particular service provider, but also to banks and post offices across the country. The inclusion of banks and post office ensures some help to those who prefer transactions with cash and are not yet comfortable or acquainted with cards.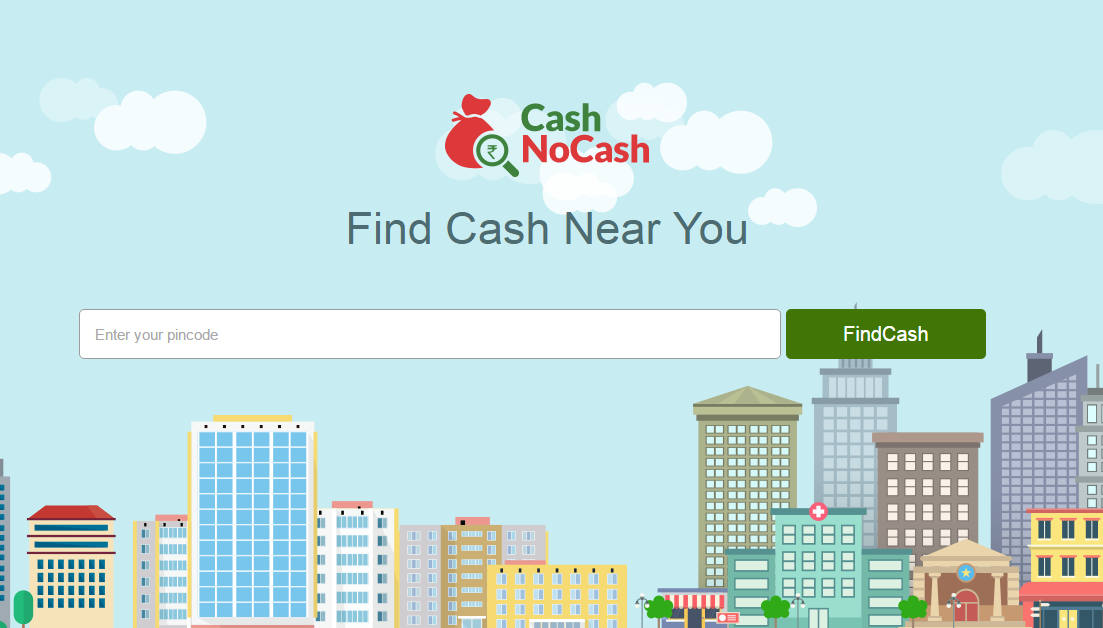 Users simply need to visit the website and either let the site pick their location or simply enter a PIN code to look up ATM/banks in that particular area. The list of banks will appear with an icon on the left side against each bank, showing whether there is a long wait time, queue or cash availability. On choosing a specific bank, it also lets users update the current status such as if there is cash, a long queue or availability. Users can also create an alert by keying in their email ID for notifications about cash-points in their vicinity.
Website: CashNoCash
CMS ATM Finder

CMS, India's largest Cash Management and Payment Solutions firm and the world's fourth largest ATM Cash Management company, has launched a web-application called CMS ATM Finder to help people find working ATMs around them. The web application directs users to a page that lets them choose their state and city. On choosing their location using the dropdown list, it helps find a list of ATMs managed by the CMS group, which currently covers more than 55,000 ATMs across the nation.

The list shows ATMs that are up and running and at the right side, users also get the option to notify CMS if a particular ATM is shut or out of cash. However, the website only shows those ATMs it has have ties with.

Website: CMS ATM Finder

Google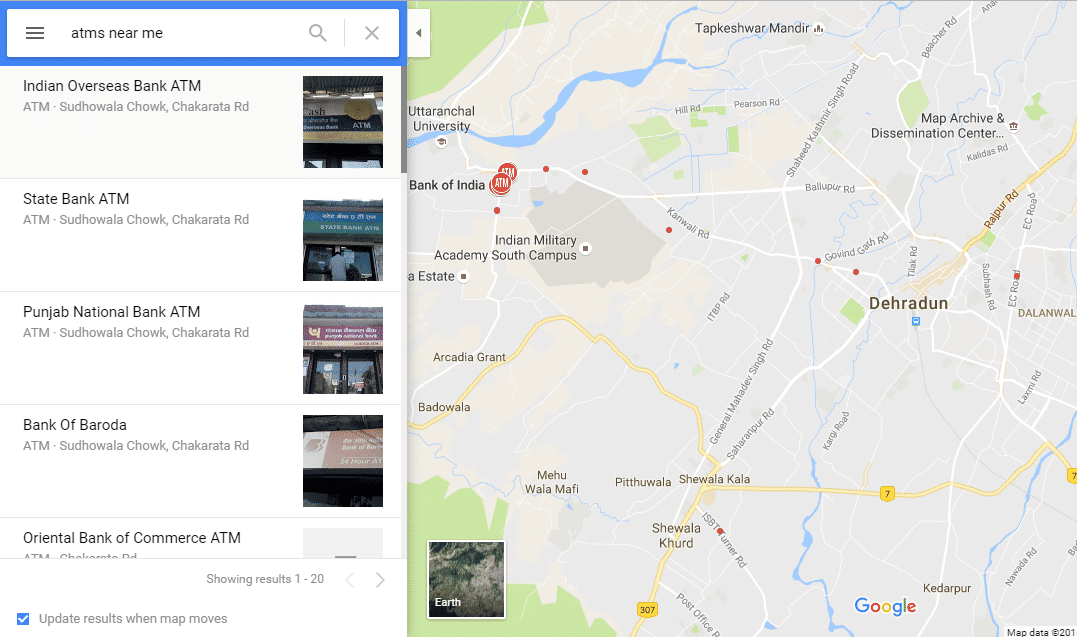 Search giant Google has also launched a novel method on its homepage that helps users find the nearest ATMs with ease thanks to the seamless integration with Google Maps. A user visiting the Google India homepage will find the link titled 'Find an ATM near you' below the search tool bar.
Once opened, the service grabs the user's location and pin points all the ATMs nearby. A panel on the left displays the ATM name, address and working time of ATM (if available), while the right side of the screen shows users all the nearby ATMs in map view. Clicking on the ATM name will open Google Maps, which will then display more details about the ATM including directions, location and official website, among others. While this approach doesn't necessarily show whether the ATM has cash available, it will certainly help users map out their routes and look for alternative ATMs in their vicinity.
Website:
Google.co
.in


Some other web services to locate ATMs:


ATM Search
Developed by twitter user @

WoCharLog

, the website collates a list of working ATMs by collecting data from users.
Link: http://atmsearch.in/
Bank ATM Locator
This website helps users search for ATMs of a particular bank as well as all ATMs available location wise.
Link: http://www.bankatmlocator.in/
In case you are aware of any other such working services and would like to share it to the public, do let us know in the comments section below. Please be advised that since these applications are majorly crowd-sourced, one cannot expect accuracy of the information at all instances. We would also request our readers to use such services responsibly by feeding valid information only.