"The results of the largest 4G survey in India are out, and they present some interesting insights"
With Reliance Jio's foray in India's telecom market, the way consumers use cellular data is set to change forever. The tide has already started to shift, as the debutant is offering its services free for a limited time, with its Welcome offer, free access to premium content and later, promising to charge only for data, rather than having separate (read confusing) tariffs for data, voice calls, and SMS. The operator is promising fast 4G speeds thanks to its next-gen IP-based infrastructure. However, that doesn't mean that the incumbent players are sitting idle. In fact, Airtel was the first one to roll out its 4G network in India, followed by Vodafone. The third-largest operator in terms of subscribers, Idea also joined the leading companies recently with the launch of its 4G network across 10 telecom circles.
All this prodded us to see which is the best telecom network in terms of speed. While we have already compared the 4G speeds of Reliance Jio with Airtel and Vodafone, for a more comprehensive analysis, we turned to our readers to help us answer that question. As part of the largest 4G survey in India, we asked readers to send us screenshots of the speed test results from TRAI's MySpeed app, along with divulging info about the network, device name and the location. We got an astounding number of entries, although a few of them had incomplete data, so in the end, we used close to 600 test results to see how the telecom networks stack up.
Related read: Reliance Jio vs Airtel vs Vodafone vs Idea tariffs
Reliance Jio seems to be kickstarting the smartphone data revolution in India, and that can be seen by the overwhelming number of entries with speed tests of the up-and-coming network. It simply dominated our speed test results in terms of number of entries, as apart from Airtel, all the other telecom players had their share in single digits. Of course, this isn't actual data about the number of 4G users, but it certainly serves as a reflection of online behaviour of users.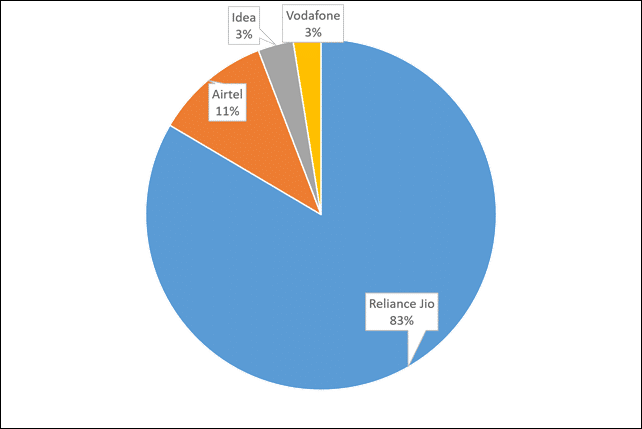 However, if you look at the average download speeds of these networks, then things get really interesting. Unlike popular perception, Reliance Jio doesn't offer the fastest download speeds. Instead, that crown is taken by the leading operator, Airtel, which offers 21.2Mbps download speed on an average, in comparison to Jio's average speed of 16.19Mbps. If we go down the pecking order, it's worth noting that Idea's 4G speeds (11.8Mbps) are faster than Vodafone's 10.6Mbps.

In terms of upload speeds however, Jio takes the lead with an average speed of 7.2Mbps. It's followed by Idea, which offers average upload speeds of 5.3Mbps. Airtel and Vodafone trail behind with average speeds of 4.4Mbps and 4.0Mbps respectively.
There's no doubt that 4G will revolutionise the way consumers access data. It will surely increase the use of high-bandwidth features such as high-def videos, video calls, multiplayer gaming and even ensure productivity for users on the move. And, if the speed test results are anything to go by, we're certainly on the right track. We're certain that Reliance Jio will try to win the crown of the fastest 4G network in India, while Airtel will continue to give a strong competition with the use of LTE-Advanced technology, which utilises Carrier Aggregation to offer even faster speeds.