The poke app of Facebook is now available for free for iPhone, iPod touch and iPad users as well. It enables its users to poke other users as well as share a message, video or photos. The poke app is one of the famous apps of Facebook. It is used in various moods and sometimes even to just say Hi to a friend. Its a 8.6MB app.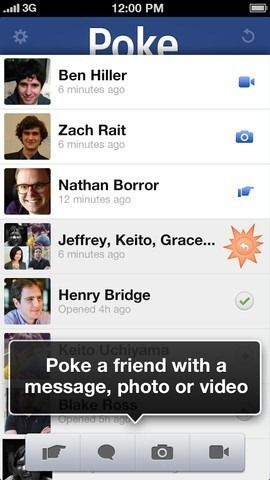 Users will also get information about screenshots taken by their friends through this app. The app also lets its users decide the time duration for which they want their poke or message to be visible to others. The available time frame options are 1 Second, 3 Seconds, 5 Seconds or 10 Seconds.
Apart from poking others online it will also let its users know about who all have poked them. In case users want to lodge any complaint with reference to the poke app they can do so using the gear menu.