Facebook has upgraded its Messenger application for Android devices by adding a new interface called Chat Heads, which was previously announced at Facebook Home Press Event.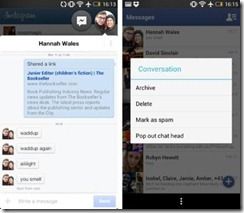 Chat Heads is a feature that allows users to access an SMS or Facebook messenger conversation from any screen on their Android device by tapping on small circle that contains profile pic of whoever the user is chatting with.
This feature is not pre-installed in every Android devices, but by installing the standalone Facebook Messenger application, user will be able to use Chat heads. After downloading latest version of Facebook Messenger, They will need to enable the Chat Head Feature. This can be done by launching the Messenger app, tapping on Menu icon, tapping "settings", and then selecting "Notifications." At the bottom of the list user will see a check box to enable Chat Heads.
If user wants to bring text messages into the Chat Head feature, they will need to enable Facebook messenger as a text messaging app. Users can add photos for the contacts who currently don't have profile pictures in their address book.