Facebook fans can now download the Facebook Home app from Google Play Store. However, the app is available only for select Android devices just now. The company has promised that it will eventually release the app to other devices as well.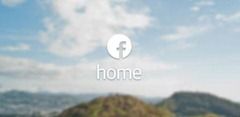 Currently the app is available on following devices:
The Facebook Home will replace your current Home screen to offer you a unique Facebook experience with different interface, widgets and the timeline is streamed as pages on your home screen and also a different navigation experience too.
Some of the salient features on this app are:
Cover Feed to see posts on your News Feed
Chat Head & Messenger
Notifications from Facebook that will be on your screen till you read them
App Launcher to launch your favorite apps and post to Facebook in a go
So for those who are truly addicted to Facebook, this is a must have, so you can stay connected every time you turn on your device.