The Android App from Facebook has received an update recently with an introduction of two new features along with an Improvement.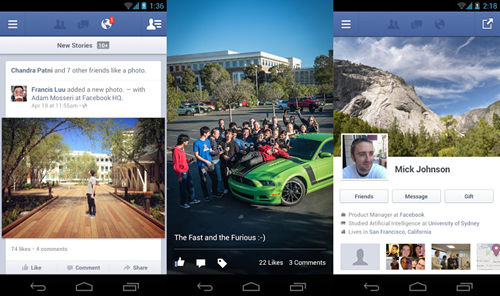 The recently updated version of the Facebook App has led the Company towards claiming that the upgraded version of the Social Networking App will load images faster along with the feature of enabling story sharing to Pages, Groups as well as on the Timelines. The Latest Facebook App users can now also send a voice Message to their friends.
The boosted up Facebook app is available for download from the Google Play store Directly. The version of the Facebook App varies from one device to another but the number of the version that is read on most of the Devices is 2.1
The first Change that has been made to the Facebook App for Android users is the boosted up mileage that will vary depending upon the Version of Android you have in your Device. Whereas, the second change hints towards an Expanded Share Button that enables you to share stories on your friends' timelines as well as on the Pages you like along with the Groups you are allowed to post to.
The Voice Message Feature of Facebook is not a completely new feature as it has been already available with the Facebook Messenger for iOS and Android but now the Voice Messaging feature has accompanied the main Facebook App.
Some times back Facebook had promised to its users that it will be updating its Mobile Apps after every four to eight weeks. Seems like Facebook is intended to make no compromise while fulfilling its promise.