Lenovo unveils the World's thinnest 27-inch All-In-One PC named Lenovo IdeaCentre A720. The Stylish All-In-One PC is an International CES 2012 debutant and is almost available in the market at selected countries. This Gigantic super-slim device will soon hit Indian markets with a special price Rs. 84,990 onwards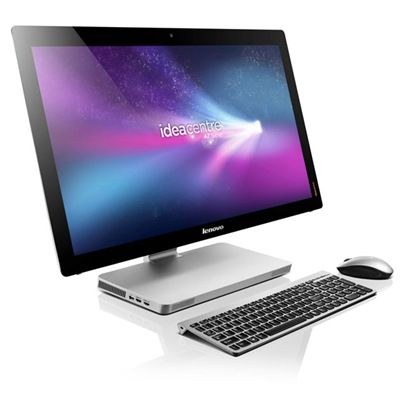 Lenovo is a market leader at several nations across the globe. Consumers at select countries are craving to buy goods from this company as they are good value for money. Apparently, the brand settled well at developing nations including India. Now, Lenovo is ready to extend the product-line in the premium segment targeting the competitors. However, we feel that Lenovo's move might not be favoring their luck in India. The new Lenovo IdeaCentre A720 is a high-end device priced at a premium. So, let us explore the device facts and know, is it worth investing on this big beauty.
The new Lenovo A720 AIO comes packed with an impressive hardware elements and accessories. The device boasts a gigantic 27-inch HD screen that folds for your liking from 5 to 90 degrees. To our surprise, this PC uses a frame-less display with 10point multi-touch technology for greater accuracy. From the above image, we can brightly estimate the stylish looks and the sheer level of architecture framed for the device. Lenovo IdeaCentre A720 AIO comes powered with Intel technology Core i7-3610QM Ivy Bridge processor and 8GB of DDR3 RAM. However, the device will be made available in various certified models powered with Intel Core i3, i5 or i7 processors. For an accelerated device performance, the device carries NVIDIA GeForce GT630M 2Gb graphics.
Lenovo uses an integrated 720p HD web-camera and HDMI In/out port for connecting with other devices. The machine equips a suite of connectivity options like integrated Blu-ray disc DVD, Bluetooth, Wi-Fi, USB 2.0, USB 3.0 connectors and 6-in-1 card reader. For a fun-filled entertainment bash, the device owns a TV Tuner, Dolby Home theatre V4 Audio enhancement and many more. Lenovo IdeaCentre A720 uses RapidBoot technology that loads the Windows OS 40 percent faster. Since the device is touch-optimized, it allows you to play a range of touch applications. So, enjoy playing popular games like AngryBirds and Fruit Ninja on your Lenovo PC like you enjoy on a smartphone or Tablet PC.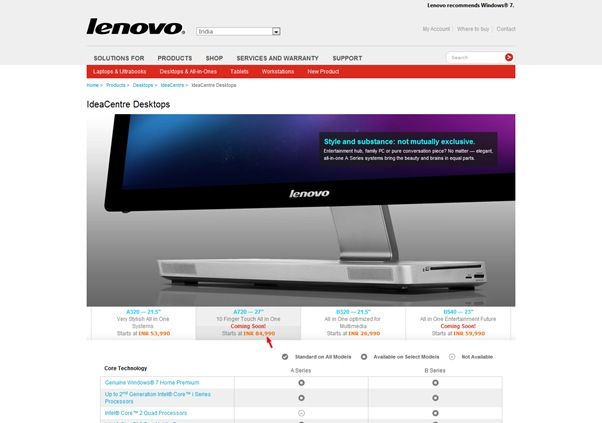 Click to know more about Lenovo IdeaCentre A720 All-In-One