Its been a long time since the Phone users have been looking forward for the launch of any device to enhance the Battery Backup of Mobile Devices. Eton has launched a Portable Solar Panel at the Consumer Electronics Show 2013 to add to its lineup of Portable Chargers.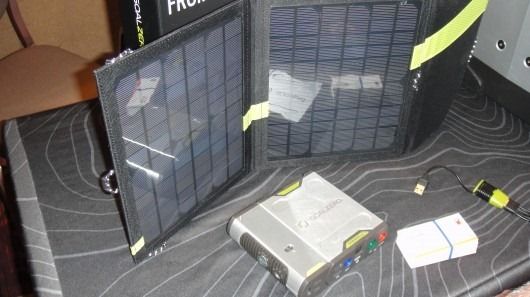 The newly launched Portable Solar Panel from Eton will keep your gadget charged while you are on the go. The Solar Panel from Eton is sleek in a surprising way while it adds a bit of weight to the Gadget.
The Portable Solar Panel is a pretty rugged Fingerprint magnet that can be easily strapped to a backpack. The 5000 mAh Li-ion Battery enables you to enjoy additional units for unlimited Power once it is Charged which can also be pushed out via its micro-USB Port.
The ultimate Power Backup alternative will cost $99.99 and will be available by early Second Quarter Year.