"The apps include games like Emoji Quiz and popular keyboard replacement Swiftkey"
When was the last time you sent a text message without using an Emoji? Emojis have revolutionised the way we communicate with one another. So much so, that sending a text without emojis is at times considered rude. Emojis or emoticons act as a way to accentuate the conversations we have textually. The laughing emoji is the difference between a sarcastic "haha" and a genuine laugh. The red angry emoji adds that extra flare and oomph to your message when you send something in all caps. The different variations of the smiley face can be used pretty much for everything besides actually smiling. If you aren't an avid texter, you probably have misunderstood the poop emoji for chocolate ice-cream. Or is it the other way around? The world of emojis can be very confusing… which is why today, on World Emoji Day, we have some fun apps for you which will help you up your emoji game.
This is a must have app if you are trying to figure out words or sentences composed only of emojis. In the game, you'll be shown a series of emojis and you have to guess what they represent. The answers could range from a host of different categories including popular movies, places and even songs. The app features over 500 different levels and is bound to keep you engaged for hours.
Disney Emoji Blitz (Android|iOS)
Disney fans are in for a treat as they get to enjoy World Emoji Day with a game focussed on collecting them. Users can collect over 400 different Disney and Pixar-styled emojis of their favourite characters in this exciting matching game. Each emoji can be levelled up within the game and also comes with its own special powers. The collected emojis can then be used in various messaging platforms using the Blitz keyboard provided with the game.
Swiftkey keyboard (Android|iOS)
One of the most popular third-party keyboards gets a spot on this list because of its unique emoji prediction feature which learns your favourite emojis and predicts them. The keyboard is also loaded with several options for customisation and has one of the best word predictions which makes it a must have for anyone who is constantly texting.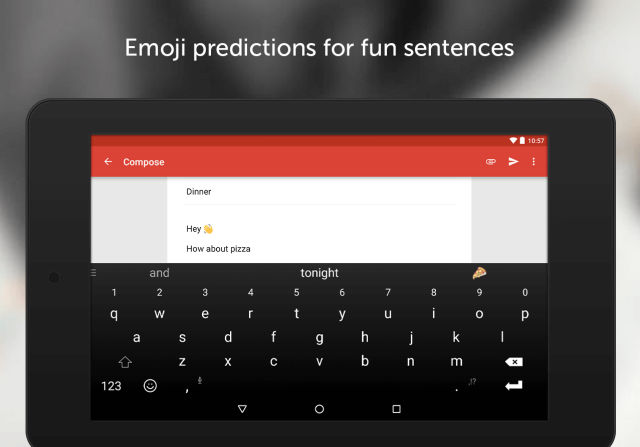 KIMOJI by Kim Kardashian West (Android|iOS)
Famous celebrity Kim Kardashian West isn't just known for her presence in the entertainment industry. The celebrity also has an emoji app which has been called Kimoji. The app consists of over 400 emojis designs and GIFs of Kardashian, which can be shared directly from the app to various messaging platform. The app was reported to be on the top of the Apple App Store by Forbes, so if you don't mind spending some bucks, hit download.
Well, we hope that these apps help you have fun with emojis and give you an insight on how to use them better. This World Emoji Day, let's not stick to the conventional smiley face and sad face anymore and use different emojis to express ourselves better.