"Eddy is a tablet specially designed for kids between 2-10 years of age."
For today's generation of tech-savvy kids, iPads go hand in hand with teddy bears. While it's important for Gen Y to be technologically adept, letting tiny tots mindlessly stare at screens isn't advisable either. Keeping this in mind, Metis, an education-based startup, has
launched the Eddy tablet
. Aimed at kids between two and ten years of age, Eddy provides a safe, parent-regulated interface with access to a variety of age-appropriate apps. Before we get on with the review, it's important to note that Eddy is a device for kids, and shouldn't be compared with mainstream Android tablets.
Kid-friendly design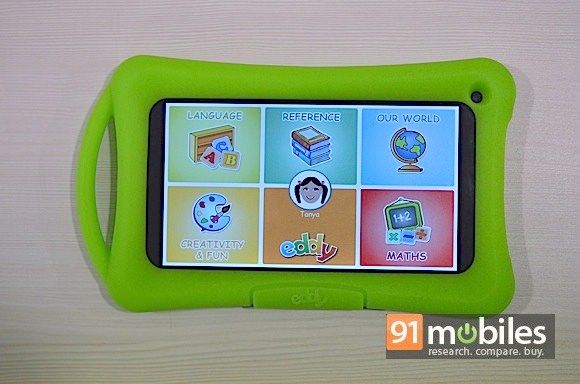 The 7-inch tablet sports an IPS display with a resolution of 1,024 x 600 pixels. While the front has a plain ol' black bezel, the back panel is gloss white, with a multi-coloured Eddy logo in the centre.
To make the tablet appealing to little ones, Metis has provided a colourful bumper made of food-grade rubber. Available in pink or green, the bumper adds bulk, but protects the tablet from the inevitable drops. It also has a handle on the top, so kids can carry it around. Metis has thoughtfully added a screen guard to the tablet as well for extra protection.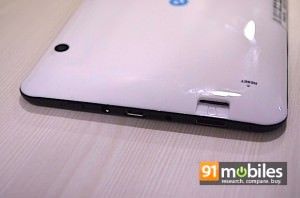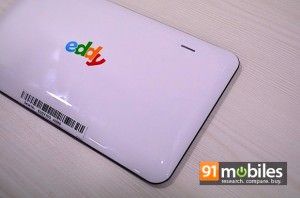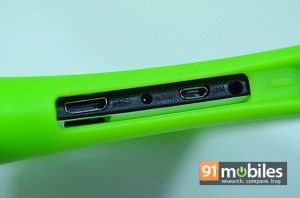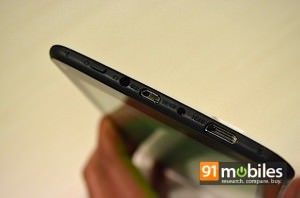 In terms of connectivity ports, the tablet offers a 3.5mm headphone jack, a microUSB port with OTG support and a micro-HDMI port that lets you connect it to a large monitor or a TV. The Eddy sports a proprietary thin-pin charger, unusual for tablets nowadays. There's also a 2MP rear and a VGA front camera. Unfortunately, the tablet doesn't feature physical volume buttons. Other specs include a 1.6GHz dual-core processor, 1GB RAM and 8GB of expandable storage.
Customisable, regulated UI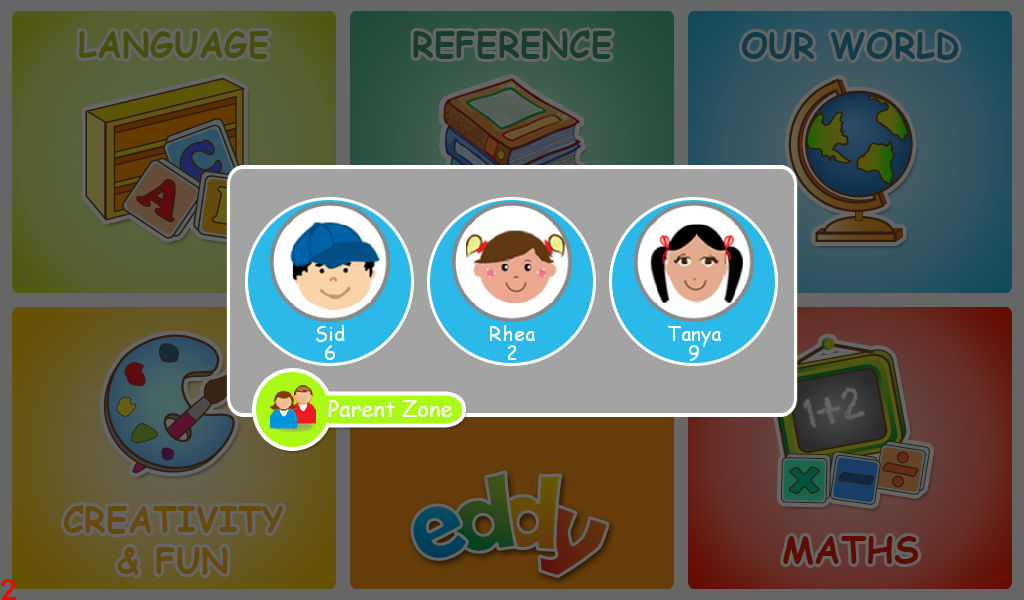 Eddy's custom skin, the Eddy Zone, is built on Android 4.2 Jelly Bean. It features cartoony icons, comic-y fonts and large colourful blocks that will appeal to younger kids. For parents, there's a special area called 'Parent Zone', where restrictions, profiles and apps can be managed.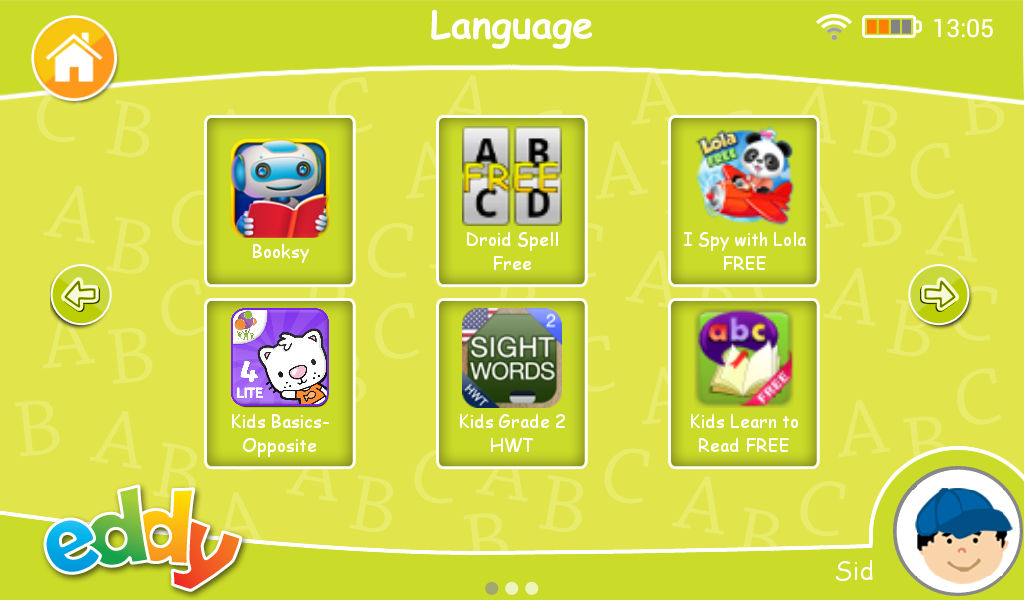 Up to three child profiles can be created, customisable with photos or one of the available avatars. Apart from personalising the tablet, profiles also allow Eddy to display age-relevant content.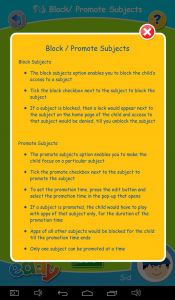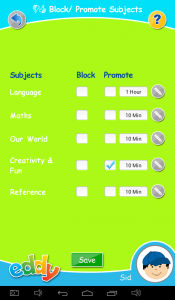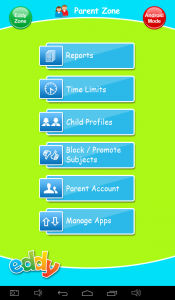 For each profile, apps are divided into five categories: Language, Reference, Our World, Creativity and Fun, and Maths. Eddy comes pre-loaded with over 150 apps, handpicked by a team of educators. Parents have the freedom to block or promote subjects, and even get reports about what their kids have been spending time on. The tablet comes with the Maxthon Kids Safe Browser, which only allows kids to access educational or parent-approved websites.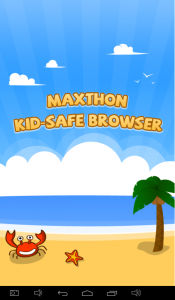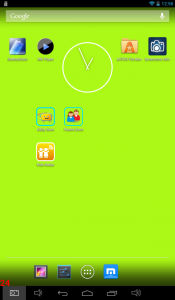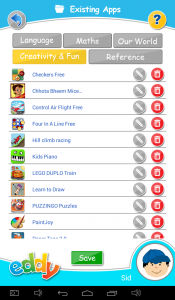 Eddy has its own apps recommendation engine called 'Kids Radar', which lets parents easily find educational apps by age, subject and price. Apps can also be downloaded from the Google Play Store. Plus, if parents don't like a particular app, they can delete it from the tablet. As child-friendly as Eddy is, it's also important for kids to go out and play, or finish their homework. With Eddy, parents can control how much time each child can spend on the tablet, regulated according to day and week.
It's a regular Android tablet too
What we really liked about Eddy is its flexibility. From Parent Zone, you can access the standard Android mode. So in theory, Eddy can also function as a family tablet. Although we don't forsee many parents using Eddy for their own needs, we had no problems setting up email and downloading third-party apps from the Play Store. In fact, without the bumper, it's hard to tell that Eddy is a kid's tablet.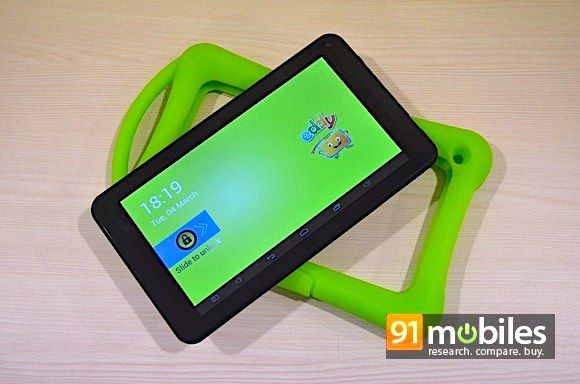 The one marked difference is the virtual controls. Since the tablet doesn't have physical volume buttons, they appear on either side of the standard Android buttons. In the Settings menu, you can add a screenshot button to the bottom panel as well. The Android buttons aren't available in Eddy Zone, which has its own set of customised controls.
Won't break any records for performance
While Eddy was able to run most pre-loaded apps smoothly, overall performance and touch-responsiveness was slightly sluggish. We also noticed that in Eddy Zone, the tablet would sometimes mix-up kids' profiles, which is an issue Metis needs to work on.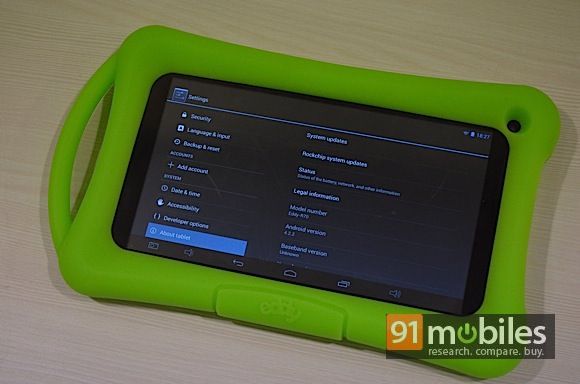 Metis says the tablet's 3,200mAh battery provides four hours of usage, but in our battery rundown test we got a little over five hours. Given its entry-level specs, it would be unfair to expect blazing-fast performance from Eddy, but that shouldn't be a matter of huge concern given its target audience.
Verdict
While kids' tablets are immensely popular abroad, in India parents don't think twice about handing their own smartphones and tablets to children. The internet is full of violent, inappropriate content, so its of the utmost importance that parents monitor what their kids have access to.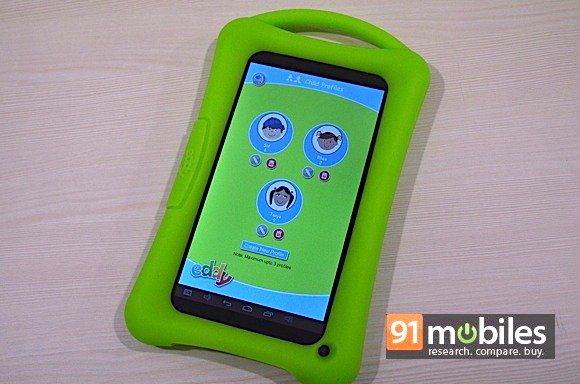 Metis has put a lot of thought into Eddy, right from the colourful interface, to the deep level of parental controls, to the flexibility of switching to stock Android. Given the ease at which kids are able to handle iOS and Android, understanding Eddy's interface should be a breeze. Although's Eddy's spec sheet is in line with a budget tablet, remember that you're paying for the specially-designed UI and the ability to regulate content, which is something you won't find on a regular tablet. It's a commendable device and is recommended for parents who'd like to make sure their kids embrace the world of tech the way they should – with properly-defined boundaries and without the risk of exposure to anything which isn't age-appropriate. The Eddy slate ensures your little ones are initiated into the world of digital learning, and have fun while they're at it too. Eddy is available for Rs 9,999, and can be purchased from the company website.
Editor's rating:
8 / 10
Pros:
Customised interface
Protective, colourful bumper
Ability to switch to stock Android
Parental controls
Cons
Average performance
No volume buttons