Are you the one who keeps the mobile over the flat surface of charger, because either your charger has a small wire or there is no place to keep the mobile nearby. Chances are higher that your mobile may vibrate on an incoming call and could be dropped to break the floor (if it's Nokia). This is where the mobile holders come in.
With our today's deal, you can get not just one but 2 Neo Cradle mobile phone holders for just Rs. 99.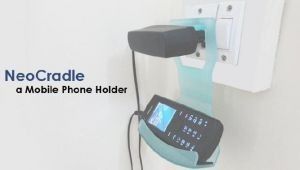 Product Name : Two Neo Cradle Mobile Phone Holders
Regular Price : Rs. 198
Deal Type : Coupon Code : IMSFOR9950
Price after discount : Rs. 99
Neo Cradle mobile holder is just like a hanger which takes support from the charger of your mobile and provides a grip stand to to your mobile phone just a few inches below the charger. You can keep your mobile in a way that screen is visible from the front side and you can easily view your incoming calls or messages without removing the charger from your mobile phone (until you decide to attend the call).
However you need to take care that your charger is properly fitted in the charging point, else it my come out along with the mobile and this time the floor may break your mobile.