Portronics Mojo is a very glossy, sturdy and solid handset charger with an in-built torch boasting 4 flash indications. This exciting charger is highly convenient, charges handsets very speedily, simple to operate and hold. Portronics Mojo functions on the Li-ion rechargeable batteries and is too simple to manage. It is really helpful for those emergency situation when you out on the town, at an event, or just because you constantly forget to charge your cell phone.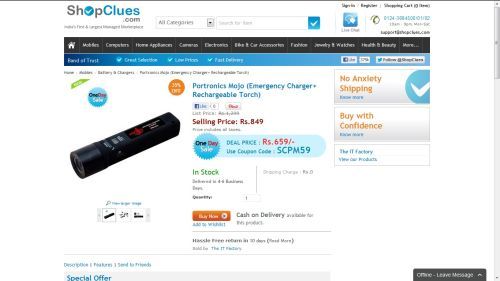 Key features of Portronics Mojo are as follows:
Recharging worldwide through USB anyplace, anytime
Handy rechargeable torch with 1W light-emitting diode
Additional vivid torch with 4 levels of brightness comprising standard, strong and flash
Offer up emergency charge for devices including handsets, music players, iPods, iPhones, gaming consoles
Simple to utilize by pressing a small key to have an immediate access to instant battery
4 phase charge level indicants (25% -50% – 75% – 100%)
Li-ion rechargeable battery, which charges the torch as well as emergency charger
Very convenient and easy to handle
The main technical details of Portronics Mojo comprise:
Brand : Portronics
Model : Mojo
Input Voltage : 5V 500mA
Output Voltage : 5V 650-750mA
Battery Capacity : 2200mAH Lithium Battery, 1000+ charging cycles
Torch/Signal LED intensity : 95 LUX, Protection against over-charge, over-discharge and short-circuit
Size : 23x23x129mm (Torch head: 29mm)
Weight : 90g
You can now buy Portronics Mojo at an affordable price at
Shopclues.com
. Shopclues is offering this exciting handset charger and inbuilt torch at just Rs.659. You can use the coupon code of SCPM59 and get a heavy discount on this excellent charger.