"The IOTA Lite is an affordable smart bulb that promises loads of fun and utility"
Internet of Things (or IoT as it's called for short) is a huge buzzword in the world of tech currently, and not without good reason. Put crudely, IoT is attempting to connect pretty much everything (appliances, cars, etc) to the world wide web either directly, or via smartphone apps… or to each other. The concept opens up a world of possibilities, but we're not going into the details for now. One of the components of IoT is smart lighting, and the device we have in hand for review now falls right into that. The Cube26 IOTA Lite is an LED bulb, but what makes it special is the fact that it's smart. Utilising Bluetooth, it pairs with any smartphone (or tablet) running Android or iOS, and can be controlled remotely. Let's check out what it can do for you.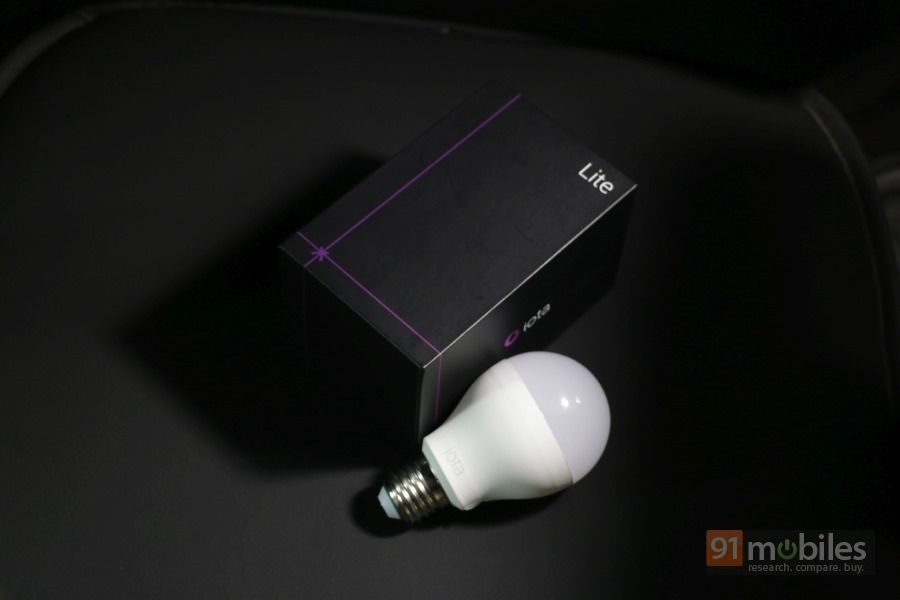 At first glance, the IOTA Lite looks like a conventional LED bulb with a screw-type E27 base. This is different than the B22 bayonet mount used by the bulbs typically found in Indian homes. Handily, we were provided with an adapter to make the bulb fit into standard B22 sockets. The IOTA Lite comes packed inside a foam-lined cardboard box, and setting it up is child's play. Just power on the bulb, download the companion app on your Android / iOS smartphone, switch Bluetooth on, launch the app, and the app finds and pairs up with the bulb. The Android and iOS apps feature different interfaces, but in essence, offer similar functions. Up to seven IOTA Lite bulbs can be controlled via the app. As far as the specs are concerned, the IOTA Lite is rated at 7W, and offers 500 lumens of brightness. Powered by a Texas Instruments microprocessor, it utilises Bluetooth 4.0 LE with a range of up to 15m for connectivity. The life is rated at 15,000 hours.
As to what you can do using the app and the smart bulb – quite a bit actually. The most basic function is that the bulb can be turned on or off using the app, but as we said, that's just the beginning. Using a slider, you can increase or decrease the brightness. Using the coloured circular control, you can also set any colour you want. There are a bunch of modes available, including a party mode that cycles through different colours automatically, a strobe mode that flashes white light at high brightness, and even a candle mode that turns the bulb a dim yellow and makes it flicker like a candle.
The other options include setting up custom scenes, wherein you can combine your favourite modes and bunch them together. There's even a music visualiser mode that syncs the light with music playing on your smartphone (uses another app called RhythmPlay on Android), but in our case, this only worked intermittently. Yet another handy function is the notifications / alerts feature, that makes the bulb blink when you receive a notification on your smartphone – useful in case your phone's on silent or you're moving about in the room with your phone resting on a table.
Some functions are slightly different on Android and iOS though. The Android app also lets you set up weather alerts, so your IOTA Lite would glow brightly if it's sunny outside, and even lets you switch colours using voice commands. On the iOS side (pictured above), you get options to set timers and schedules, letting you set specific timings when the bulb is powered up or switched off… an option we couldn't find in the Android app.
The IOTA Lite is priced at Rs 1,899, and all said and done, is a highly affordable and simple way to take your first, baby step into the world of smart lighting, and therefore, the world of IoT. You can set it up as a mood light, and liven up your parties. If you aren't a social animal, it's still a handy accessory to have at home.