The CrystalCore Tilt dock is a very innovative charging dock cum stand designed for Apple products. It is an IndieGogo crowdsourced project designed especially for Apple products.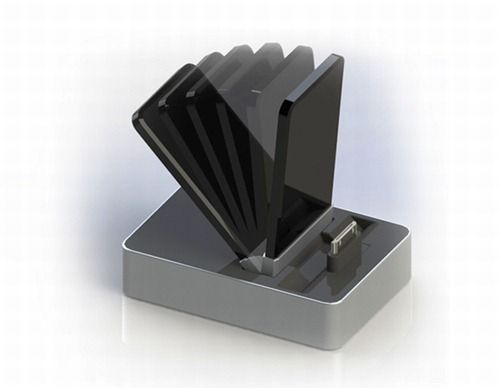 The docking point comes integrated with Apple's 30 point connector, so you can charge your phone as it rests on the Tiltdock. This connector is compatible with the iPhone 4S and its previous versions, the iPad and iPad 2, and all iPods. It also has a Micro USB connector to make the dock compatible with other smartphones including devices of companies such as Samsung, Nokia, Motorola, LG and Sony.
The company has also built an 8-pin Lightning connector for the new generation of Apple products such as the iPhone 5, iPad Retina, iPad mini etc. However, they are still awaiting Apple's approval before bringing to the market.
The company claims that the CrystalCore Tilt dock has three great features which it calls:
"The tilting backrest"
"Fit's your phone with 99% of any cover, bumper or case"
"Look Mom, One Hand!"

The phone can be tilted backwards up to a 45 degree angle for easy viewing and operation of phone while it is docked on the CrystalCore. The second great feature is that the phone's protective cover/ case need not be taken off before placing it on the dock.
The CrystalCore tilt dock is compatible with most of the standard cases available in the market. Finally, the company has smartly placed the product's Patent Pending tag on its base as a rubber stand. So, the user can operate the device effortlessly without removing it from the dock with one hand.
This device is most useful for office goers who can place the tilt dock on their work desk and just operate it without having to lift it repeatedly.