Sony being the only Electronic Company to offer ultra-HD Televisions has now launched at the Consumer Electronics Show its new TV SideView app to offer its Customers a better experience of Watching TV.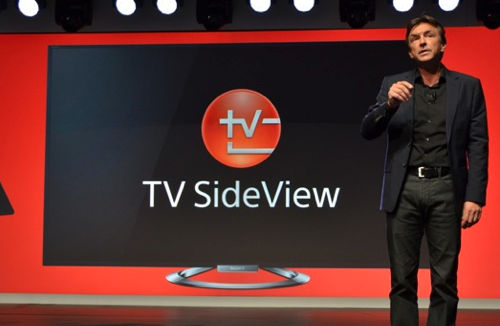 The newly launched TV SideView Application runs on the Smartphones and Tablet which have been manufactured by Sony itself. The Application will allow the users to browse the EPG along with finding out additional informations regarding the programs. Sony's SideView Application also provides detailed information about the cast and crew of the programs and lets its users find related programs to what has been watched in the past.
The new TV SideView performs all its functions in a hassle free way without interrupting what's currently being watched on the TV. Also, you can directly change the channel using the App as a Remote Control once you have found something you would like to watch on the Television.
The SideView also supports a range of major Third Party Services including Netflix and Youtube. The Application is also compatible with Sony's own unlimited Packages for Music and Videos.
Still, there is some limitation with the Sony TV SideView Application like the user must own a Sony made Smart TV and a Blu-Ray Player which provides support to this newly launched technology. One may also use the TV SideView Application with the Sony Xperia Device Range which includes Smart Devices such as the newly announced Xperia Z and Xperia Tablet S.
The TV SideView Application involves a great concept but it would be interesting to see the application become universal as it forces the consumer to adapt the ecosystem of a Particular company.