If you are a regular CNN App user, here is something new for you. The CNN Application for your Android device has got an update. This update turns this app to version 1.3.0 and fixes some bugs and adds some new features.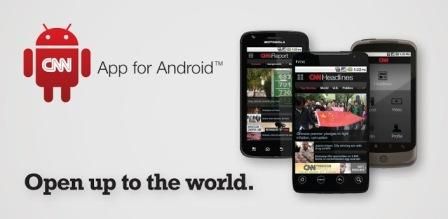 The major addition to this app is the Live TV Streaming feature, which will enable you to watch live broadcasts 24 x 7. You can watch Live TV anytime on the go.
After the update, available from Google Play Store, when you first launch this app, a new message will appear which will inform you about the Live TV feature and will prompt "Unlock and Watch"
The menu icon of Live TV feature is added on the top left. You can also opt for this feature by swiping to the right on the home menu.
You will need to login with your local cable provider's credential for Live TV feature. However, once logged in, you can just click "Watch CNN Now". This app will save the cable credentials untill you log out.
This update also comes with fixing some bugs, making this app more better.
The Live TV streaming feature was launched back in 2011 for iOS devices, now it has been added to Google's Play Store for download on Android devices. This App can be downloaded on those devices which are running on Android 2.2 or above.
So, if you need a new experience of Live TV on your Android devices, get this update now.