"Cloak is an anti-social app designed to help you avoid the people you dislike."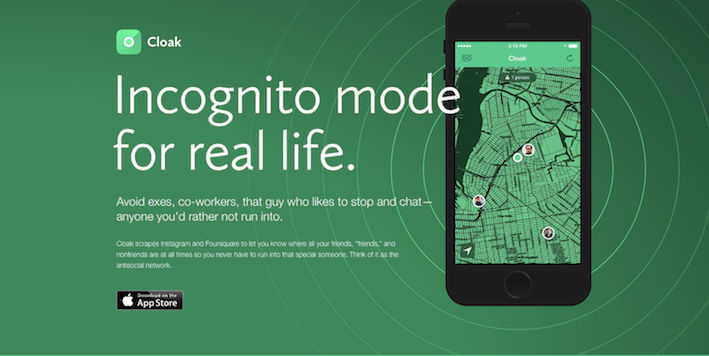 While the interwebs is going ga-ga over social networking, there's one app which has boldly gone where no app has gone before.
Cloak
is the new kid on the block, and helps you take the road less travelled (by your Facebook non-friends and other 'despicable' humans). With the tagline 'Incognito mode for real life',
Cloak
alerts you when people you dislike are in the vicinity, so you can deliberately avoid them. The iOS app pulls data from your contacts' most recent check-ins on
Foursquare
and
Instagram
, and displays them on a map. All you have to do is open up the app, and look at who's around you. If there's someone you particularly don't want to meet, you can flag them, and
Cloak
will send you a mayday alert to flee in the opposite direction.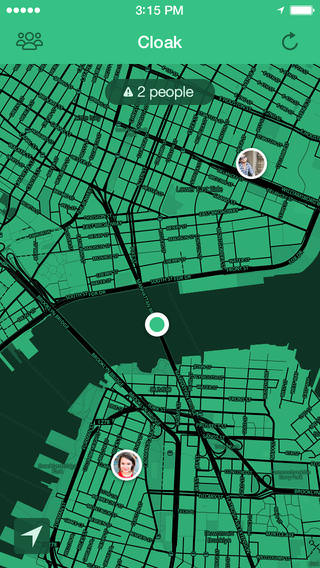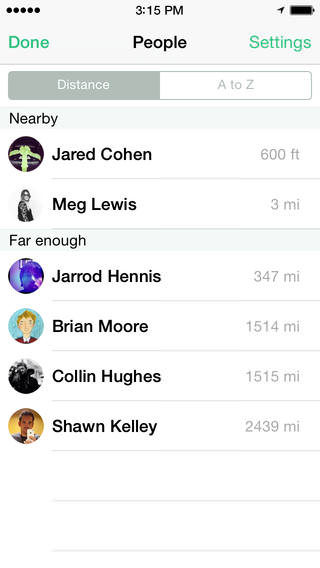 Cloak
has been created by programmer Brian Moore and former Buzzfeed creative director Christ Baker. You can tell that the idea for the app was largely Baker's, who has spawned some particularly human-hating work. Among his past creations was an extension called
unbaby.me
, designed to rid your Facebook timeline of your friends' annoying baby photos. This was eventually morphed into a more wholesome extension called
Rather
, which lets you replace topics you dislike in your social feeds with those you don't. It can basically hide pukeworthy photos of newly-married couples, and display posts about kittens, Game of Thrones and Star Wars instead. Baker didn't stop there – he's also working on a project called 'Hate with Friends', designed to let you know when you and a Facebook contact mutually hate each other. We visited the website, but it appears to be still a work-in-progress. Some of Baker's anti-social sentiment has obviously filtered into
Cloak
. Unfortunately, while the app's premise is genius, its usage is currently very limited. Not only do the people you want to avoid have to be
Foursquare
or
Instagram
users, they've also got to check-in at locations to show up on the map. It's quite unlikely that the annoying aunt will update her location at the supermarket, which means you'll probably still end up being told you've put on weight while you're shopping for ice-cream.
Cloak
's creators have said that more social networks will be integrated within the app, which could considerably improve its functionality. Facebook, in particular, is used extensively for social check-ins, so we hope it's one of the networks in the pipeline.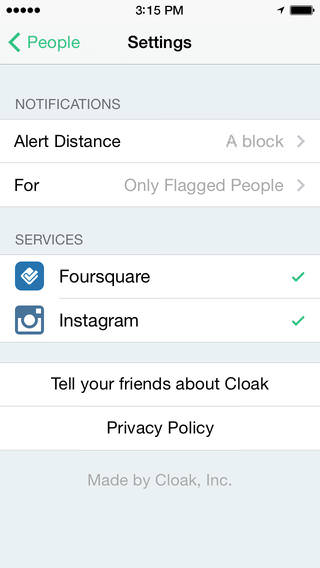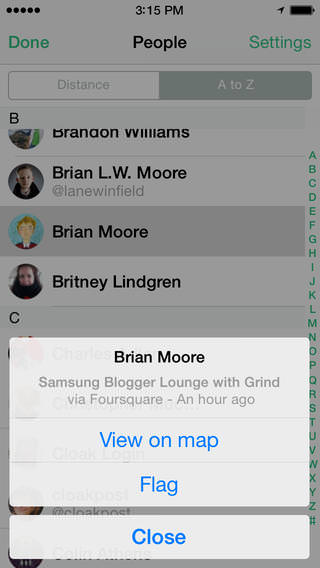 At this stage,
Cloak
is more gimmicky than useful, but it's reflective of an aspect of human nature that has no place anymore – privacy. We feel tremendous pressure to document our lives on Facebook, reply to messages on Hangouts, be part of mind-numbing
WhatsApp
groups or endorse people on LinkedIn. The truth is, too much sharing could actually be bad. Apart from the obvious privacy concerns, there are plenty of social-network users who prefer to keep a part of their lives off the radar. While
Cloak
's misanthrophic basis is a valid one, it does little to shield us from our 'friends' on the internet – and those are the ones we should be avoiding.
Cloak
is available as a
free download
on iOS.
Source