When Indian government wanted to create a low-cost affordable tablet for the students, they were too focussed on only aspect – THE PRICE. But little did they figure out that it's all about content and personalized learning than just a low-cost hardware for basic entertainment and reading. This thought must have been plaguing Rohit Pande, the man behind the ClassPad – A low-cost tablet exclusively designed by keeping in mind the educational needs. Rohit Pande runs an online learning solutions called Classteacher Learning systems (www.classteacher.com). ClassPad was born as a result of a strong need of how to deliver a personalized, interactive device that can allow students to learn, have fun and still accessible and affordable to wide range of audience.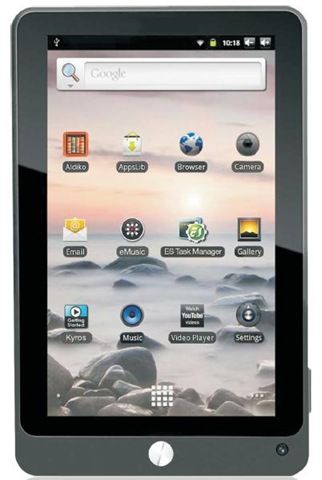 ClassPad is available in two variants – Trolley, that can be used by multiple students and One Tablet per child for individual use. The ClassPad is available in three different screen sizes such as 7 inch, 8 inch and 10 inch. ClassPad packs in a rich array of educational content such as K-12 content modules and text books. Students can take their tests online and see the results of tests including a detailed feedback from the teacher. And students can submit the assessment and homework via the ClassPad. ClassPad allows teachers to effortlessly transfer teaching material to each student's device – and PERSONALIZED too! If a teacher is using an interactive whiteboard, the contents of the server can be easily transferred to the ClassPad so that students can read them at home. All this is made possible because of the content that is residing in the cloud.
Now, this offering is suitable for all those international schools and high-end schools employing technology. Even otherwise, this model is a lesson for how to deliver education using a low cost device.
ClassPad – Specifications
Display : 7, 8, 10 inches TFT LCD with 1024X600 pixel resolution.
Touch screen : Capacitive type.
Android 2.2 (Froyo) operating system
1.3 GHz processor
512MB of RAM
Internal memory of 4GB (Expandable up to32GB -microSD)
7,000 educational applications
0.3 Mega pixels front camera.
Stereo speakers
Wi-Fi Connectivity
Single USB 2.0 port.
Mini HDMI port
Can be used as e-reader.
When you compare ClassPad vs Aakash, Classpad is clearly superior to Aakash in terms of hardware and more importantly the educational applications and content integration.
Price of ClassPad:
Price of 7 inch ClassPad android tablet: Rs. 7,500
Price of 10 inch ClassPad android tablet: Rs. 14,000
The classpad tablet can be pre-ordered via the classteacher.com website very soon!
via classteacher
ClassPad Manual or Product Sheet

Classteacher.com
Mind Shaper Technologies Pvt Limited
Plot no. 63, Udyog Vihar, Phase IV, Gurgaon – 122001
Tel: 0124 – 4942800
contactus@classteacher.com