MapMyIndia, India's leading GPS Navigation company famous for its car gps navigation and voice guided navigation systems has launched a new device called CarPad. CarPad is a 7-inch android tablet with capacitive touchscreen display and powered by 1GHz Snapdragon processor and Android 2.2 (Froyo) Operating system. Think of CarPad as a Samsung Galaxy Tab (7 inch) or Olive Pad preloaded and customized with MapMyIndia GPS Navigation system (Aura) and other accessories such as head-rest mount, windshield mount, CarPad Holder, Car Charger and 8GB SD Card. All at a price of Rs. 22,990. In addition, this tablet allows you to listen to FM Radio bringing a complete in-car entertainment to you. CarPad will be available from September 15th both online as well as from leading electronic stores, car showrooms and car accessory shops.
The new updated turn-by-turn guided map navigation system is cool with 3D landmarks, house-level details, contextual travel guides, nearby information lookup and friend finder. MapmyIndia calls this new update Aura. Aura allows you to even place a call directly to the restaurants, hotels and movie halls right from your device. The maps are comprehensive with almost 5 million places covered including 5,79,000 villages and towns in India spanning 1200 cities. The house-level details is provided only for 18 cities as of now. The 3D landmarks and building footprints are provided only for select major cities (I belive it is available only for Delhi right now).
Now, MapmyIndia offers this new updated maps called Aura as a stand-alone installation to be used in smartphones and other tablets. For example, they are selling MapMyIndia Aura only for Delhi at Rs. 1,490 online. And they have also mentioned that this software would be compatible with four smartphones as of now such as HTC Desire, Motorola Milestone, Google Nexus One and Samsung Galaxy S i9000. But I am sure, this list is outdated and the software should work fine in just any android based smartphone. MapmyIndia also sells Mobile Maps for Rs. 1,990 online which you can use in any mobile platform such as android, windows, apple and Symbian. They have even partnered with OlivePad earlier to offer MapmyIndia maps on the tablet. If you already have an android tablet of smartphone, you can probably just buy the map software and get an in-car navigation system up and running.
MapMyIndia is launching CarPad in colloboration with Qualcomm. Rakesh Verma, Managing Director of MapmyIndia was excited about the launch of this product, "We are excited to launch CarPad which will revolutionize the way people travel in cars in India – because of the simple, ingenious way in which it offers navigation, entertainment, connectivity and productivity to everyone in the car, be it in the backseat or the front-seat. For the industry, we see CarPad heralding a new era of the smart, connected car –
seamlessly merging the consumer's connected lifestyle into the car. This strategic collaboration with Qualcomm for CarPad is the first, big step in our endeavor to converge cars, consumers and connectivity in India and introduce ground-breaking connected services inside the car."
His counterpart, Avneesh Agarwal, Senior Vice president of Qualcomm echoed the same sentiments, "Qualcomm congratulates MapmyIndia on the launch of CarPad, the first 3G device optimised for navigation and in-car use, based on the Snapdragon S1 processor. Combining fast processing capabilities, 3G connectivity, rich multimedia and GPS engine of the Snapdragon processor, the Carpad brings a fully optimized in-car navigation and entertainment experience," said Avneesh Agrawal, Senior Vice President of Qualcomm and President of Qualcomm India and South Asia."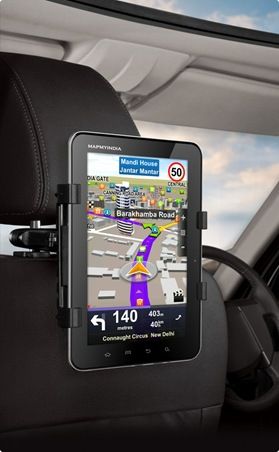 Quick Specs MapMyIndia CarPad
7 inch, TFT Capacitive touchscreen display with a resolution of 800×480
1GHz Qualcomm snapdragon processor supplemented by Adreno 220GPU
Android 2.2 operating system
3G, WiFi, mini USB, Micro SD Slot (upto 32GB)
3.5mm audio jack
FM Radio
GPS, G-Sensor, E-Compass
2 MP Camera for video recording
3400 mAH battery (impressive)