BSNL has started auction of vanity mobile numbers of its new series, 94456 and 94459 in Chennai. The comany has reserved around 600 BSNL vanity mobile numbers in this series for bidding.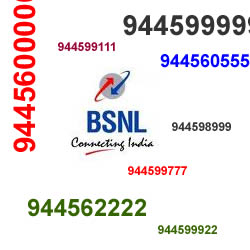 The most popular choices are the "penta numbers" having all five numbers similar (66666 for the level 94456), descending (98765), ascending (12345) or just plain ciphers. To participate in the auction, one has to resgister themselves by sending an SMS to 53344.
According to auction guidelines, bidders have to register for the auction by sending an SMS to 53344 for a fee of Rs.50, which in the case of pre-paid users gets deducted from talk value. Bidding for the numbers listed on BSNL's website www.chennai.bsnl.co.in is via SMS.
"What could inject new enthusiasm for grabbing an appealing number is the fact that Mobile Number Portability will soon be a reality and users can cling on to their numbers even if they switch operators," a BSNL official said.
If u want a new vanity number of BSNL then rush to www.chennai.bsnl.co.in.