Keralites specially the fishermen that work along the coasts of Kerela are going to be a very happy lot today as BSNL has made some concrete plans to extend its coverage range of mobile networks well into the Arabian Sea. The telecom giant BSNL wants to cover the entire coastline of Kerela and reach upto 20 nautical miles into the sea. Currently it can only covers a region of 5-kms.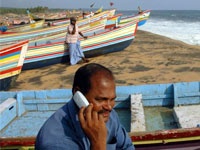 The reason for not going ahead with this plan earlier were the radiation-related limitations imposed on the mobile service providing firms. Hence the towers stayed where they were but now BSNL plans to work on this issue. Signals from the towers will be directed into the sea away from densely populated hamlets that surround these towers. Two very tragic incidents have lead to BSNL in taking this step. The first one happened when two Keralite fishermen lost their lives when they were shot at by Italian marines on ship
Enrica Lexie
. The second one happened when four fishermen died after their boat's collision with ship
Prabhu Daya
. These dead fishermen were not able to contact anyone for help as they were out of the mobile coverage region. We hope such measures would be taken in other states like Gujarat and Maharashtra from where a lot of tragic tales of lost fishermen originate. This should become the state's priority to provide help in the form of connection to land where such people can call for help.