Bharat Sanchar Nigam Limited (BSNL), the telecom company has announced on Monday, a new payment scheme under which BSNL consumers can pay their BSNL bills (Landline/Mobile) from their Mobile Phone by using their credit card.
This services will be provided to BSNL mobile customers in West Zone including the telecom circles of Gujarat, Maharashtra & Goa, M.P. and Chattisgarh.
Mr. N. K. Yadav, PGM – VAS, BSNL, said, "We are happy to launch this new service as part of our continued efforts to keep up with new market initiatives. We intend to extend this service across all the Four zones thereby offering the PAN India through which all of BSNL's over 100-million customers can avail it.
We would like to go a step ahead and introduce this service to our landline customer base also. With this our aim is to enable 100+ million BSNL customers across the country to use this convenient service. Apart from credit card linked mobile payment service, BSNL is also keen to introduce other modes of mobile payment in the near future, which will include bank accounts and stored value accounts."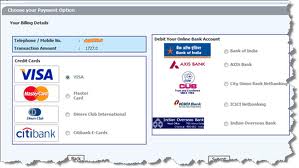 Speaking on the launch, Mr. Deepak Chandnani, President, Obopay Inc., said, "India is an important market for the growth of mobile payment services and our partnership with BSNL is a significant step in proliferating these services to its vast subscriber base in urban and rural areas."
To activate this service, mobile customers will have to register their credit card one time and generate an M-Pin by sending SMS to 52828. This will allow them to only use this M-Pin for paying all of their BSNL bills in the future in a Safe, Secure and Convenient manner.
This service has been provided by the world-class technology Obopay, a global pioneer in the mobile payment space, and is available to mobile consumers through all channels including SMS/IVR, WAP & J2ME application.
NOTE: These services might be available in some circles. So please contact BSNL Broadband Customer care of your respective circles.