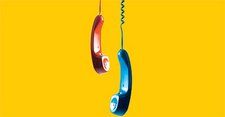 The revolution in mobile industry and entry of mobile operators in landline segment has hard hitted the BSNL's kingdom in telephone industry. The largest telecom operator in India has seen a lot of reduction in landline user base in recent past.
In Punjab circle alone, revenues from landline consumers have fallen by Rs67 crore in the last two fiscals (2008-10) and the number of landline connections continue to decline at a steady pace of almost two lakh a year. In the past three years, BSNL has lost 6 lakh landline customers and this reverse trend is not only restricted to home and office users only but the Public call office too.
According to, SS Sirohi, Chief General Manager, BSNL, Punjab Circle, "The dent in the wireline service is with the start of the mobile services as they are more personalised, handy and available at low cost."
According to statistics graph, revenue collection from landline connections in the year 2008-09 was Rs433.14 crore and it came down by 16 % in year 2009-10 to Rs365.58 in the last fiscal. The total revenue collected by BSNL under various heads, i.e landline, broadband, GSM, CDMA in 2008-09 was Rs1,075.11 crore and it fell to Rs1,055.30 crore in the last fiscal. Almost 21,000 connections have been closed in past three fiscals (2007-08 to 2009-10) against 7,426 new connections added during the same period.