Seems the war of 3G is taking shape now. Earlier we had highlighted the fact that since companies are raising debts to purchase 3G spectrums, the war for this segment may go more throat cutting than ever.
Today BSNL has taken a path breaking decision of reducing the cost of its unlimited 3G data plan from Rs2,499 to Rs1,359. Apart from the reductions into Unlimited 3G plan, BSNL also announced the massive reduction in existing 3G Data Plans of 500 MB, 1 GB and 2 GB as well as launched new short term validity 3G Data Plans starting just from Rs 10 for its prepaid GSM (3G) subscribers across all the telecom circles.
The new data plans enable BSNL subscribers to access High Speed Wireless Broadband up to 7.2 Mbps in Home and Roam circle anywhere in India without any extra charges. Presently BSNL 3G Mobile and Data services is available in more than 500 cities across India.
Have a look through the plans: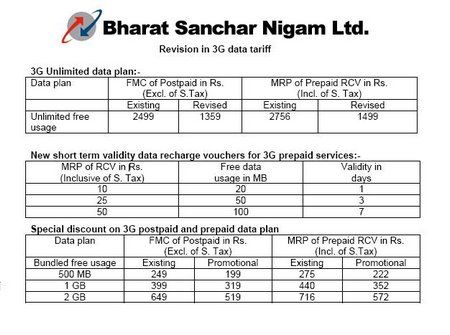 Verdict: We guess the companies have no option but to reduce the prices. First of all the craze of 3G between Indian consumers has been diminished as other countries are now talking about 3.5G & 4G. Next even if consumer likes it, there is no way the masses who survives with Rs10-20 rechrges are going to pay 2-3K for 3G services which adds only one remarkable feature of video calling. Regarding Hi-speed internet, they are quite satisfied with unlimited GPRS under 100 bucks. God knows how the companies are going to get the breakthrough.
Feel free to share you views.