"The SoundTouch Portable is part of the new Wi-Fi speaker lineup from Bose"
There are premium audio brands and then there's Bose. Known for adding tons of proprietary tech to its audio products in the quest for pristine sound, Bose doesn't like to tread the beaten path. Bose also takes painstaking care in ensuring that its products are easy to set up and to use on a regular basis – an important criteria since they deal with music. Let's face it, for those of us who enjoy their music, the listening experience is something that's extremely close to our hearts. Bose has a new trio of contenders that promise to make the listening experience better and simpler – the SoundTouch 30, the SoundTouch 20 and the SoundTouch Portable. We have the smallest of the lot, the SoundTouch Portable with us for review, and we'll try to figure out if it lives up to our expectations.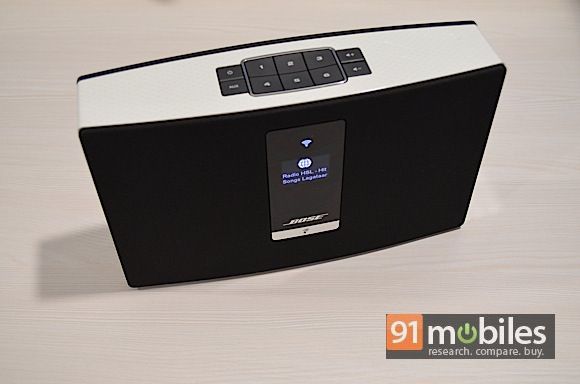 A compact speaker system the size of a large book, the SoundTouch portable sticks the basics as far as design is concerned, keeping things fairly elegant and minimal. Sporting a black mesh in the front with an OLED display in the centre, all the action has been reserved for the top where you'll find a power key, an aux button, volume controls and keys for six presets. At the rear, you'll find a socket for the power adapter, a 3.5mm aux-in port and a microUSB port used for setup. A compact remote carrying basically the same set of keys as the top panel is also included in the box.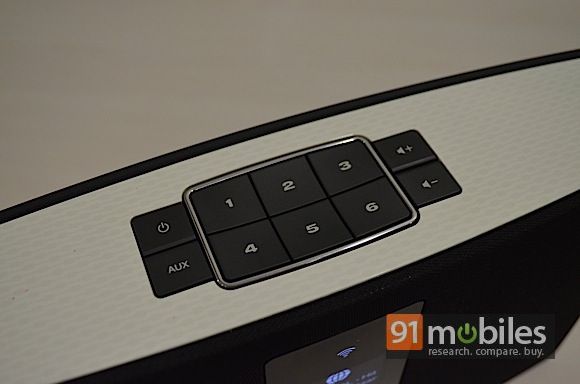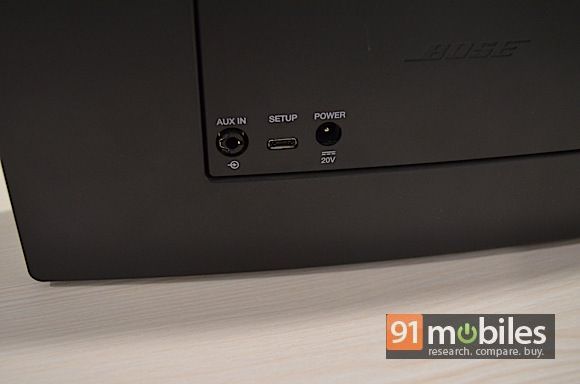 Since the speaker is a Wi-Fi based device, you'll need a wireless network to make use of it. To set it up for the first time, you'll need to download the SoundTouch app from Bose's website on your computer (Windows or Mac) and connect them together using the cable provided. The software will help introduce the speaker to your Wi-Fi network and also help you create and sign in into a Bose account. The setup process is extremely simple, and all you'll need is the password to your Wi-Fi network.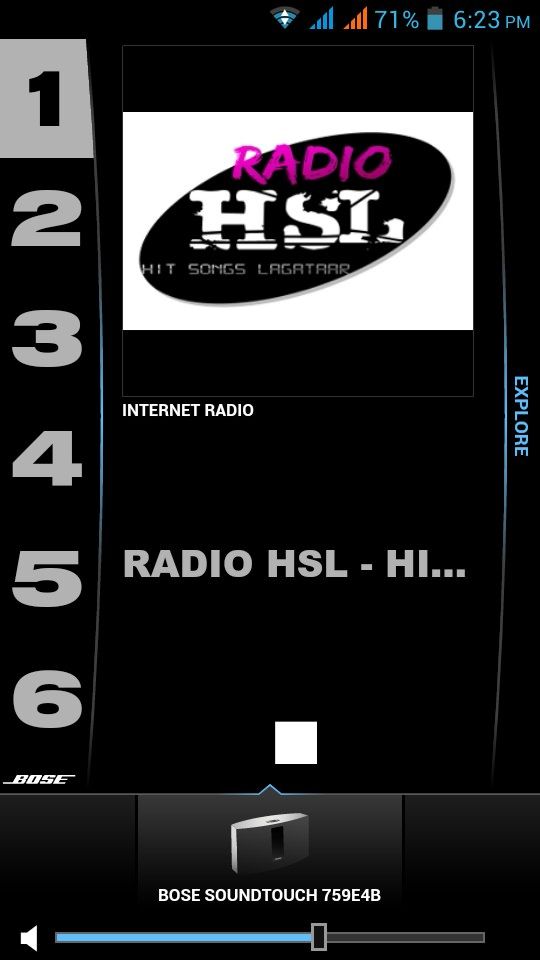 Once it's set up, you can set it free from its umbilical cord from the computer and even the power adapter – it's not called 'portable' without a reason. There's a rechargeable battery inside so it can be moved easily around the house without interrupting music playback. Do note that you'll need a Wi-Fi network to make full use of its capabilities, though you can always use the 3.5mm aux-in port to connect a portable music player, a smartphone, a tablet or a laptop and groove to your tunes anywhere you wish.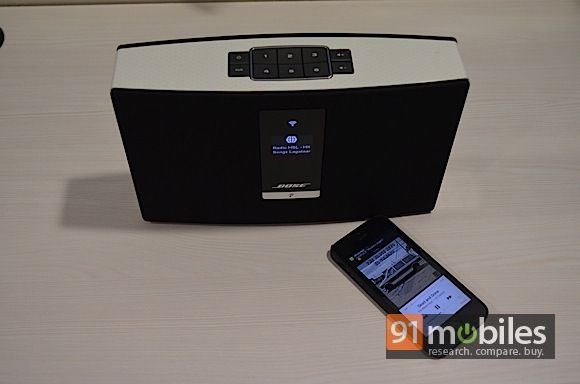 Apart from its aux-in capabilities, its primary usage is as a device serving up internet radio and that of an airplay speaker. So you can stream music stored on your iDevices (Apple iPod, iPhone or iPad) or your iTunes-running Mac or PC wirelessly over Wi-Fi. The
SoundTouch Controller
app, available for iOS and Android, can be used for selecting and streaming internet radio stations, and you can also assign your favourites to the preset shortcut keys available on the speaker. The trio of SoundTouch systems are designed for multi-room listening, so you if you have more than one, you can play the same music on each or choose to listen to different tunes in different rooms. Note that the app also requires you to sign in into your Bose account, and therefore, you can have multiple SoundTouch speakers linked to the same ID… which is what facilities multi-room playback and controlling it via the app installed on one device. One downside is that there doesn't seem to be a way to wirelessly stream music stored on Android devices, so that restricts its versatility a tad.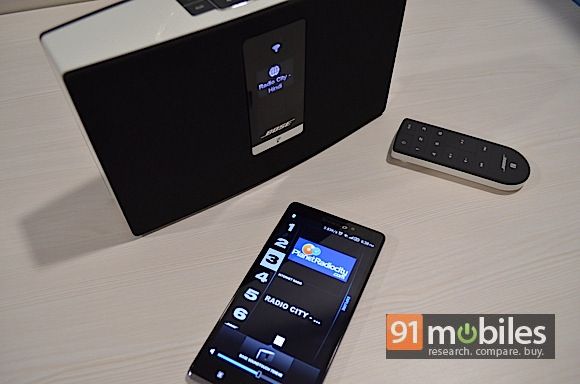 Apart from the setup process being extremely simple, using the speaker on a day-to-day basis is also quite easy, thanks to the minimal controls and the neatly-designed app. When it comes to the all-important audio quality, the Bose SoundTouch Portable doesn't disappoint, dutifully providing room-filling audio enough for a small party… defying its compact size. We had the chance to use it to power a party of about 30 people, and it didn't let us down. Sound quality is impressive, with its dual opposing passive radiators and four drivers doing their jobs to output rich audio. Do note that streaming quality depends on the speed of your wireless network too, and while audiophiles may scoff, we were certainly quite pleased with what the SoundTouch Portable offered.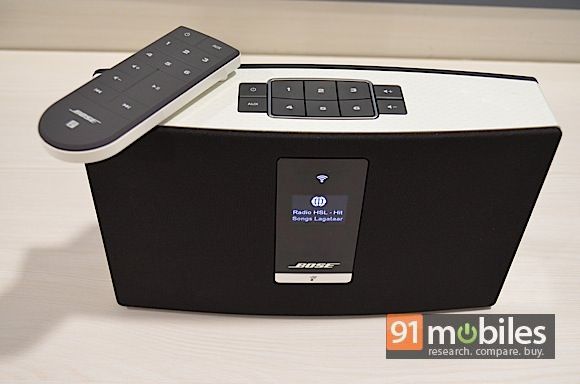 If music is a big part of your home entertainment experience, the Bose SoundTouch systems let you take it to the next level, especially if you're looking to set up a multi-room solution. The SoundTouch 30 is the largest of the trio and includes a subwoofer, more suited for the living room, while the Portable, the smallest of the lot, is all about convenience. We do like the flexibility the latter offers in terms of being tether-free and the aux-in functionality that lets you use it with pretty much any music source. However, it would only make sense if you're big on internet radio and even better, either own an iOS device or are fine with streaming from a computer. The key idea behind the SoundTouch is to buy one and then add more speakers to the setup for a multi-room audio system. Sure, at Rs 32,513, it isn't cheap, but hey… it's a Bose after all.
Price:
Rs 32,513
Editor's rating:
8 / 10
Pros
Elegant looks
Simple to set up and use
Great audio quality
Ability to control via smartphone app
Ability to set up a multi-room audio solution
Cons
No way to stream locally-stored music from Android devices
Pricey