"If you are in the market for a Bluetooth speaker, do give the Bose Soundlink Revolve+ with its 360-degree surround sound a try"
I've heard more than a fair share of Bluetooth speakers ever since I started reviewing audio products. From the massive Marshall Stanmore to the wonderfully weird JBL Voyager, Bluetooth speakers can easily be considered the most diverse set of gadgets out there, at least as far as designs are concerned. But, at the end of the day, when I had to put my hard-earned money on a Bluetooth speaker that would complement my nomadic life, I chose the Bose Soundlink III. No, it is not the absolute best Bluetooth speaker out there. Far from it actually. However, it is a pretty good proposition if you want a big sound in a small yet sturdy package. In fact, this speaker has been my trusted aide for a long time now, so much so that I've used it as my go-to speaker for my gaming and partying needs, equally.
Therefore, ever since Bose revealed its new Soundlink Revolve and Revolve+ speakers, I've been excited to audition them. And, Bose was kind enough to send me a review unit of the bigger of the two, the Revolve+. So obviously, the very first thing I did is replace my Soundlink III with the Revolve+. What follows is my opinion on the new speakers and how the whole '360-degree audio' design element changes — or doesn't change — the way you listen to music.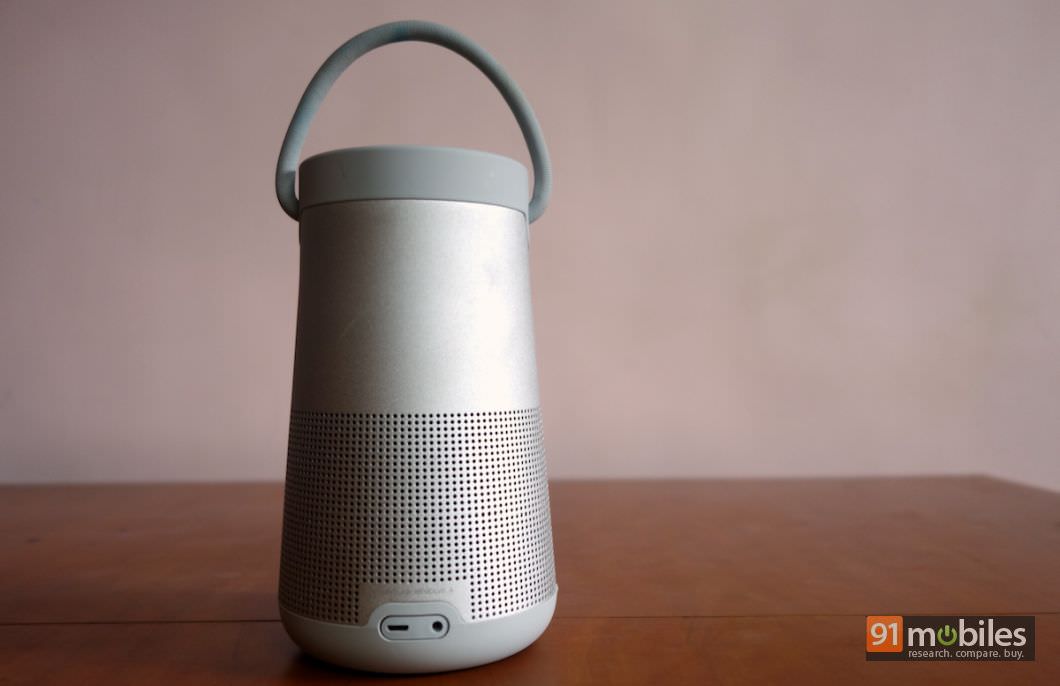 First things first, let's talk about that design. Is it a lantern? Is it a water flask? Well, it is the Bose Soundlink Revolve+ and yes, it looks odd at first glance. But, here's the thing – the Revolve+ design is so premium and refined that it makes other Bluetooth speakers look like hack jobs. The speaker has a smooth and sturdy metal unibody, and the attention to detail is visible from every direction. You can get the Revolve+, and the smaller Revolve, in two colours – silver and black. The black one is my pick of the two, but then again I have a soft spot for all things black. There is another advantage of buying the bigger Revolve+, you get an additional handle attached to the speaker making it easier to lug it around. Oh, and before I forget, the speaker is also IPX4-rated to protect it from accidental splashes of water, which is great for adventure junkies especially. Furthermore, the edges of these speakers are protected by soft rubber-like material that protects it from drops.
Inside the sturdy exterior you get a neatly stacked setup of driver units that includes an omnidirectional acoustic deflector, one transducer, and two passive radiators. All these components in tandem work together to produce what Bose claims in its marketing pitch, "All of which simply means you'll get lifelike sound … and real-life goosebumps." Tall claims, but not entirely wrong either.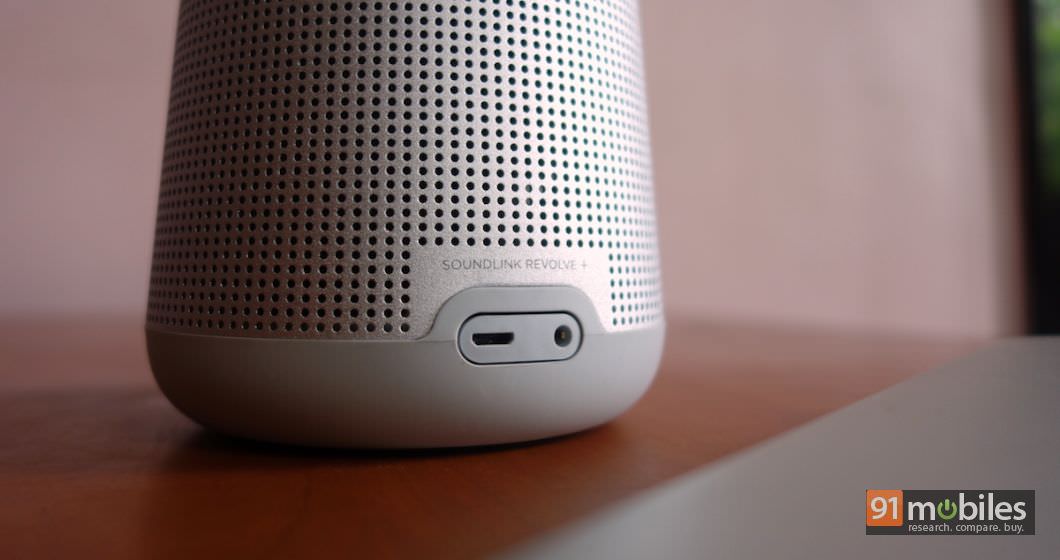 You do get a rather big sound. The speaker can get so loud that it can easily fill up a 1,000 sq ft room at maximum volume. What's better? You can connect two Soundlink Revolve+ speakers in a daisy chain (Party mode) setup for an even bigger sound. To do this effectively you will need the Bose Connect app.



The app itself is threadbare but – apart from the Party mode – it can be used to check all the connected devices, play music, set an auto-timer, and automatically update the software of the speaker remotely. For what it is worth, all of it works fine.
Coming back to the big sound, upon hours and hours of testing I realised that the Soundlink Revolve+ doesn't offer the same sound signature I've come to expect from Bose products – one that is more laid-back and perfect for listening to vocal-heavy or acoustic songs. In contrast, the Soundlink Revolve+ has a very attacking sound with an increased emphasis on the mid-bass section. The distinct thump in Kaleo's Can't go on without you just jumps up at you and you can immediately sense it. If you are a rock/metal aficionado, the Soundlink Revolve+ will not disappoint you. The sounds from any type of guitar were crystal clear and each note was clearly audible. You are bound to headband along with the song.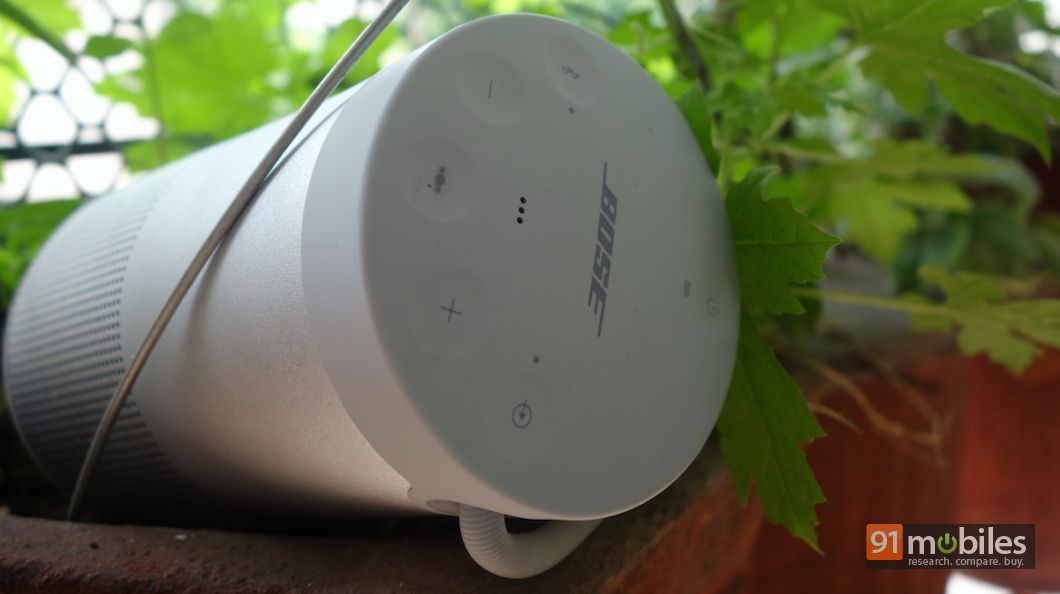 The mid-range response is pretty tight too, especially for a Bluetooth speaker. I noticed that the vocals were slightly subdued and not as bright as other Bose speakers but the difference is not immediately evident. However, the low-bass sections of songs sound bloated and have a tendency to eat into the strong points of the Soundlink Revolve+. For example, in Jai Paul's BTSTU I could barely hear Paul's highly auto-tuned vocals above the sub 20Hz low frequency sound generated electronically. Further, there is definitely no stereo separation, which is not very surprising because this is a single speaker we are talking about.
All that said, the fact that these speakers can do 360-degree audio is a really major advantage over its competition. The speaker can replicate the same kind of sound, without losing out on clarity, from any direction. Moreover, the instrument separation (or imaging in audiophile terms) is exemplary for a Bluetooth speaker. In fact, it is better than the imaging on the Creative SoundBlaster Roar 2 and the Marshall Stanmore, which in itself is saying a lot.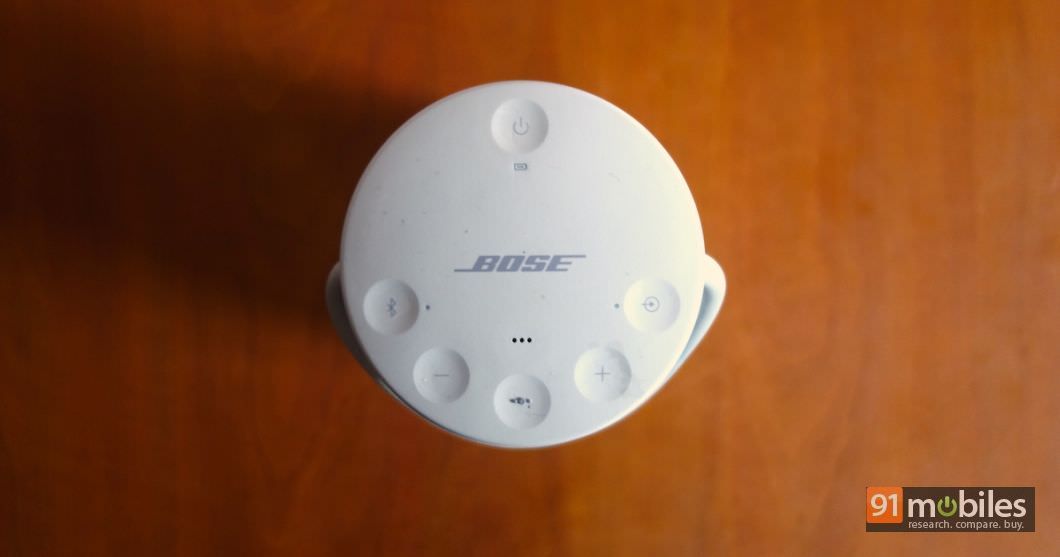 Bose also adds support for Siri and Google Assistant with the multifunction key. You can essentially invoke Siri or Google Assistant to help you out when you don't have a phone near you. It works fine. You can also use an aux cable to connect to any device with a 3.5mm output. The battery life is rated at 16 hours, which is about the same I got in my testing period as well. And, that is pretty good.
At Rs 24,500, Bose has outdone itself with the Soundlink Revolve+ this time. It is a polished product that definitely brings out years and years of effort the American brand has put into engineering quality audio products. The one major feature that distinguishes the Revolve+ from the rest has to be the consistent omnidirectional sound considering most bluetooth speakers fire only in one direction, which is a bummer. Other good options include, the Marshall Stanmore and the Creative SoundBlaster Roar 2.
All said and done though, this is the best Bose Bluetooth speaker yet and there is no denying that fact.
Editor's rating: 4/5
Pros
Big, engulfing sound

Great for rock music

Superb build quality
Cons
A tad expensive

Low-bass performance is not great