Few months ago, India's leading private mobile operator Bharti Airtel unveiled a new logo and the new logo was received with mixed response. Bharti parallely kicked off a contest to find a perfect name that can describe the new logo. The contest page can be found here namegame.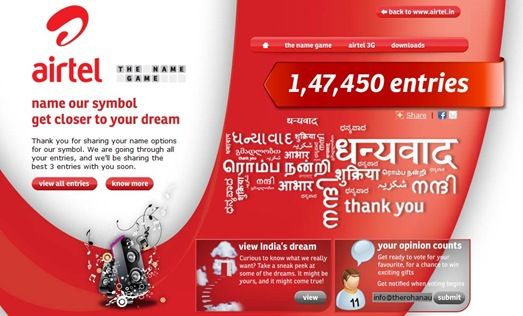 The six month long contest encouraged participants to suggest a name and to share their dream. If the name suggested is shortlisted as the final choice, the dream of the participants would be satisfied by Airtel. 3 contestants stood their ground for the final round.
Abhishek – Hug [Dream: To own a house in the city]
Mukesh Chauhan – Wave [Dream: 30 day vacation in Thailand]
Ankan – Curve [Dream: To work for Airtel]
Bharti Airtel finally chose the name as Wave – symbolizing the sweeping changes that Airtel strives to bring to the lives of 200 million customers spread across 19 countries in Asia and Africa. As of today, Bharti Airtel has 162 million customers in India alone.
Congratulations to Mukesh Chauhan and we wish you a well earned happy vacation in Thailand 🙂