Belkin has launched a product to deal with the poor sound quality of iPads – the Belkin Thunderstorm Handheld Home Theater. the case for the setup works as a dock and will be available in two models to accommodate both, the 30 pin and lightening connectors. Belkin is also making a free companion app available that will allow users to customize sound profiles for different types of media.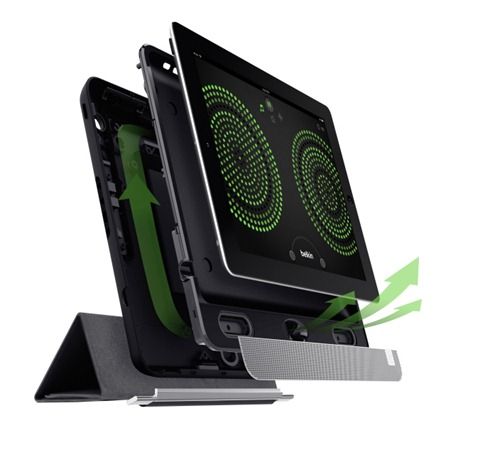 The Belkin Thunderstorm Handheld Home Theater is designed to fit flush around an iPad. It connects directly through the iPad dock connector. A direct connection eliminates the possibility of dropping the connection to the speaker and provides optimal calibration for the audio sound effects. It also features a multi fold cover for a variety of comfortable viewing angles and screen protection.
Both models will be available early this year, for a price of about Rs.12,000. its key features include:
Integrated, front-facing, landscape-oriented, stereo speakers
Ported speakers for rich bass and depth
Low-distortion, high-efficiency amplifier
Magnetically attached folding soft cover with multiple stand configurations
G3A1000 with 30-pin docking interface is compatible with iPad2 and iPad 3rd generation
G3A2000 with Lightning connector is compatible with iPad 4th generation
Pass-through access for iPad rear camera, headset jack, microphone, speaker, charging, lock switch, volume control, and mute/rotation lock toggle
The Belkin Thunderstorm Handheld Home Theater will become available in the US and select Apple stores in the month of January. Additional retailers and countries will be available soon. The Thunderstorm App is coming soon to the App Store.