The famous BlackBerry Messenger (BBM), which is the greatest USP of the BlackBerry device has received a phenomenal update today for the BlackBerry 5 operating system, named the BBM 7. With the new update, the messenger now offers free voice calls over Wi-Fi connection, in-app alerts for BBM updates and synchronization improvements with BlackBerry IDs.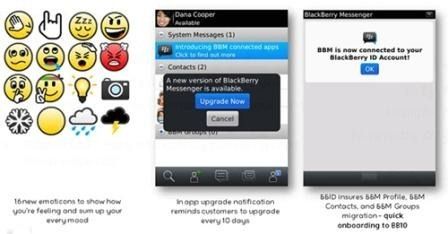 The beta version of BBM Voice was announced in November last year, just before the roll out of the BlackBerry 7 OS. However, the app was available only on BlackBerry 6 OS devices and does not require any additional sign ups. Indicators show potential callers when someone is available for a voice call and when that recipient might be too busy to speak. Voice also supports Bluetooth headsets and split-screen multitasking to have a call and still be able to text or send pictures at the same time. The BBM 7 also introduces 16 new emoticons
The BlackBerry 5 OS based device include the Tour 9630, Bold 9000, Bold 9700 and Bold 9650 among the older devices, and BlackBerry Curve 8520 and Curve 8530 among the recent devices.
The in-app alerts for future updates, as well as BBID Synchronization, allow the user to link their BBM profile, groups and contacts with their BlackBerry ID.
BlackBerry claims that BBM is one of the largest mobile-centric communities in the industry, with over 60 million active users and 150 million BBM messages sent every month.
The BBM 7 update is available for download from BlackBerry World, although the company has emphasized that it may take up to 24 hours for it to appear in the storefront.