After launching BlackBerry Q5 and rolling out 10.1 update for BlackBerry Z10, BlackBerry turned focus towards its popular messaging service- BlackBerry Messenger (or BBM in short). BBM is said to be the groundbreaking method of Instant Messaging which allows messaging your contacts having BlackBerry devices without wasting money on normal SMS. It was so successful, that it gave rise to several proprietary and cross-platform apps like iMessage (for iOS), Whatsapp (for all mobile platforms), WeChat (for all mobile platforms and even on web) and many more.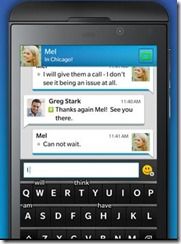 According to BlackBerry, BBM has more than 60 million monthly users sending and receiving more than 10 billion messages per day. In terms of engagements, nearly 51 million users use the app for at least one and half hours daily and they read the message within 20 seconds of sending it.
BBM Channels feature will let users connect to and follow their favorite brands, celebrities and businesses. It's similar to the Twitter where an individual can follow handles of their interest and get their updates in real time. Users can also engage and participate by commenting, liking and sharing the updates.
Channels will have following features:
1) Channel Creation- Not only brands, even a user can create their own channel with a simple click and can have unlimited followers for the updates. The channel can be managed on the BlackBerry smartphone and on the web.
2) Channel Discovery- BBM will offer a carousel like interface for finding new and interesting channels. The channels can be shared via BBM chats, PIN or QR Code.
3) View and Subscribe- Each channel will be having a profile which user can see before following, subscribing to a channel will give real time updates and notifications.
4) Participate- Users can comment and like updates from the channels and some channels can have one-on-one chat with users.
5) Monitor Engagement- The channel owners will be having built-in tools to measure and assess followers interactions.
Based on usage statistics of BBM and its ability delivery messages quickly, BlackBerry is keen to bring this experience to Android and iOS platforms. The app will be free and available for download in summer. The first version will have following features:
1) Message Chats
2) Group Chatting
3) Sharing audio notes
4) BlackBerry groups- up to 30 BBM members can share calendar, files, photos, etc.
BlackBerry's plan to making BBM more relevant and driving usage by bringing it on other OS is a good option, but we think its too little too late. While BBM is credited with the advent IM services, since than many awesome apps have come which are already available for various mobile platforms and offer sharing of photos, videos, audios, voice and video calling and many more features. Even the channels like option is already present in WeChat which lets user follow their favorite celebs and news websites.
What do you think? Would you be excited if BBM comes to other platforms?