"The Audio-Technica SonicFuel offer an exceptional sound listening experience and courtesy their design, offer an ultimate grip to the wearer supporting an active lifestyle"
When it comes to earphones, every big and small brand is going the smartphone way by offering compatible products that offer utility, as regular earphones that double up as a tool for some great conversations. Built upon similar lines, the Audio-Technica SonicFuel brings its years of expertise garnered by making quality audio accessories, with a utility-based design that is both functional as well as comfortable. Despite the fact that the earphones get a heavy price tag, the Audio-Technica SonicFuel looks impressive. But to know how they performs in real life, let's find out in this review.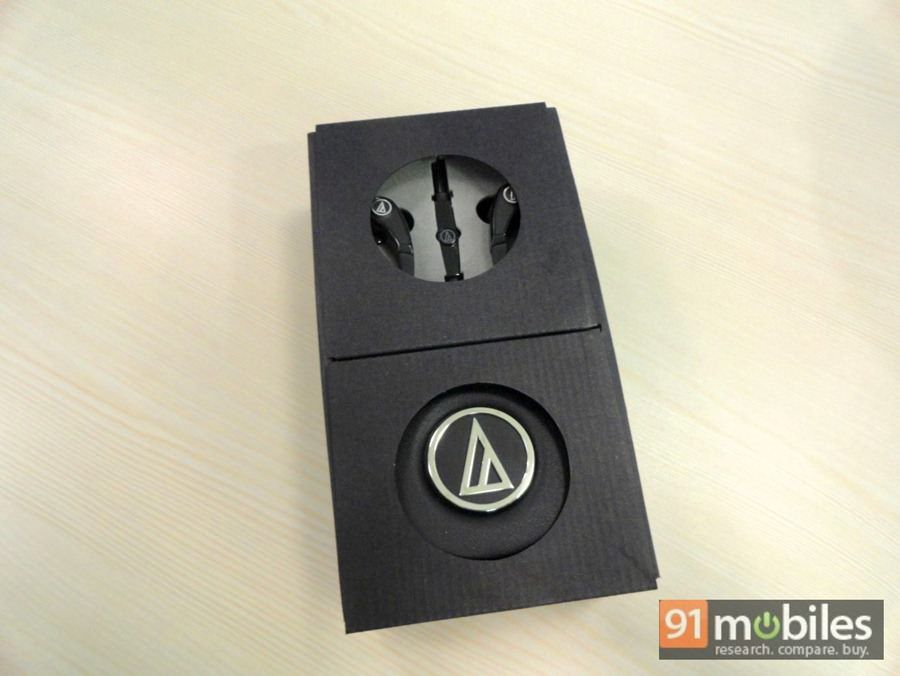 In terms of look and feel, the earphones are different from most models available in the market today. The designers have tried making this a hands-free kit and as ergonomic as possible, while keeping the sound quality quotient on the higher side. Featuring an in-ear design, the Audio-Technica SonicFuel earphones come with a specially designed C-shaped ear gel, in addition to the soft silicon ear buds that sit in the user's ear canal. It's because of this C-shaped ear gel that the Audio-Technica SonicFuel get a good grip on the user's ears, so much so that even while undertaking intensive activities like running, jogging and cycling, they stay put without affecting sound quality in any way. The company provides three sets of ear gels and ear buds along with the Audio-Technica SonicFuel, and for those who want something even softer than silicon ear buds, there is an additional pair of foam-based ear buds included in the box.
The earphones come with a hard shell carry case, which can accommodate the earphones along with replacement ear buds and replacement ear gels. It comes in handy for when you feel the need to have ear bud replacements readily available. In addition to the innovative design on the earpieces, the Audio-Technica SonicFuel comes with a tangle free cable – a flat cable design – which makes handling easier and hassle free.
What differentiates the Audio-Technica from regular earphones is the added in-line microphone and control box, which allows users to make and receive calls, and control music and volume without actually having to touch a smartphone. The control has a very simple one-key design that has been provided for all calling and media payback controls.
To answer calls, you have to press the button once and to make calls you need to press the key twice. To control multimedia, you will need to press the key once to start or stop the music, double press to advance to the next song, and triple press to go back to the previous track. As an added advantage, volume control has been provided in the form of a slider control on the side of the control unit.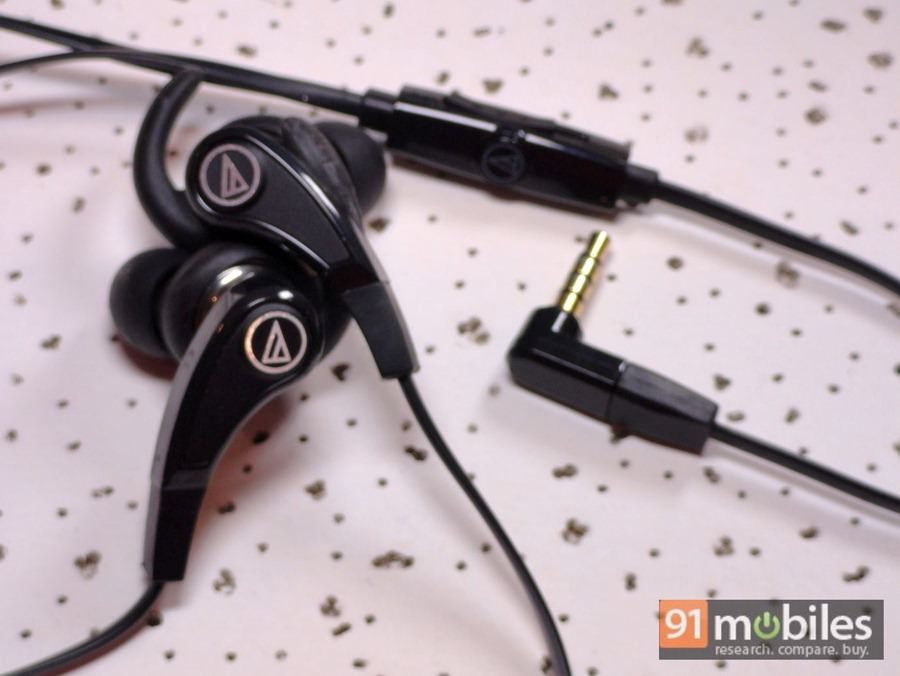 While the design and utility are top-notch, the actual ear drivers are where Audio-Technica has spent the most effort, and it's the resulting sound quality that you're actually paying for. The earpiece comprises of a precision-tuned 13.5mm driver mounted on an angled, non-movable type housing.
Giving the technical bit of information a rest, we tested the Audio-Technica SonicFuel earphones with a variety of different music genres to check out its actual worth. Our overall observation is that despite being an earphone, the SonicFuel easily manage to put bigger headphones to shame when it comes to comparing sound quality.
We listened to some jazzy tunes by Dave Brubeck, and were able to easily pinpoint where and how often the double bass was being played, and when the drummer went merciless on high hats. When listening to trance, the synthesised music can tire any decent earphones at higher volume levels, but the Audio-Technica SonicFuel manage to keep their cool even when the music is played at volume levels of 80-90 percent, although it does leave your ears ringing after a while. Drums and other percussion instruments get a mellow tone, because of the tighter bass and finer mid-range. Overall, the Audio-Technica SonicFuel offers a level of sound quality even purists will appreciate, which is biased towards deeper bass without interfering with the mids and highs.
To wrap it up, the Audio-Technica SonicFuel are not projected as a purist sound solution, but are nothing short of it. The earphones were also able to offer loud volumes while maintaining their cool, and are equally enjoyable when listening to Enrique Iglesias crooning away about being a freak, or hearing Keith Jarett play on a grand piano.
Priced at Rs 5,299, the Audio-Technica SonicFuel AH-CKX9iS don't come cheap, but for the quality and comfort they offer, make for a worthy accessory for your smartphone, notebook or media player. It's essentially a product for those who value superior sound quality that matches up to their active lifestyle.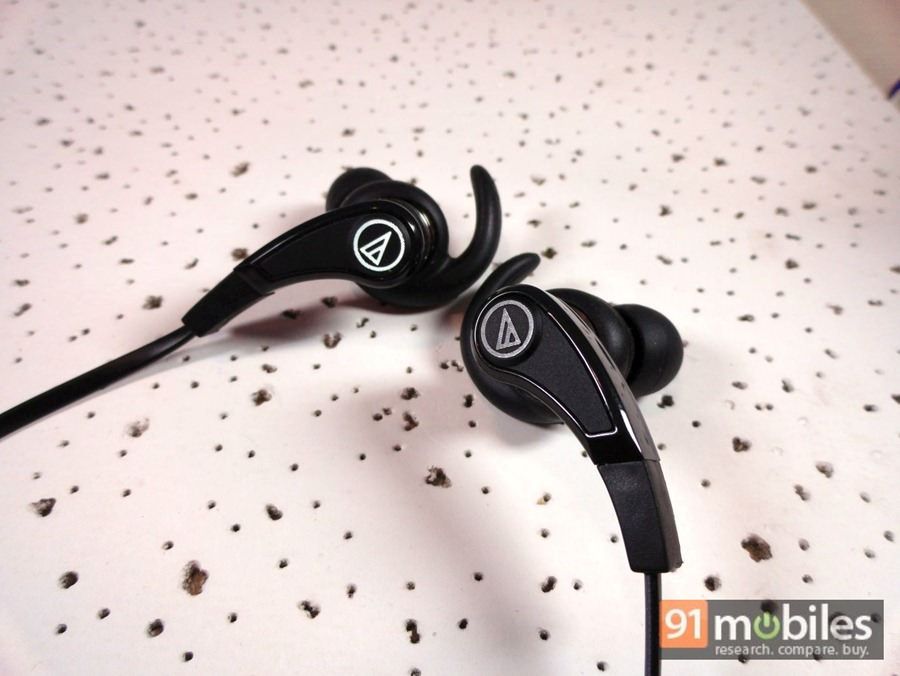 Editor's rating: 9 / 10
Price: Rs 5,299
Pros
Great sound
1.4-meter long cable
In-line mic and remote
Comfortable and rock solid grip
Cons
Priced a tad on the higher side