"Great phone with 13Megapixel camera and Laser Auto Focus system that is as fast as 0.2 second!"
After creating the trend in the market with the ZenFone 2 (ZE551ML), the first smartphone in the world equipped with 4GB of RAM at the beginning of the 2015 (which is one of the very few in the market even till now), now the leading smartphone maker is ready to take the brand to another level by introducing different variants of the phone to satisfies the need for all the photo-savvies. Here is the lowdown on the ZenFone 2 Laser (ZE550KL/500KL)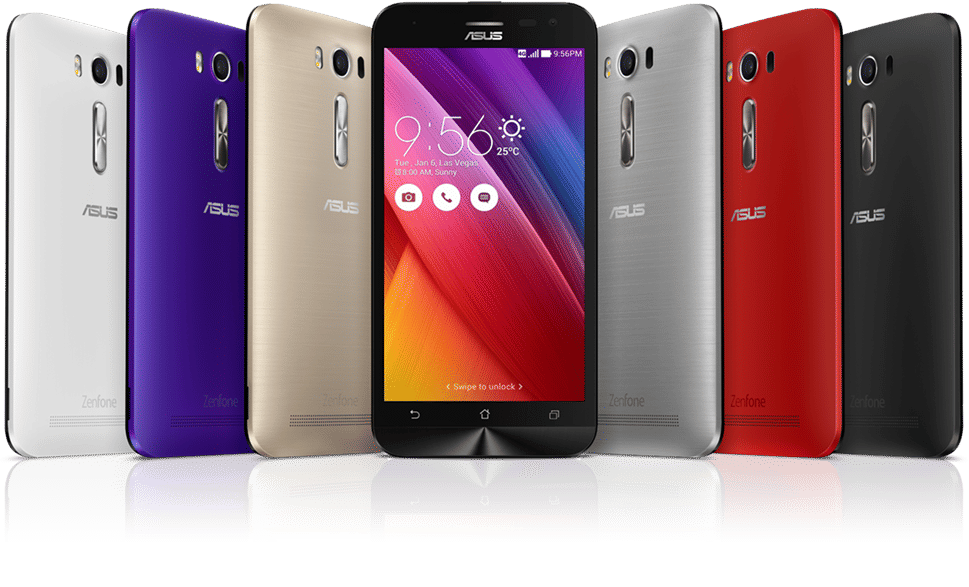 Design, build and display
The ASUS ZenFone 2 Laser is not only thin but also has the best grip thanks to its ergonomic arc design, with its curved back and thinnest edge measuring just 3.9mm, is designed to comfortably fit your palm for ultimate comfort without sacrificing style – the back cover features an exquisite hairline design with a metallic finish.
The curve design also allows ZenFone 2 Laser to eliminate the visual and physical obstacle on the side, making it one sharp looking device even when simply place it on the table.

ASUS's trademark concentric circle design carries over to the ZenFone line and is featured on the back rear key to complement the hairline metallic finish back cover. Each of the concentric circles features with spin pitch of only 0.13mm, which delivers the mesmerizing visual effect, just like its big brother ASUS ZenBook. The delicate design is also rare to find on a smartphone within the same price zone.

The rear key, part of the ergonomic design, provides the most intuitive way to use your smartphone. Using your index finger, as you naturally would on countless real-world situations; not only adjust the volume but also use it for other functions like taking a selfie.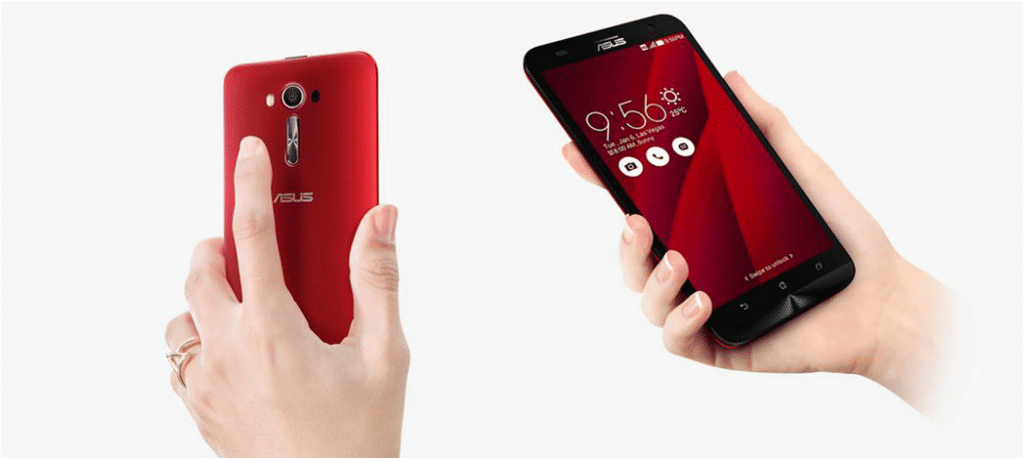 The ergonomic design offers a nice grip, especially compared with the thin-yet-flat design of iPhone 6 plus, which people often easily drop the phone accidentally due to the flat and slippery surface.

Beautiful yet super tough display
ZenFone 2 Laser features the 5.5-inch HD (720x1280p) IPS display and Corning Gorilla Glass 4 which offers vibrant colors, good brightness levels and wide viewing angles up to 178 ?. The 720p display panel works great in rendering text and graphics to nearly all usage scenarios. When it comes to outdoors, the readability is also great when under sunlight plus the outstanding viewing angle.
The ZenFone 2 Laser's screen-to-body ratio sits at 72 percent (ZE550KL), a whole 10 percent better than the first generation ZenFone 5 and 4 percent more than the iPhone 6 Plus.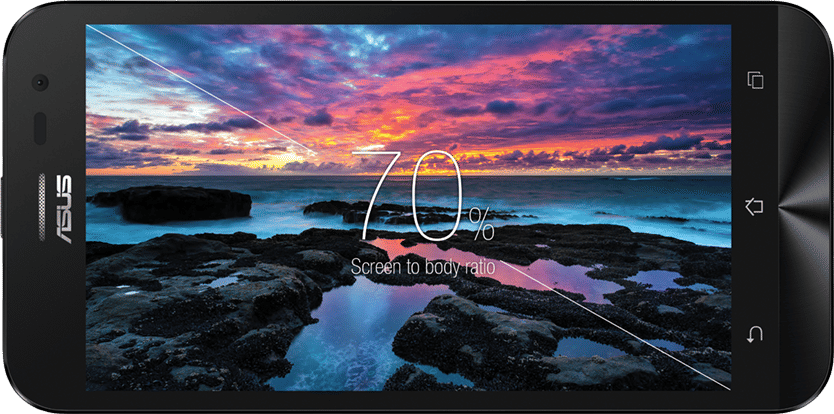 Full Screen Lamination with ASUS TruVivid Technology
Normally, there are 4 layers between your eyes and the LCD module. ASUS TruVivid Technology eliminates 2 of those layers- sensor glass and air gap, to minimize reflectiveness and maximize clarity, brightness and touch responsiveness, providing an extremely comfortable and enjoyable viewing experience.
ZenFone 2 Laser display reaches 72% of the NTSC gamut so you see more colors, just as precisely as your eyes enjoy the real world. Photos and video are brighter, clearer and vivid.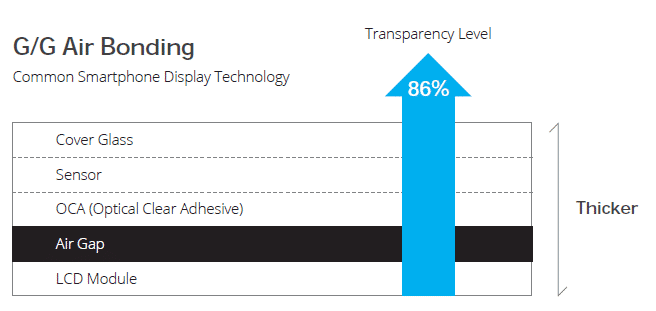 20nm Anti-fingerprints Coating with Glove Touch Support
ZenFone 2 Laser has a 20nm anti-fingerprints layer on the cover glass, allow you to enjoy the sliding and swiping without leaving any fingerprints. Not only so, the special coating were lab-tested by extremely high standard for ZenFone 2 Laser, using the water drop as the performance metrics, ZenFone 2 Laser is able to achieve 105 degree while other devices can only reach 80-100 degree. And the friction is reduced by 30% thanks to the smoothness of the coating. The ZenFone 2 Laser also supports glove touch; completely useable even when you are wearing gloves.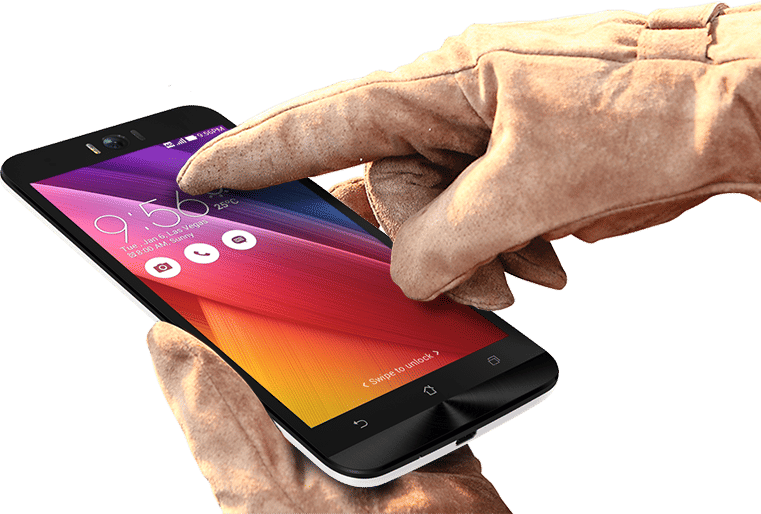 Sensitive, responsive touch experience
ZenFone 2 Laser is one of the quickest in the market with a record-breaking touch response time of just 60ms, which is one of the quickest compare to most Android phones that are 80 or 100 millisecond in response time. ZenFone 2 Laser provides you with no lag feeling when you click on the icon or drag the screen. You will feel much better responsiveness especially
when you are playing games.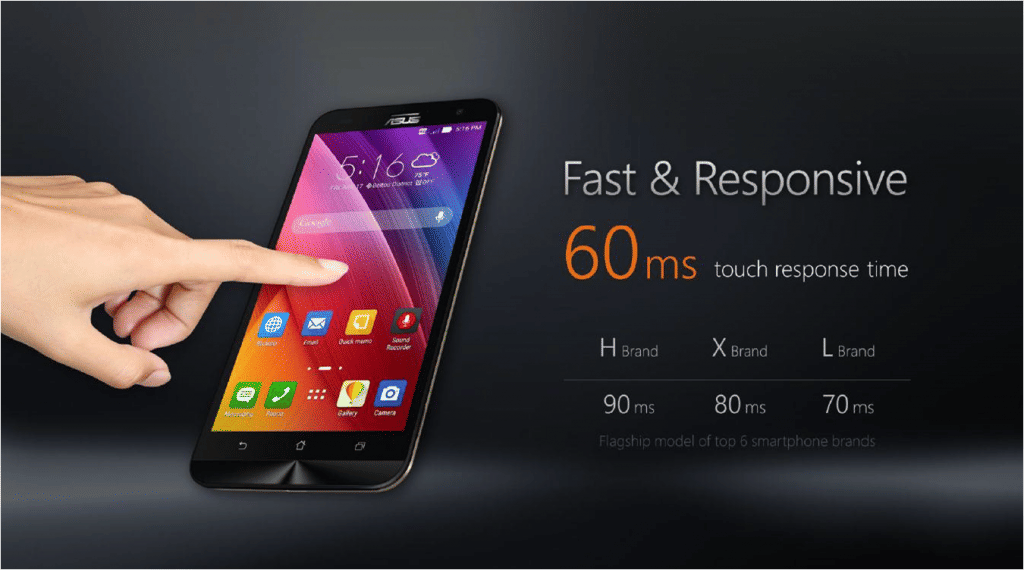 Moreover, with the special touch panel algorithm, the screen is able to distinguish different pattern between water drops/grease and your finger, so that the screen is still responsive and works normally when the screen is a bit wet- which happens a lot during the raining season. You can find the testing video below to see how it works:
With ASUS Splendid you're free to tailor ZenFone's display. Adjust color temperature, HUE and saturation manually or choose a preset for instant viewing perfection — all with one-touch simplicity.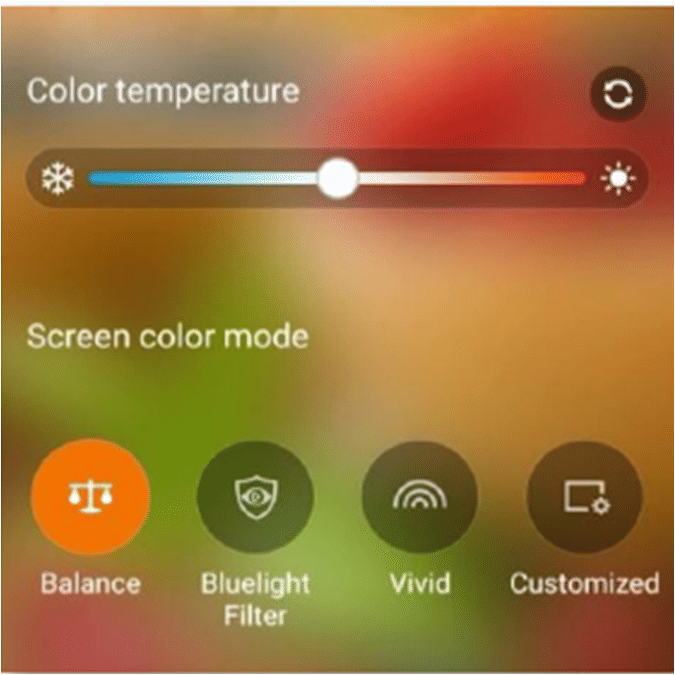 ASUS Splendid also supports Blue-Light Filter that reduces blue-light emissions by up to 30%, so you're able to watch, relax and read for longer without straining your eyes.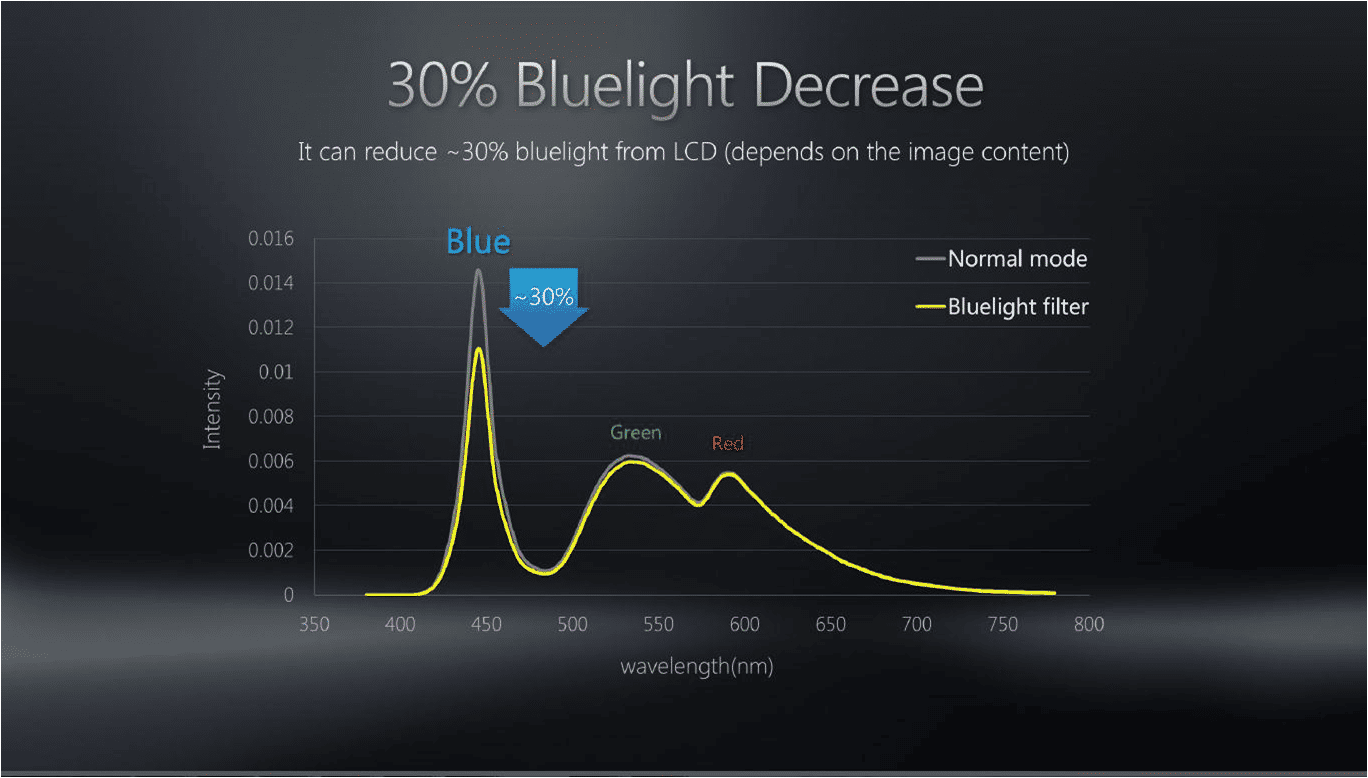 Ultimate screen protection— Corning Gorilla Glass 4
The ZenFone 2 Laser's display comes with Corning Gorilla Glass 4 protection against accidental damages. This also makes ZenFone 2 Laser the only smartphone with the best screen protection at this price range.
According to Corning, the Gorilla glass 4 is much stronger than its third generation of Gorilla Glass 3 in many perspectives, Gorilla Glass 4 display offers twice (2X) the drop-damage resistance of its predecessor, a 2.5X increase in retained strength and is 85% less likely to break in daily use — making it safer and stronger than ever before.
To further understand the performance and the durability of the Gorilla glass 4, here is the official test video on Corning.com for this amazing technology.
See What Others Can't See–PixelMaster 2.0 Camera
The ZenFone 2 Laser is the first phone in the price range to have a 13-megapixel camera on the back guided with a laser auto-focus. It also has a dual-LED real tone flash and a 5-megapixel camera on the front.
The f/2.0-aperture Toshiba lens manages to focus the subject in a snap and delivers shots with excellent detail, saturation and contrast levels in day-light conditions. The combination of the excellence hardware and software truly deliver the best in class camera solutions.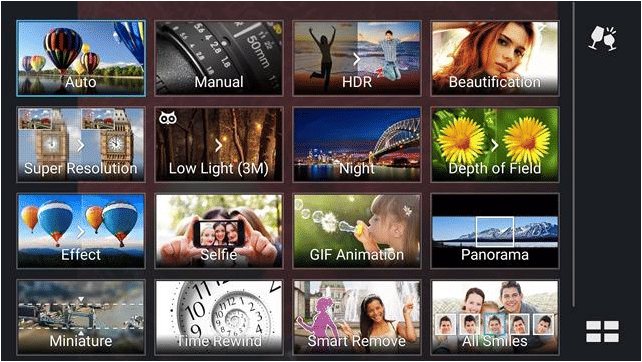 0.2 second Laser Auto Focus
ZenFone 2 Laser's rear camera has laser auto focus technology for the fastest clarity. ZenFone 2 Laser's infrared laser measures distances at lightning speed – and that means near-instant focus as fast as only 0.2 seconds.
Compare with traditional contrast focus, ZenFone 2 Laser is easily in the lead by up to 2 times faster speed, the infrared laser gets the most accurate distance of the object and the lens simply accelerate itself to the precise position for the imaging, whereas traditional focus need to detect the sharpness of the photo frame by frame hence the lens needs to travel longer and unnecessary distance that slows down the focusing time.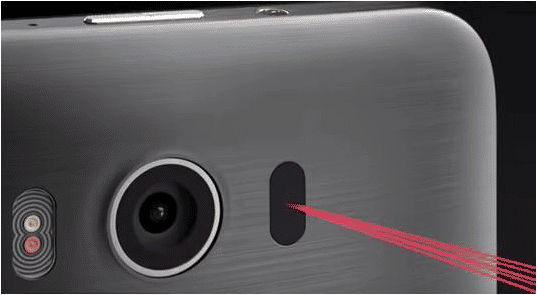 As for the comparison between PDAF (Phase Detection Auto Focus), you may refer to the below video, which you will see even competing head to head with the top-notched iPhone 6 plus, the focus time is still faster than PDAF. (The one on the left is IPhone 6 plus and the one on the right is ZenFone 2 Laser)
The laser auto-focus even accelerates close-ups photography, compensating for the extra distance created by the lens receding during framing. It also has the advantage of working well in low-light environments—which is a constant problem with contrast and phase detection.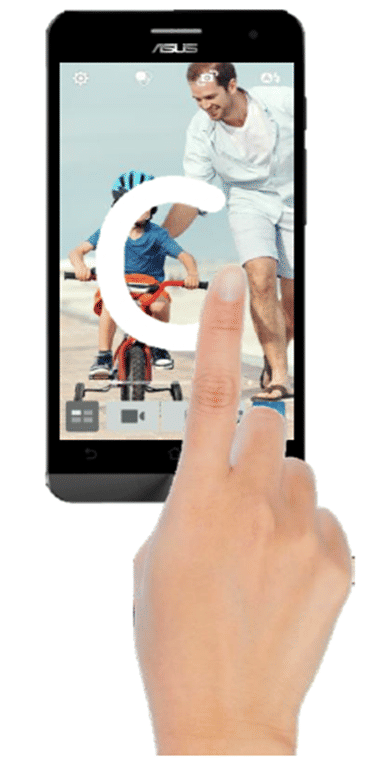 As we mentioned that the focus time is as fast as 0.2 second (which is same as on our testing), along with the unique ZenMotion touch gesture, you can simply swipe "C" to launch the camera and activate the camera app in a snap, and take the photo as if you don't need to wait for the focus time. It's a perfect solution as most of the smartphone (even high end ones), that don't offer the same level of convenience by intuitive solution for quick-launching the camera.

Low Light Mode with laser auto focus
Dim light conditions can make capturing and focusing moments difficult when using a smartphone camera. ASUS PixelMaster's Low Light Mode plus laser auto focus system
makes lost moments a thing of the past. By smartly merging 4 pixels into one and capturing the light characteristics in the process, the ZenFone 2 Laser is able to produce the best pictures in low light environments. PixelMaster intelligently adjusts noise-level, color and contrast. Smart Pixel Merging and Pixel Perfecting results in 400% better light sensitivity.


And as we often experiences long duration on focusing in dim-light, the laser auto focus comes to aid with the infrared laser beam which the focusing time is almost the same as we do it in the daylight.

Back Light HDR Photographs
HDR pictures are quickly becoming indispensable for those who want to capture every detail and come closest in quality to a DSLR picture-taking experience in strong daylight. ASUS's PixelMaster delivers the best back light HDR mode.
Pixel enhancing provides 400% more brightness and contrast to ensure that every detail is visible. Exposure balancing adjusts the under-exposed and over-exposed areas of the picture to result in an even balance across the entire picture, for an effortless and professional-looking result.

Wide angle panorama selfie
The front camera's lens has an 85° wide-angle, enabling you to capture more than ever before. To capture everything or everyone in one picture, try the new Panorama Selfie mode that allows you to take a 140° selfie so that everyone can be part of the shot.
Dual Color Real Tone Flash
The smartphone camera flash, while not perfect, can definitely be improved. ASUS has done so by implementing a Dual Color Real Tone Flash to deliver true to life colors by using both yellow and white-based lighting as opposed to only the white-based flash found on most smartphones.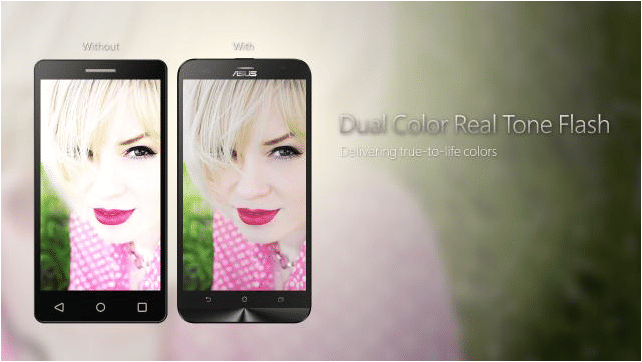 The closest experience to using a real DSLR camera is now available on the ZenFone 2 Laser by turning on the Manual Mode. Modes and adjustments include: horizon level, histogram chart, emotional zoom, shutter speed, white balance, ISO, EV, focus distance, saturation, contrast, sharpness, noise reduction, metering, and separate autofocus and auto exposure points.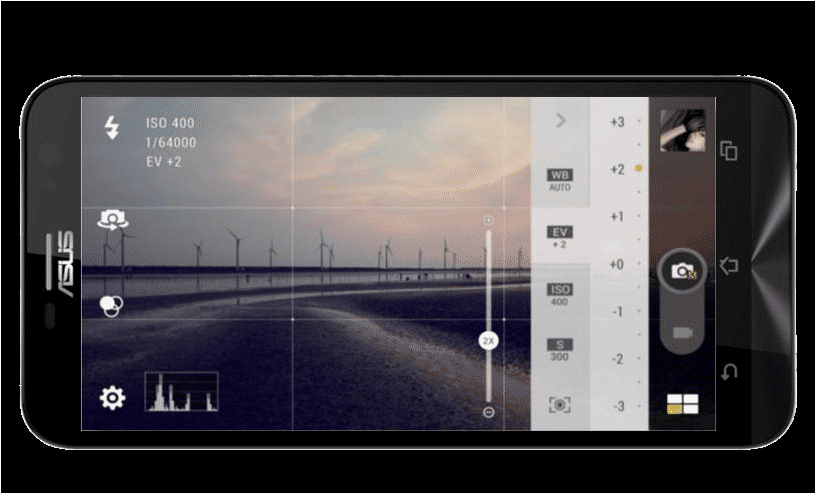 Real-Time Beautification Mode
Provides skin softening, skin brightening, blush, eyes enhance, cheek thinning, and color correction.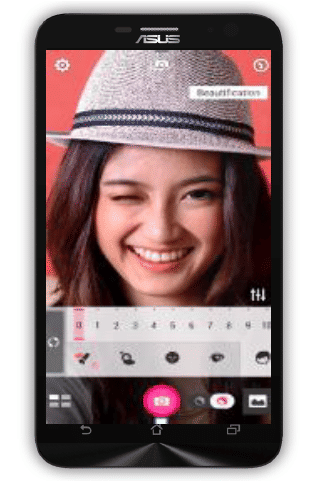 ASUS Photo Collage and Photo Effects
Provide high quality collage templates including magazine page, postcard, poster, album, CD Cover, and many more to unleash your creativity.
Super Resolution Mode
The PixelMaster Super Resolution mode allows you to maximize your camera's ability. ASUS PixelMaster made it possible by using the 13MP rear camera and merging four pictures into one in a near 52MP result which in reality holds 4X more clarity, by extracting a high-resolution image from multiple lower-resolution images of the same subject. More details are revealed in light and dark conditions while noise levels are reduced.

ASUS MiniMovie
Turning your memories into a movie has never been so easy. You're able to quickly and easily put together heart-touching photos into a story, complete with titles and beautiful background music. Just shoot, show, and share!
Video recording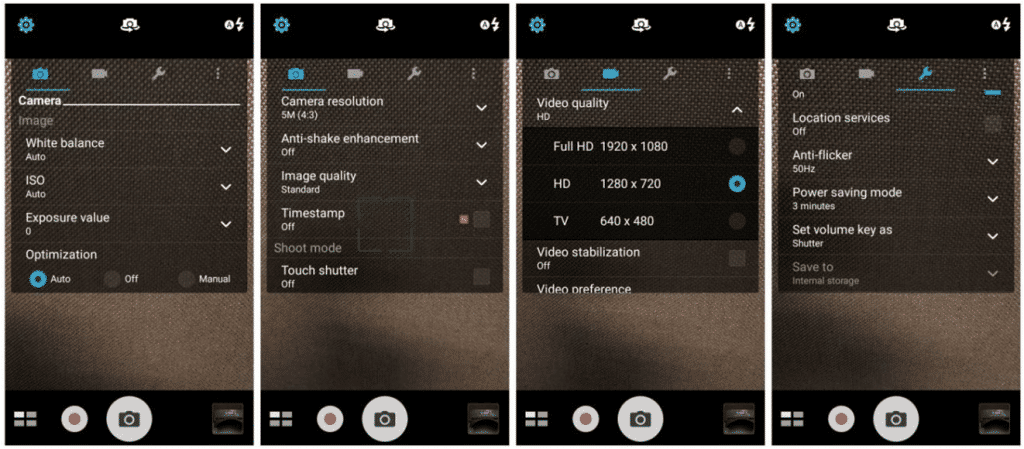 In terms of video recording , we can do the recording with a maximum resolution of Full HD 1920 x 1080 , and equipped with video stabilization that could help the video to be more stable , and when we are recording a video , the laser auto focus system still works while taking photos. You don't have to worry about the blurry video footage as well, since the laser autofocus will work quickly to fix it .
ASUS ZenFone 2 Laser comes with the 64 bit Qualcomm Snapdragon 410 cortex A53 MSM8916 quad core processor coupled with Adreno 306 GPU clockspeed @ 400MHz., it is equipped with 2GB of ddr3 RAM, internal storage available in 8GB and 16GB variants, and it supports up to 128GB of MicroSD card.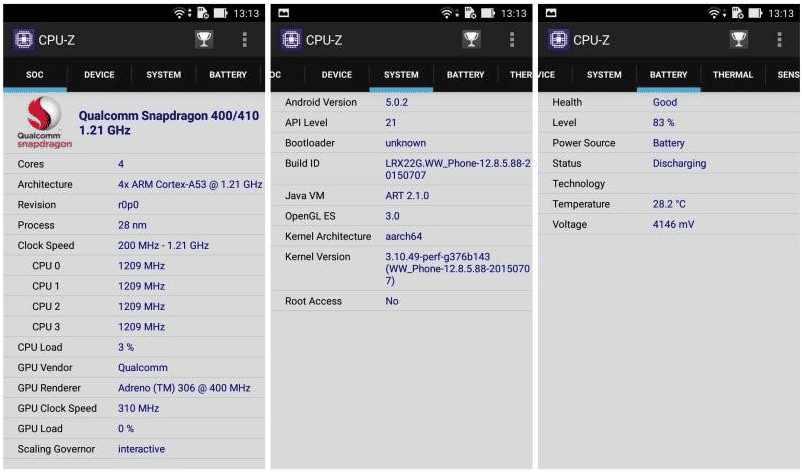 Smooth performance without the overheating
It is smooth while navigating through the phone's menu, launching apps and switching between them. And after playing heavy games like subway Riptide GP2, Dead Trigger and Asphalt 8 we didn't encounter frame drops or freezes or heating issues. The phone offers good gaming performance.
Call quality & connectivity
Great call quality with no signal lost during the call, the in-call sound quality is decent and clear thanks to built-in dual microphone. The enhanced ASUS NoiseZero Talk Technology really helps eliminate background echo and reducing noise for crystal call speech.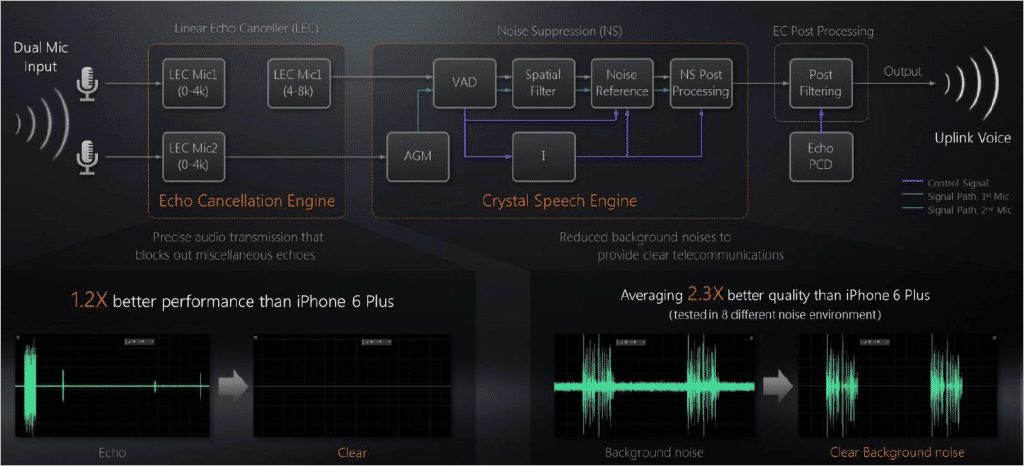 ZenFone 2 Laser (ZE550KL/500KL) has 4G network connection that the max download speed is up to 150 Mbps (depends on cellular operator you use), plus 3G Quadband speed up to DC – HSPA+ . ZenFone 2 Laser (ZE550KL/500KL) has 2 SIM card slots that both support 2/3/4G connection, it really saves the hassle of bringing 2 phones at the same time.
To make the signal connection even better, ZenFone 2 Laser comes with the ASUS Zentenna technology. The composite slot and dual PIFA antenna with multiple resonant modes excite quasi-omnidirectional electromagnetic waves by including multidirectional ground currents indirectly, delivering steady and reliable communication experiences for users.
And it also worked well as we took it to field test in crowded downtown or open area like in the mountain or valley.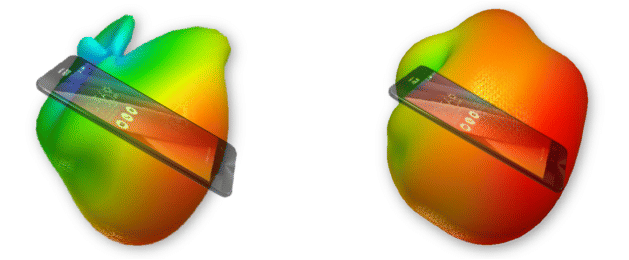 As for the GPS , it supports 3 different satellite systems around the globe: GPS (Global Positioning System),Glonass (Russia Global Navigation Satellite System) and BDS (Beidou Navigation Satellite system). And the positioning is accurate and fast based on our field test. No signal lost and the track of the route reflected on the Google map is just the same as we drove.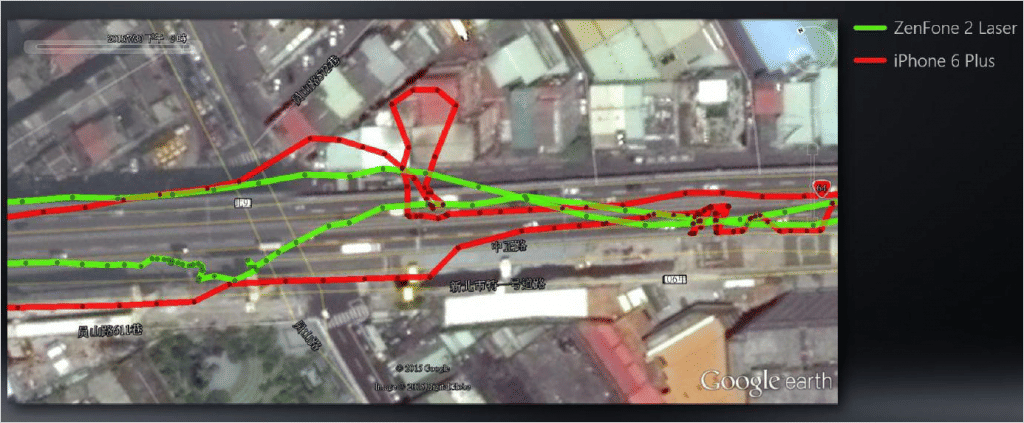 Battery
Though, real-life performance may vary based on the user and usage scenario, we were happy with the ZenFone 2 Laser's 3,000 mAh Li-Polymer, which gave us over 36 hours usage on 3G (single SIM) and Wi-Fi turned on throughout the period. Moreover, it's replaceable so you will be worry free from the battery drain.

The sound performance
To provide better sound output, the speaker of ZenFone 2 Laser are constructed with five layers of magnets in a large chamber so the bass sound is much better than traditional 1 or 3 magnet speaker. In general the sound is crystal clear with 41% increase in louder volume, lower frequency extended by 14% and distortion frequency improved by 12%.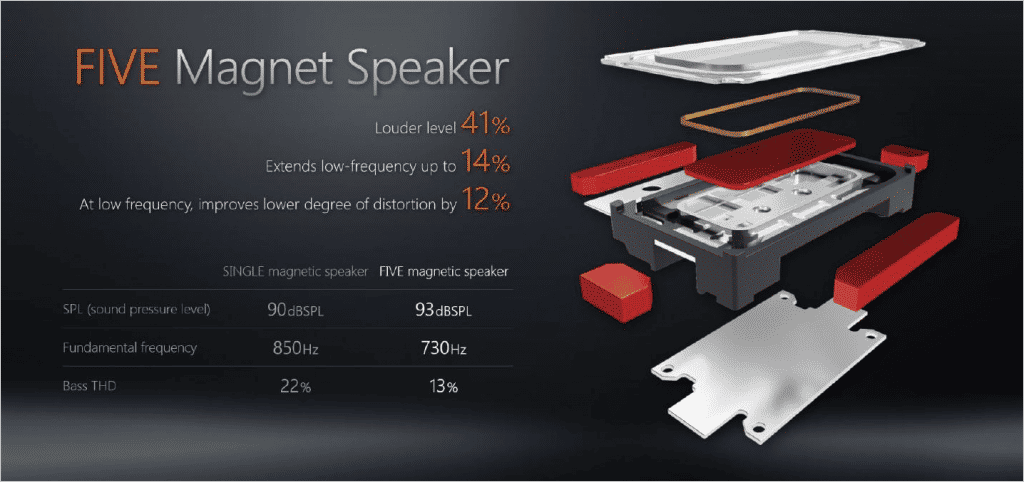 To adjust the sound output to the each user's ears, ZenFone 2 Laser is also equipped with the Audio Wizard 2.0 that you can select according to environmental conditions. AudioWizard 2.0 provides 6 distinctive modes include smart mode, music mode, movie mode, recording mode, gaming mode and speech mode.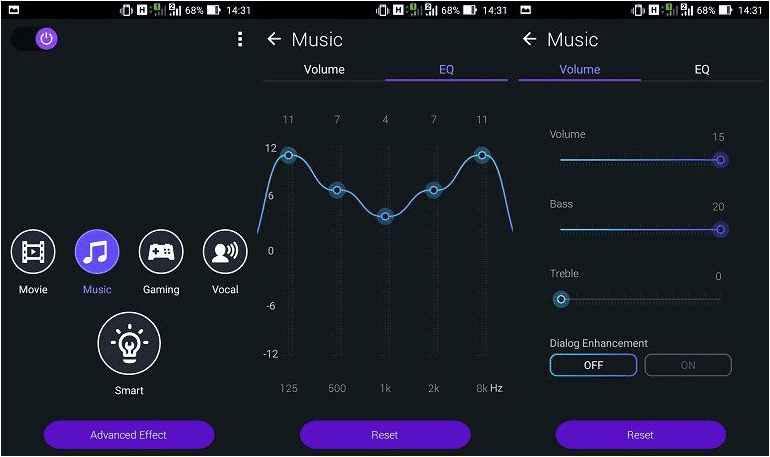 1000+ Features in a Simpler, Smarter, More Personalized ZenUI Experience
ZenUI is the customized user interface that ASUS design to fulfill the needs of users whom desire more practical functions but at the same time love the trendy design style, the stylish new layout expands white space for a cleaner design, placing the information you need front and center.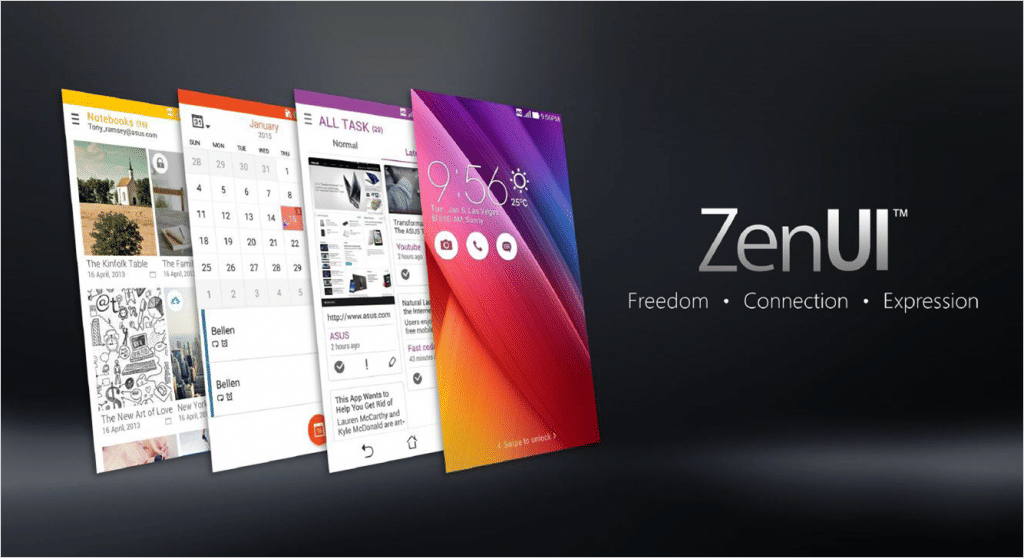 Simply swipe up on the home screen to access easy customization tools. Choose your wallpaper, pick your icons and arrange your apps in a moment.

Theme store
ZenFone 2 Laser's brand new ZenUI gives you complete freedom to customize your experience, from icon packs and fonts to live wallpapers and complete theme overhauls,all you need to do is just change it. The latest themes can be found on the ASUS theme store, so simply enjoy free and well-designed skin.

Privacy Protection—SnapView
We all have different social and business circles, so SnapView gives you a private space where you can shield your personal apps, photos and files— for your eyes only! Switching in an out of SnapView is seamless, so you can share your ZenFone 2 Laser with confidence.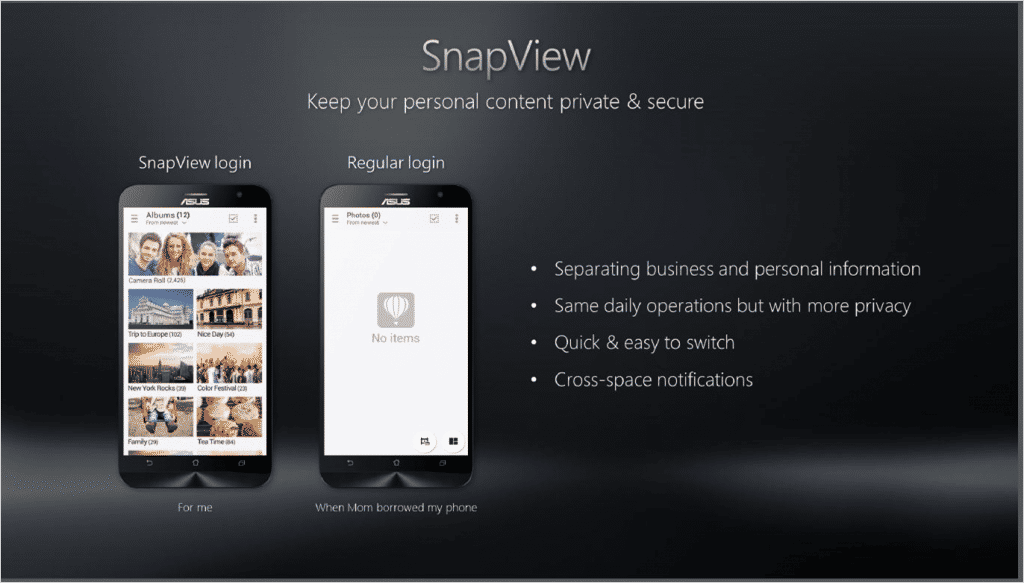 ZenMotion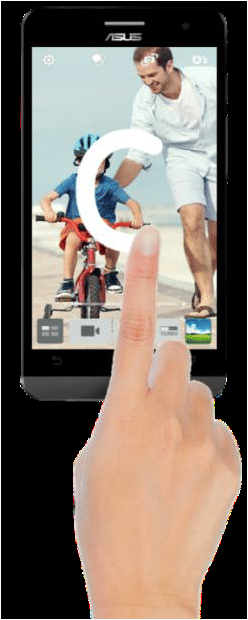 Save time and effort with smart interaction thanks to the intuitively built ZenMotion.
Touch Gesture – Wake up the ZenFone 2 Laser with touch gestures to go directly to the app that you want to use.
There are several default swipe gestures to quick launch different apps: •C to launch Camera
•W to launch Browser
•O to launch Calendar
•e to launch Email
•Z to launch ASUS Booster
•V to launch Dialer
Tap Tap to Wake – Tap the screen twice when the screen is off to wake the phone without having to reach for the power button.

Kids Mode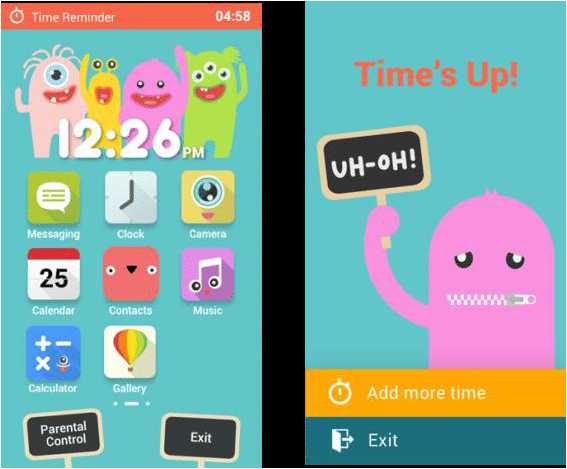 Allow you to easily manage applications for your kids by only allowing certain apps. You can also control how much time they spend on the phone, block notifications, block all or designative calls, and set a passcode from answering calls.

Easy Mode


Allows you to effortlessly enlarge the text and simplified the layout to cater the young and the elderly.It really comes in handy when you buy a smartphone for your parents, which in this mode they can easily get familiarized and help them seamlessly transfer from feature phone to smartphone.

Quality Forward
250,000 times—that's how many times that each ZenFone's side button needs to be tested in the quality lab before the product being delivered to you.
Having the belief of "Quality forward" in the mind of ASUS engineers, they carried on the promise to end user since they launched their 1st motherboard 26 years ago.
Here is the list of their standard lab-testing procedure to ensure that every piece of the ZenFone is long lasting , durable and trust worthy in every aspect.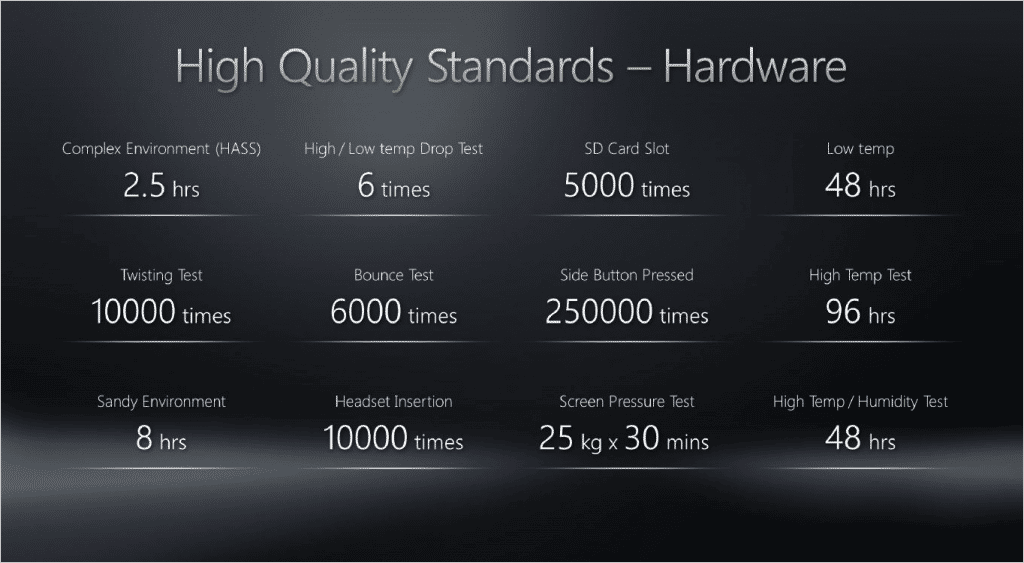 And here's the marketing technical video called "We are ZenFone" , which truly showcases the full journey of the manufacturing and quality testing procedure of this solid yet beautiful smartphone.


We are Zenfone