Asus Eee Pad Transformer is one of the innovative gadgets of the year 2011. This hybrid device is fundamentally an android honeycomb powered tablet which can morph into a make-shift laptop through the dock provided.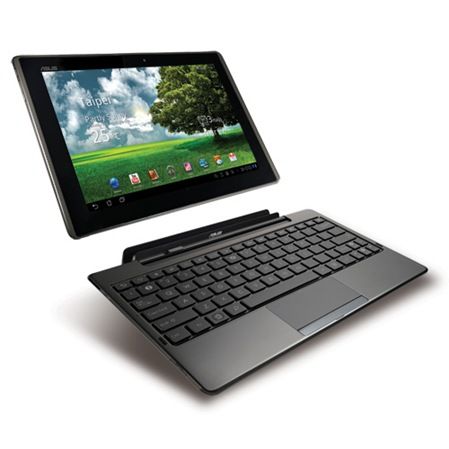 Asus Eee Pad Transformer is one of the earliest dual-core powered honeycomb tablet to be released in the market. The specifications are impressive with tegra 2 dual core processor, 5 mega pixels rear-facing camera, 10.1 inch LED backlit multi-touch capacitive display with a WXGA resolution (1280×800) and a scratch-resistant glass, 1 GB of RAM, 16/32GB of internal storage memory. The tablet has host of connectivity options included such as Wi-Fi, Bluetooth 2.1+EDR, 1 microSD reader slot, 1 mini HDMI port, 1 3.5 mm headphone jack. The best feature is the attached mobile docking station which has a full QWERTY Keyboard, 2 USB ports, 1 multi-card reader and surprisingly includes an additional battery too!
The OS supports for Adobe 10.2 flash scripting. 16 hours of battery life provided is very impressive and the IPS panel lends for a very wide viewing angle. Asus is also offering an one year of unlimited web storage space (through their own website www.asuswebstorage.com). Asus is currently available in US for a price of $399 (Rs. 18,000). Asus is planning to release this product in India by end of June. The pricing is announced, but we speculate the price to be around Rs. 22,000 – Rs. 24,000. If priced correctly, asus eee pad transformer is a good value-for-money product.
Asus has released a series of FAQ videos to walk-through the product?
1. How do I use Google Maps on the Asus Eee Pad Transformer
2. Can I download applications for Asus Eee Pad Transformer?
3. What's makes Asus Eee Pad Transformer dock different from others?
4. What does Asus Eee Pad Transformer have in terms of expandability?
5. How large is Asus Eee Pad Transformer? Is screen easy to break?
6. Can I play games on my Asus Eee Pad Transformer?
7. What's the difference between Asus Eee Pad Transformer and iPad?
8. How is the camera of Asus Eee Pad Transformer in terms of photo quality?
9. What is MyNet in Asus Eee Pad Transformer? What does MyNet do?
10. How else can I access a home computer via a Asus Eee Pad Transformer?