"In the market for a portable speaker? Check out the Astrum Symphony BT-027N."
Bluetooth speakers come in all shapes and sizes, with varying price ranges to suit different budgets. Many speakers offer built-in batteries, making it easier to move them around without dragging along bulky power adapters and cables. But a battery alone doesn't make a speaker portable. Size and weight matter too, and that's where the Astrum Symphony BT-027N comes in. Aimed primarily at personal use, the mini speaker is the ideal desk accessory, scoring brownie points with its speakerphone functionality. The Symphony BT-027N hasn't been officially launched yet, but Astrum gave us a pre-launch review unit to put to the test. Here's what we think.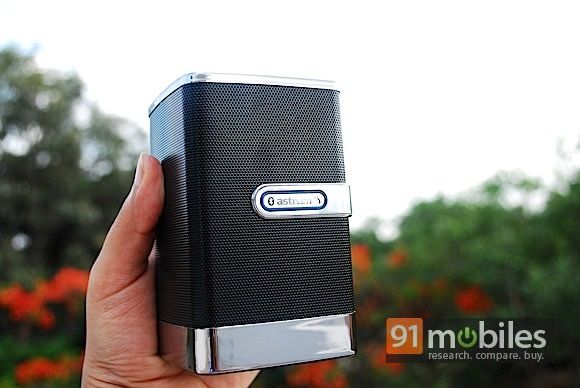 Pocket-sized, but not premium
If you're looking for portability, the Symphony BT-027N does more than fit the bill. With a rectangular form factor measuring 6.6 x 6.6 x 10.3mm, it's incredibly compact. It weighs 255g, making it light enough to pop into a bag without worrying about the extra weight. In a black and silver combination, the speaker looks snazzy at first glance, but on closer inspection you might be disappointed. The glossy metallic panels feature a mirror finish, which gets smudged and scratched within a few days of use.
There's a matte L-shaped chrome strip in the middle, and we wish Astrum had used the same finish in place of the shiny silver elsewhere. On one side of the strip you'll find an LED backlit button with an Astrum logo. This can be used to play/pause tracks or answer/end calls. On the other side there's a previous/next and volume control button. The buttons are made of flimsy plastic, with crooked etched controls we wouldn't expect from a speaker at this price. A vertical chrome strip runs along the middle of one side, and below it you'll find the aux input, microSD card slot and micro-USB port for charging. At the bottom is a power switch. The base features a rubber strip for extra grip.
Wired, wireless and more
While the Symphony BT-027N is primarily a Bluetooth speaker, it also supports NFC to enable one-tap pairing with a compatible device. You can attach audio sources without Bluetooth via the aux-in port, and Astrum has provided a small cable in the box for this purpose. The microSD card slot was an interesting addition, letting you insert a microSD card loaded with music into the port and control music playback via the speaker. Only MP3 files are supported for this method.
Pairs in a flash
We appreciated the simplicity of pairing devices with the Symphony BT-027N. Turn it on, and once Bluetooth is activated you'll hear a voice prompt telling you that the speaker is ready.
We were able to pair the speaker in a jiffy, with another audible prompt confirming that our device was connected. Pairing via NFC was even simpler, and we were able to link up a Sony Xperia T2 Ultra Dual with a simple tap.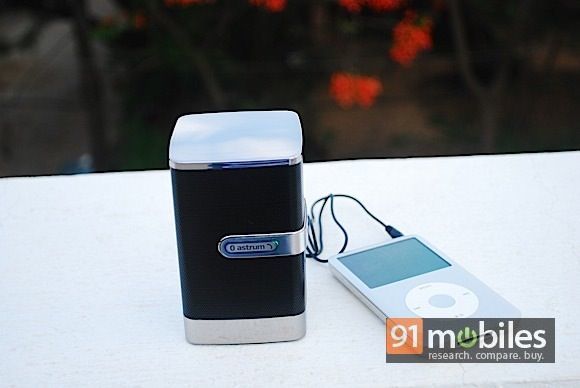 When the speaker is connected via Bluetooth, the Astrum logo will turn blue. When connected via the aux input, it glows green.
The previous/next buttons also double up as volume controls, with a short press changing the track and a long press changing volume. We would have appreciated direct controls for both, as we often ended up skipping tracks when we tried to adjust volume.
Doubles up as a speakerphone too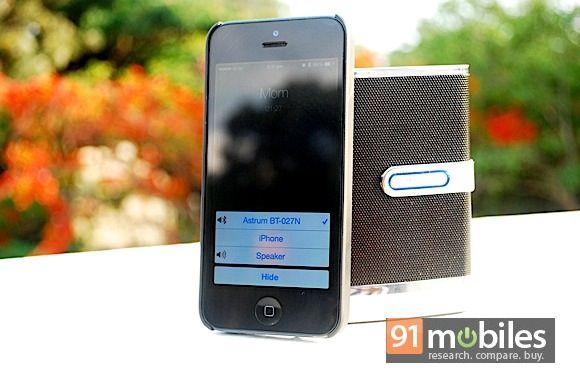 The Symphony BT-027N can also be used as a speakerphone. Once you pair your smartphone with it, you can press the Astrum button to answer/end a call, or double press it to call the last dialled number. The speaker also has a built-in noise filter microphone, so you can answer a call even if your smartphone isn't near you. We were able to get good reception from up to 10 feet away from our phone. Call quality was loud and clear, although callers on the other end reported some distortion when we placed the smartphone too close to the speaker.
Average sound quality, impressive battery life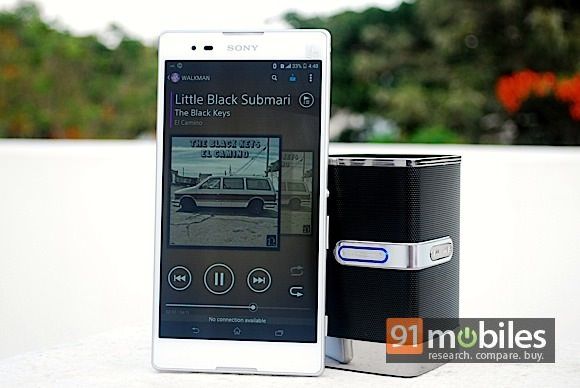 Unfortunately, sound quality isn't the strong point of the speaker. While vocals remain clear, you can't really make out the intricacies in the background. We also found that the lows and highs tended to get muffled. The good news is that base is well regulated, and you don't get the overwhelming thump common on some budget speakers. Sound gets equalised across volume levels, with no distortion even when we pumped up the volume to the max. The Astrum Symphony BT-027N will fill a room with music, but don't expect it to double up as your sound system for a party. It's primarily intended for individual use, ideally when paired with a laptop to listen to music or watch a movie.

Astrum says that the Symphony BT-027N's 1,300mAh battery offers seven to 10 hours of playback. Our battery test gave us almost eight hours of use when connected via Bluetooth, which is impressive for a speaker of this size. It still doesn't match up to the mind-boggling 41-hour battery life offered by the Rapoo A3160 portable Bluetooth speaker we reviewed earlier, but that's a different beast since it has a much beefier battery and is priced higher. That said, the connectivity options offered by Astrum are much better.
Verdict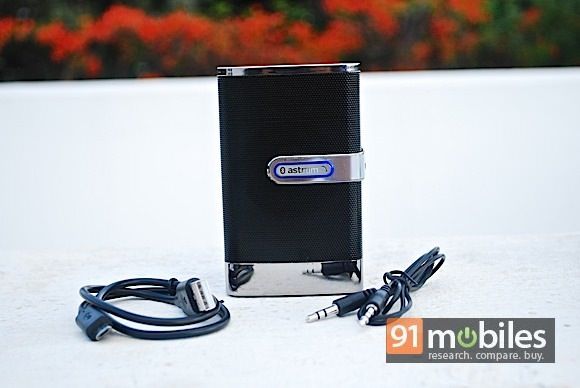 While the Symphony BT-027N offers compelling features and compatibility in a portable package, the price tag of Rs 3,200 is on the steeper side, especially when well-known brands like Logitech offer similar Bluetooth speakers for less. On the plus side, it's simple to set up, pairs with a range of devices and offers a compact form factor that makes it an unobtrusive, useful accessory.
Editor's rating: 7 / 10

Price: Rs 3,200

Pros:
Good battery life
Speakerphone functionality
Compact size
Various connectivity options
Cons
Average sound quality
Disappointing finish
Clumsy volume controls