"While the TV has nothing more to offer than a regular Android tablet, the fun of Android on a bigger screen is the key"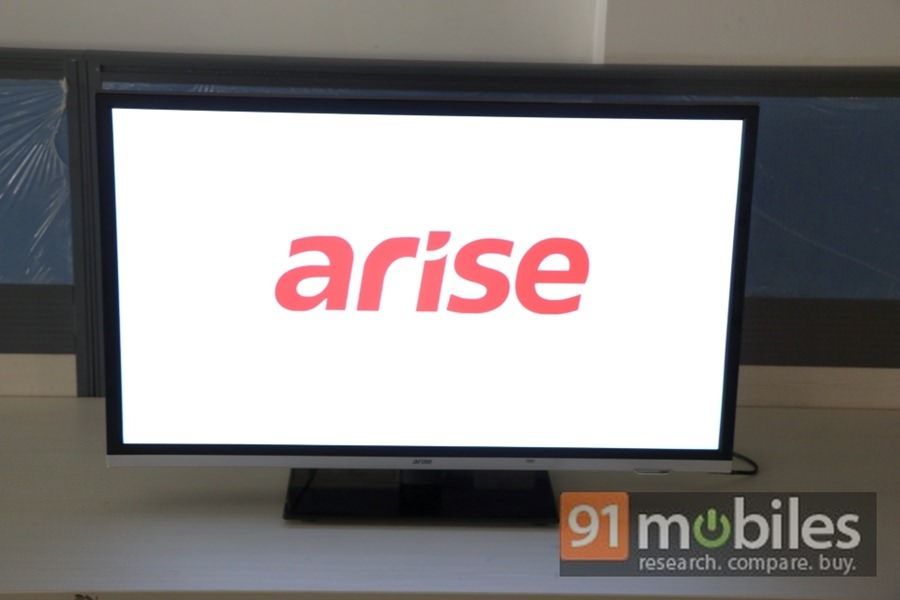 It all began with the humble Android on the stick, in a bid to make televisions smart and ready for the internet generation. However, the idea did not really pick up that well in the absence of proper support and compatibility of several of the solutions that were made available to the users. And then there are these smart televisions form big multinational brands like Samsung and LG offering internet connectivity and related features at a premium price, which really is not something for the masses. Answering the problem ,Arise has offered a solution in the form of an Android-powered smart TV that offers a great deal of features and functionality and does not cost as bomb. We got the smallest member of this smart TV family for review at our labs and here is what we have to say for the Arise Divine 4.2 Boom LED Android TV .
Looks sleek and premium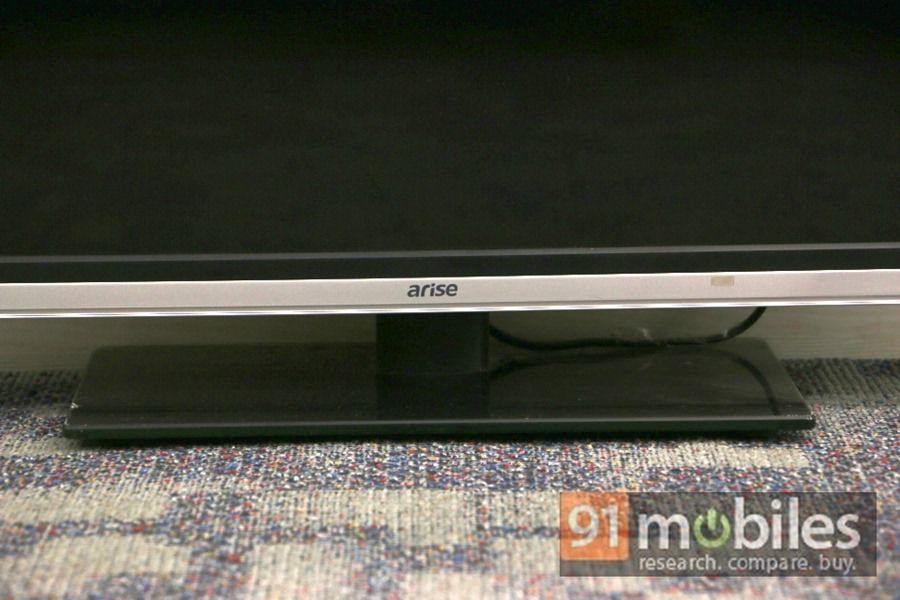 Being an LED TV, the Arise Divine 4.2 gets a sleek outfit which can easily compliment the décor of your living room with its glass-based stand, and can also be your companion in the bedroom too. The telly has sleek overall design that looks good and all the ports and buttons are cleverly tucked away on the sides and at the back side for a neat look at the front. The slim bezel size and the silver trimmings on the sides lend a premium finish to the TV without making it unnecessarily big.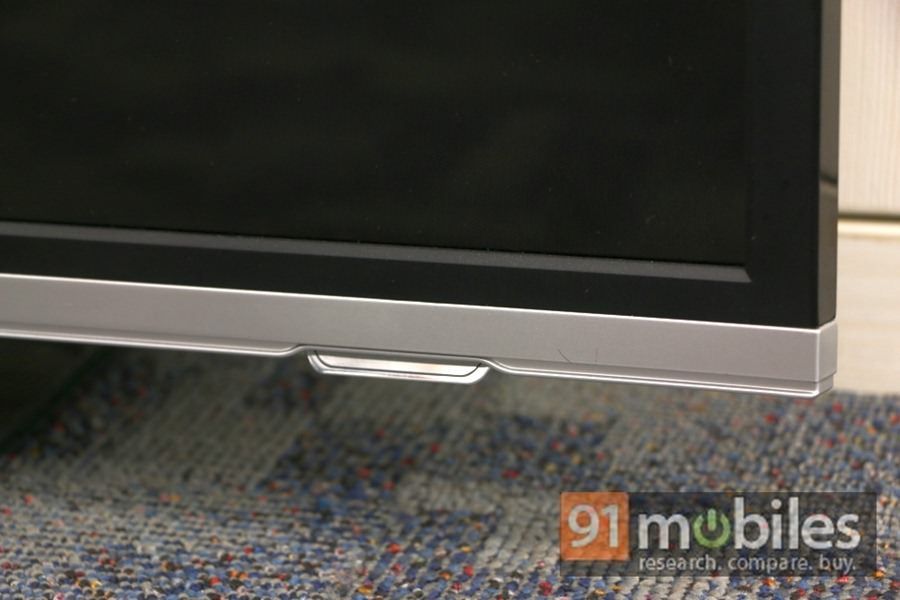 At the front, there's the IR receiver which has been tastefully hidden behind a semi-reflective window also housing the power indicator. Aesthetically this television can take on any of the smart and slim televisions from bigger global brands as both the styling and designing is pot on, without any compromises.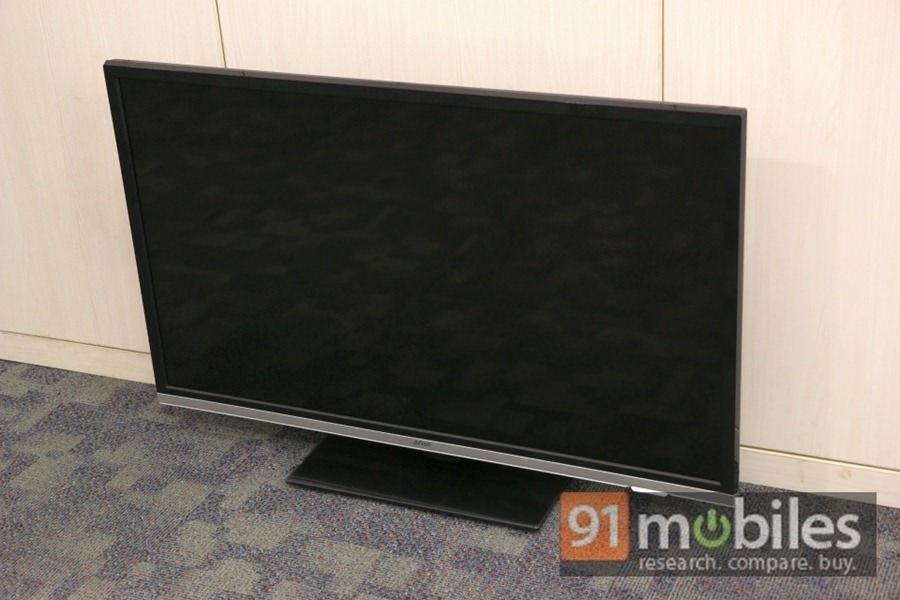 The quality of materials used is good and sturdy. One thing that needs a special mention is its glass-based stand, which definitely adds a touch of class but needs extra care as well, although we would have preferred a metallic solution, but this works well enough.
32-inch LED display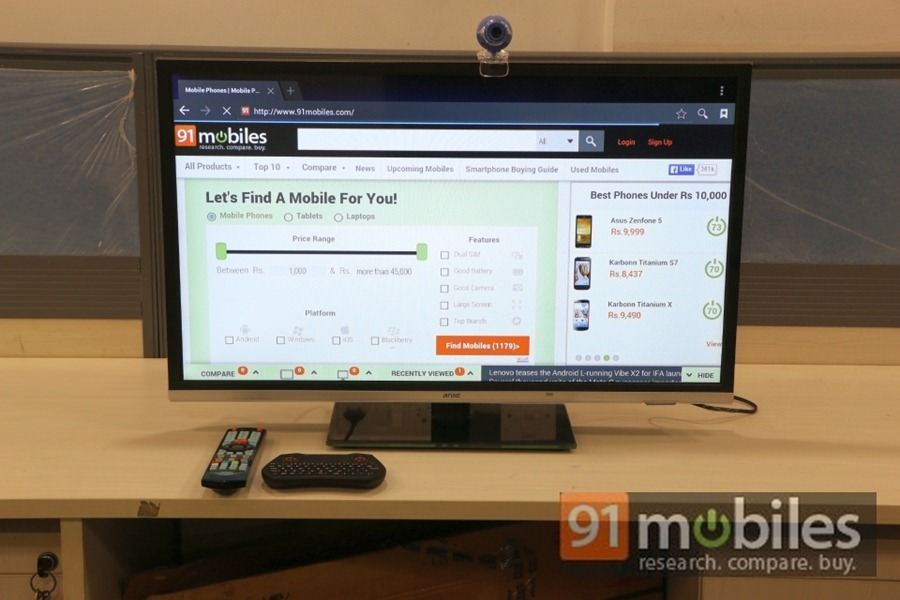 The device that we got for review is the smallest member of this Android smart television family, offering a screen size of 32-inches. The resolution offered by the television is 1,366 x 768 pixels, although for a smart television anyone would expect a full HD panel at least. However, in bigger screen sizes, full HD resolution is available and anyone thinking of making a purchase should keep the resolution aspect in mind. Nevertheless, the low resolution does not spoil the fun of Android on a bigger display as the OS automatically optimises based on the available screen size, and all you get is the edge-to-edge display for apps and multimedia.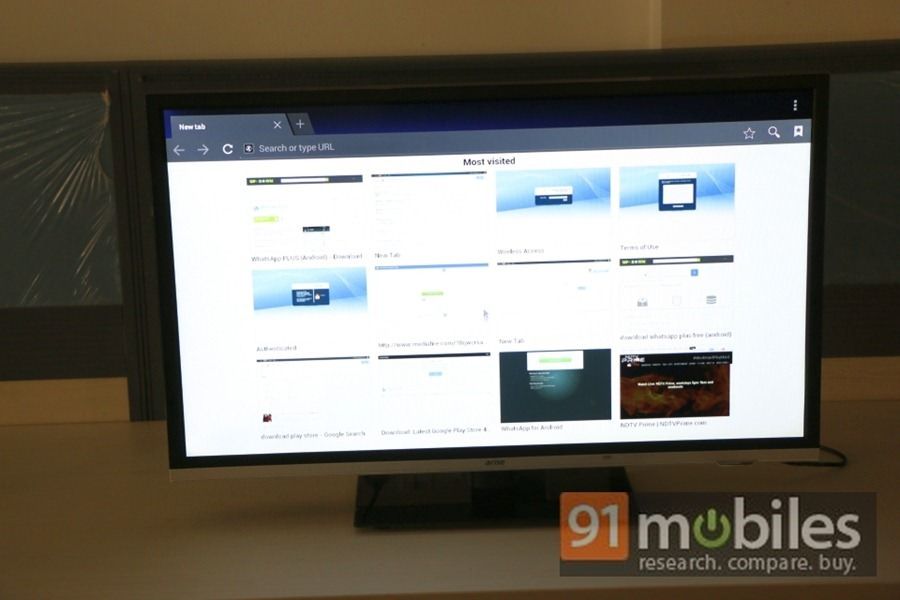 The display offer ample brightness and color variance to do justice to most apps and functionalities offered by this LED television. Even when the Android functionality is not in use, the display offers great visual fun and a higher viewing angle of not less than 170 degrees.
TV-optimised Android 4.2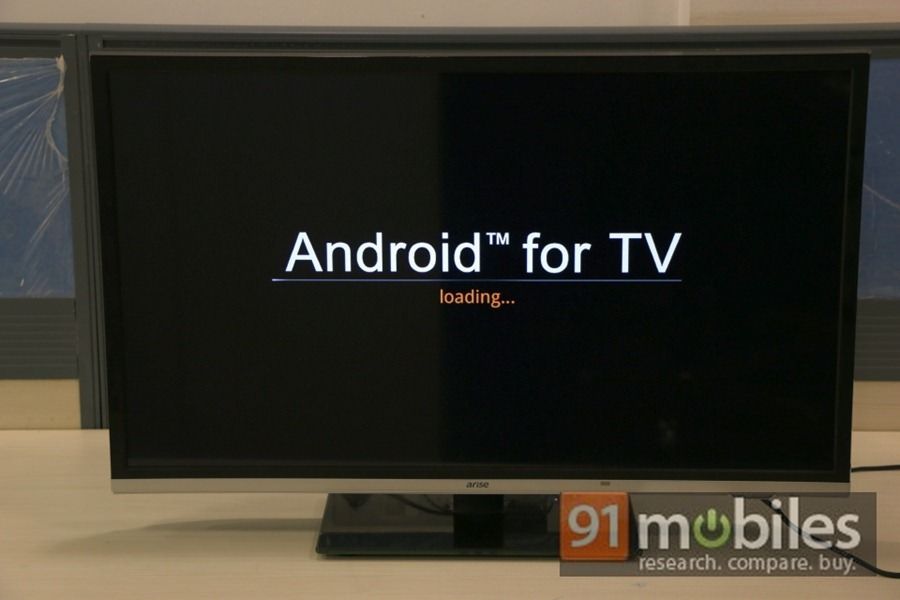 Arise Divine 4.2 uses a highly customised version of Google Android 4.2 Jelly Bean with a host of pre-loaded apps as its operating system. The OS has been optimised for better viewability on the large 32-inch display boasting of a wide aspect ratio of 16:9. However, the apps and games run irrespective of the resolution and aspect ratio offered by the television. For instance, some apps which are optimised for portrait mode run in a portion of the display covering up a third of the total visual real-estate available.
The device comes as an officially-certified Google device complete with support for application download and installation from the Google Play store and third-party stores such as Amazon app store and Mobango. Setting up only requires your Google user name and password and the whole process finishes in about three to five minutes, depending on your internet connection.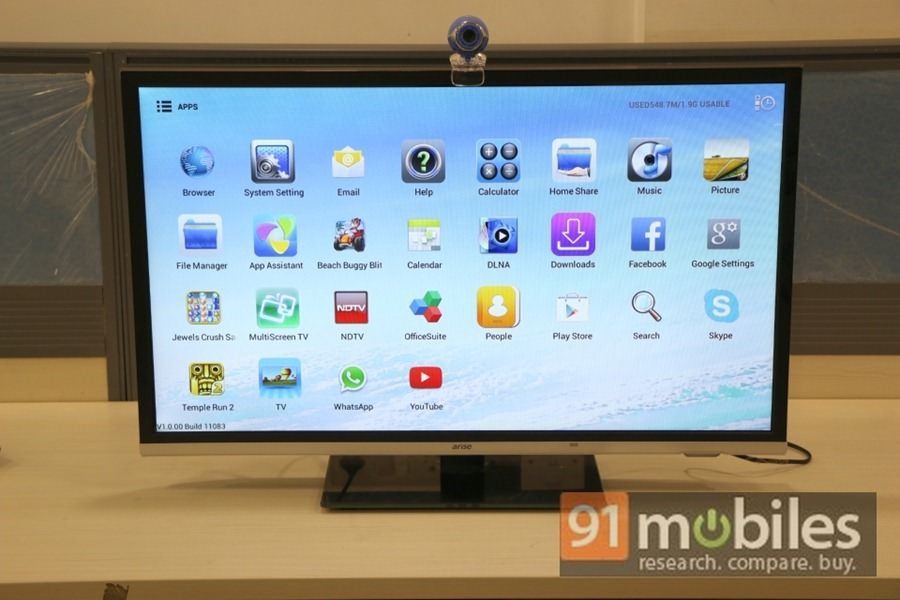 The television, just like any other Android-powered device, comes with integrated memory for application and media storage. Only 2GB memory has been made available, out of which close to 1 GB is available for apps and other storage. However since Android Jelly bean also brings support for app installation to SD card, and the expandable memory slot should be enough for most users considering it can accommodate up to 32 GB of additional storage.
A joyful remote control and lots of ports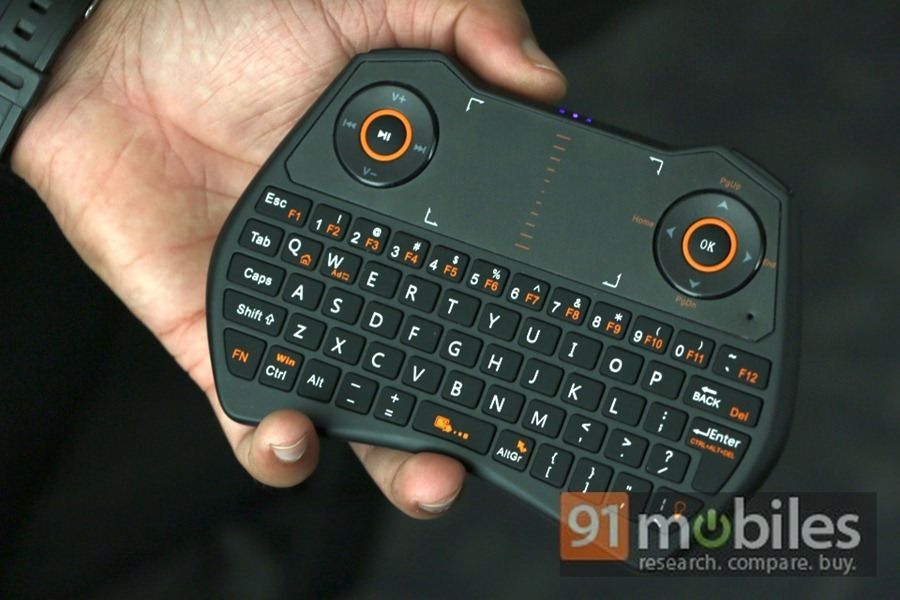 To allow users to take full benefit of the services offered by Android, Arise has provided a loaded multimedia remote control along with the TV. The remote comes complete with a QWERTY keypad and five-way keys allowing for better control on games as well. Additionally the remote also offers a touchpad using which users can scroll through various pages just like a computer. For most users it should be enough, but if you feel the need to connect a keyboard and mouse, you can do it using any of the two USB ports.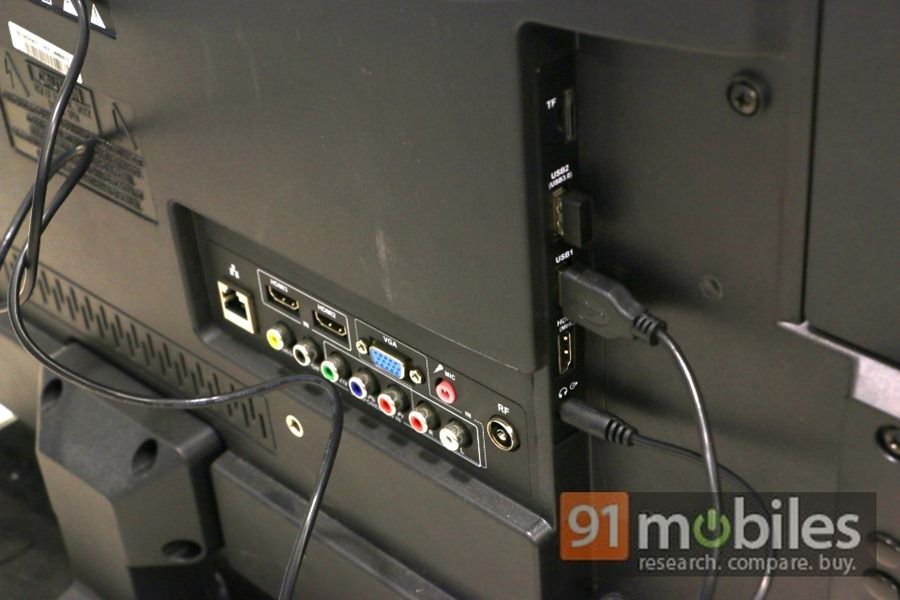 Apart from allowing the TV to detect and use wireless controllers, and peripherals such as keyboards, mice and webcams, the USB ports can also be used to play content using a flash drive. It becomes all the more useful as the TV supports a wide range of media formats for both audio as well as video files.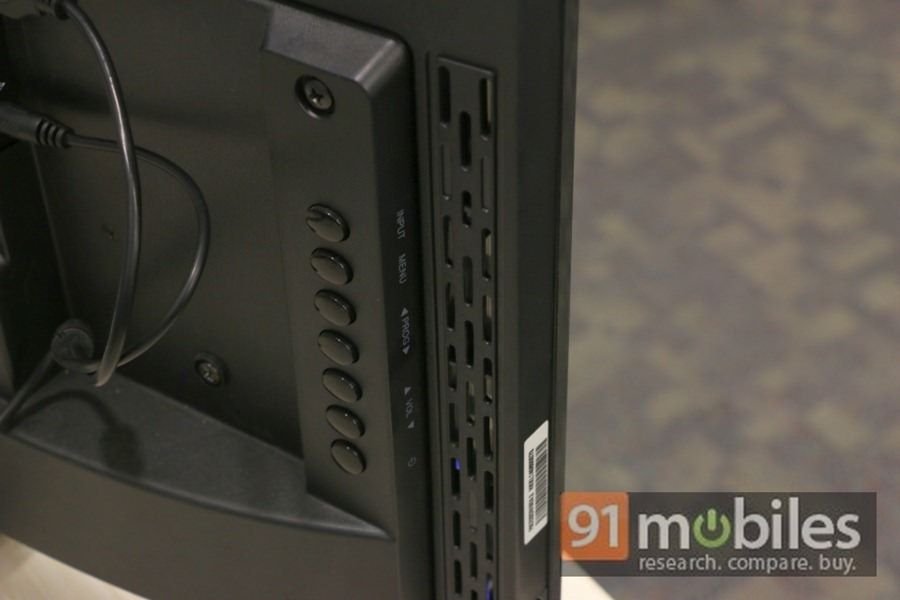 Along with this the TV also offers three HDMI ports for connectivity with various devices along with a component as well as a composite input connector as well. For PC connectivity there is a VGA port provided along with an audio-in port for sound. And if that's not enough, then the television also offers both wired (LAN) as well as wireless (Wi-Fi) connectivity options to the users for seamless internet connectivity.
Overall, a good performer
Now you can add so many things to even a humble television, but everything boils down to the fact that how well the whole thing performs. Honestly, after using the Arise Divine 4.2 TV for a few days, we can comfortably say that this television definitely offers much more value that the idiot box sitting in your room. However, the price tag of Rs 39,990 could be a little too steep for a 32-inch television that does not offer full HD resolution.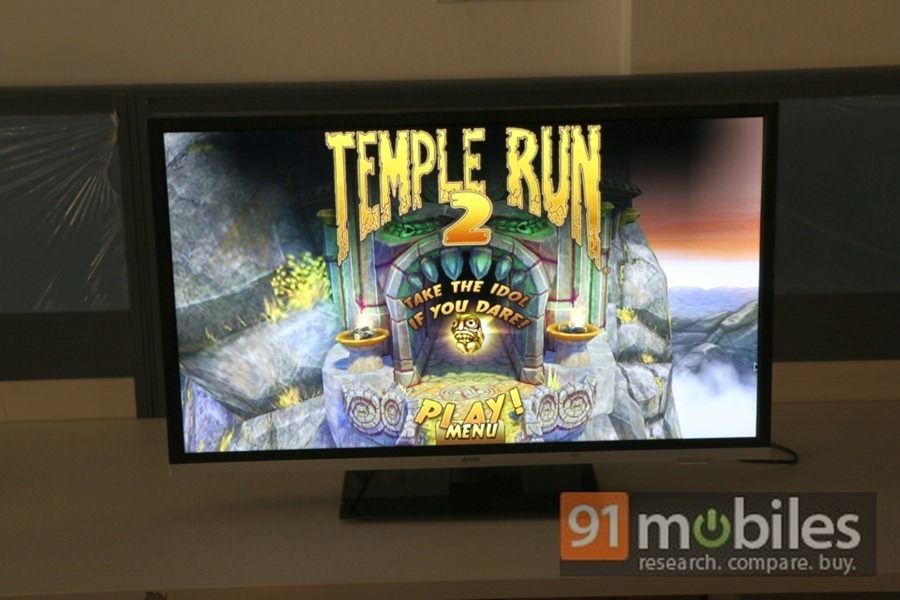 So basically the Arise Divine 4.2 is a good choice for those who are looking at an all-in-one multimedia and entertainment solution and do not mind paying a few thousand rupees more. To add to it, the TV has been well-optimised for the best Android experience and there are tons of connectivity options and ports available, so there's hardly anything that you cannot connect to this.
For the price, we would say the device tips towards the expensive side but makes up for it with the features and functionality it offers. The bottom line is, the Arise Divine 4.2 will make you smarter as far as your television experience goes, and if you are looking at an all in one infotainment solution then do consider it as well.
Price: Rs 39,990


Editors rating: 7 / 10


Pros
Optimised Android 4.2
Lots of connectivity options
Good display
Stunning looks
Cons