Archos, a well known name in the market of Android Tablets, is going following up its successful heist by stepping into the the field of Android smartphones. Archos has officially announced the release of its first family of Google Android smartphones in Europe to be launched by the end of May. Its a series of three different sized smartphone.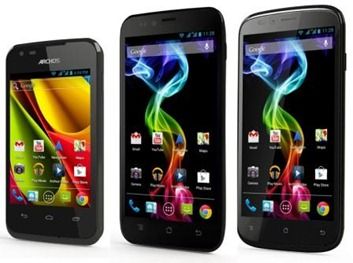 The first entry level smartphone has been named Archos Carbon 35, sports a 3.5 inches IPS Display with a resolution of 320×480 pixels. The device runs on Android 4.0 Ice Cream Sandwich operating system. It has been powered with 1GHz processor along with 512MB of RAM. It houses 4GB internal memory which is expandable up to 32GB via Micro SD Card. It has a rear facing camera and can record 720p video.
Another smartphone named 50 Platinum is the company's flagship device. This device features a bigger display than Carbon 35 with a 5 inch Display and 960 x 540 pixels resolution. It runs on Android 4.1.2 Jelly Bean operating system and has been powered with 1Ghz Quad core processor. It is capable of holding 64 GB of expandable memory via Micro SD Card. It packs an 8.0 MP rear camera along with 2.0MP front camera for video calling. It runs on a 2,000 mAh Battery.
Coming to the final smartphone named 53 Platinum, it features a great 5.3 inch device, running on Android 4.1 Jelly Bean operating system. The device has many of the same specs as the 50 Platinum, including same processor, display resolution and cameras. It also has a Micro SD Card which can support expandable memory up to 32GB. But the device runs on a larger 2800mAh battery.
The price of these smartphones are $99.99, $219.99 and $249,99 respectively in the US markets.