Following up to our Twitter contest of '#iWatchShouldHave', we bring your wonderful suggestions to reality with the iWatch concept. As stated earlier, Apple might be late entrant to any category it ventures in to, but it makes sure that its offerings provide wholesome experience. This means that the iWatch will ensure that the smart watch will become more than an accessory and have a practical use case in one's day to day life. So, let's see what features of the iWatch will make it stand out from others-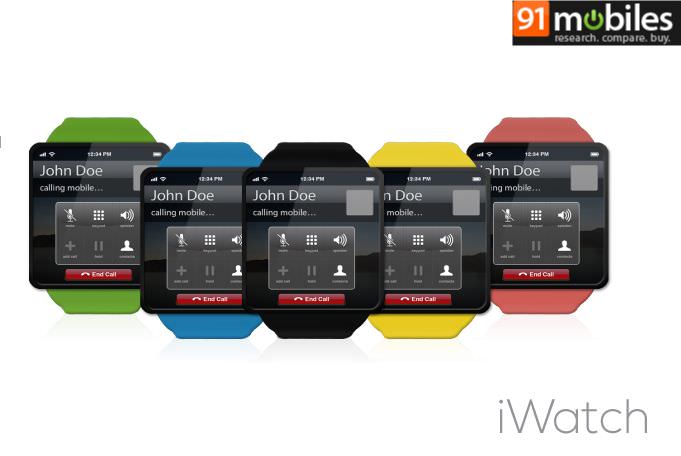 The USP: Holographic Projection and Siri
Let's accept the fact that for smart watches to become useful, the tiny screen can not be put to much use for just about anything. It can neither be used to read notifications coming on smartphones (messages, emails, etc.) nor for browsing the web. So, the iWatch will have a holographic projection in combination with its personal assistant Siri. Thus, the notifications can be read out by Siri or read on the projection. The projection can also be used to surf websites, navigating a map or even stream movies, documents, etc. by connecting to the smartphone. Siri, as we all know, can be activated by one's voice, so it can be used to talk and perform some actions on the watch like setting up appointments, alarms, and more. It can also be used for searching on the web, checking eating places in the nearby place, etc.
Externals: Design and Display
Undoubtedly, iWatch is a looker with its main dial and interchangeable straps. So, one can change the straps of the watch according to their attire or mood. Since it's a watch it has to be rugged, so that it can be used in all conditions. For this very reason, the iWatch will be IP 55/ 58 compliant for dust and water proof. Coming to the display, it sports a 1.5 inch IPS-LCD screen bearing square resolution of 320 x 320 pixels. The multi touch display will allow use of intuitive gestures for navigating the apps and starting camera or activating Siri by simple swipe.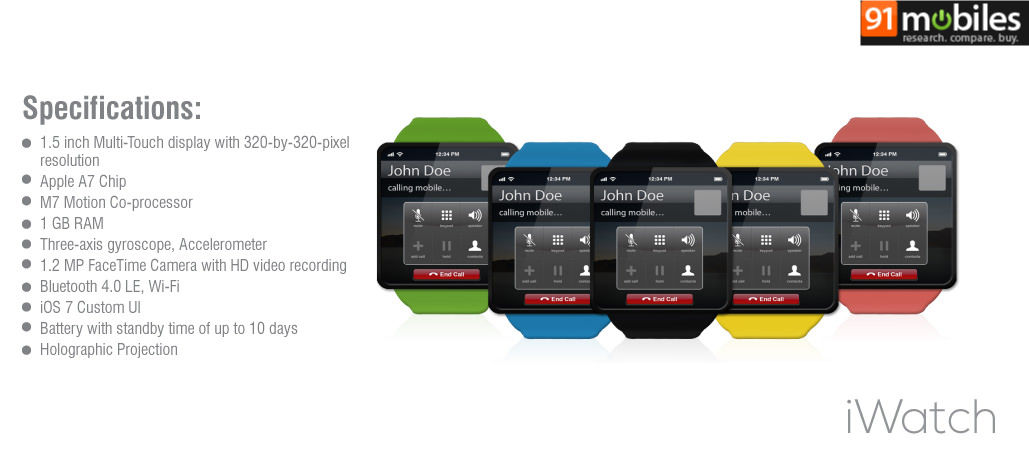 Internals: Hardware and Connectivity
The iWatch shares its hardware with the 2013's iPhones and iPads. It's powered by the 64 bit A7 computing chip which has dual core processor clocked at 1.3 GHz. Since one of the major functionality of the device would be to track users' health and activity which entails the movement, calories count, sleep, etc., so it will also have a M7 co-processor. This chip was recently introduced in the Apple device to ensure that such things are tracked by a dedicated chip efficiently and thus saving battery as well. A 1 GB of RAM also makes sure that the watch functions smoothly. The device also has a camera which will come handy for capturing quick photos. It will also prove useful for video calling purposes, which becomes fun with the holographic projector. In connectivity department, the watch will be having Bluetooth 4.0 LE (Low Energy) and Wi-Fi 802.11 b/g/n/ac. So, one can always be connected to internet and thus the data tracked for health and activity in the watch can be instantly backed up to the iHealth application/ website.
Software
Apple devices have always been about the complete experience which means that the hardware will be complemented with the software very well. In this case, it'll be running on custom iOS 7 platform. The OS will be providing all the necessary apps in a simple interface, while during the holographic projection we will have the voice activated Siri giving access to emails, browser, FaceTime, movie player and more. So are you looking forward to the exciting iWatch (if it becomes a reality)?